Washington Concert Opera Presents Verdi's Masterpiece NABUCCO
Award-winning mezzo soprano Melody Wilson to join cast.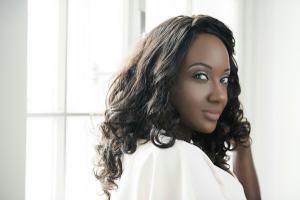 On Saturday, March 4, 2023 at 6:00 p.m. at Lisner Auditorium, Washington Concert Opera (WCO) will present one of Verdi's first works, Nabucco, an opera that catapulted his career and is considered a masterpiece as well as the first patriotic opera of its time.
The performance will conclude WCO's 36th season, one that has highlighted the company's love for Bel Canto, having presented Donizetti's Roberto Devereux in November of 2022 The season's theme of "Stories Through Sound" features the return and debut of some of opera's best voices from around the globe, including the newly added cast member, American mezzo-soprano Melody Wilson, making her WCO debut as Fenena, a daughter of Nabucco.
Wilson is a five-time recipient of the Jessye Normal Fellowship, a winner of the Gabriela Benacková Competition in Prague and the International Czech and Slovak Competition. In addition to her appearance with WCO, her 2023 season includes a staged version of the oratorio Sanctuary Road with the Penn Square Music Festival, Terrance Blanchard's Champion at The Metropolitan Opera, Das Rheingold at Seattle Opera, Der fliegende Holländer at Lyric Opera of Chicago, Rokeach's Bodies On the Line at Oakland Symphony, and Beethoven's Ninth with Brooklyn Chamber Orchestra. Originally from Philadelphia, PA, her warm, richly timbred voice has quickly catapulted her career in the US and Europe. Wilson will join an all-star cast led by WCO's Artistic Director and Conductor Antony Walker.
Baritone Lester Lynch returns to the WCO stage to portray the father of Babylonian King Nabucco (Nebuchadnezzar II) alongside soprano Alexandra Loutsion as Abigaille. Bass Peter Volpe also returns to WCO for the first time since 1998 as Zaccaria. And, making his WCO debut along with Wilson, is Andres Acosta, who will portray Ismaele (nephew to the King of Jerusalem).
Nabucco is the pre-eminent Verdi opera. Verdi himself claimed, "My career really began with Nabucco." While La Scala only planned eight performances of Nabucco for its 1842 premiere, they went on to present it 57 times in just three months due to its roaring reception (which is still the record). Among the many recognizable arias and duets throughout Verdi's opera, this one, set in Jerusalem and Babylon in the 500s B.C., holds what might be the most famous chorus tune ever written ("Va, pensiero").
A pre-performance talk will be given by WCO co-founder Peter Russell an hour before curtain in Lisner Auditorium. Attendance to this talk is included for all ticket holders. Peter Russell will also give an Opera Gems talk February 17, 1:00 p.m. leading up to the performance (details to follow) - an abridged, audio-only version of this talk will be made available for free closer to the performance date.
Washington Concert Opera is a professional concert opera company offering internationally acclaimed singers, professional orchestra and chorus in concert versions of rarely heard, full-length operatic works. Founded in 1986, WCO has presented over 40 operas, featuring world-class singers who regularly appear on the most renowned opera house stages. WCO strives to provide audiences with a unique musical experience and has repeatedly and consistently been acclaimed in the local, national, and international press as one of the finest in the field.