Click Here to Visit the College Center

Blogs are the opinions of the authors and do not necessarily reflect the opinions of BroadwayWorld. BroadwayWorld believes in providing a platform for open and constructive conversation.

Student Blog: The Power of 'No'
I tried to lean into the activity and get more comfortable saying that little word. No. It was empowering.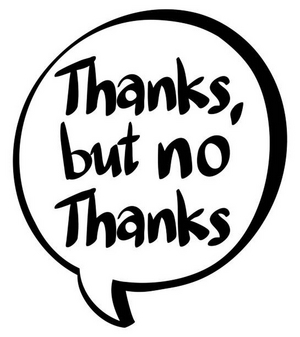 Hello Broadway lovers, theatre students, and creators across the board! Welcome back to the blog as we round the corner into October. I hope everyone finds moments to revel in the joys of fall amidst the oncoming stress of midterms, rehearsals, and the general school year hoopla.
So far, this semester reminds me of that scene from The Polar Express where the train skids on the ice- careening, no breaks, and trying very hard to stay on top of everything. We're racing through the year at what feels like double the "pre-pandemic" pace. Returning to in-person living means full steam ahead, and I find myself committing to everything (and more!) that I participated in before COVID. But, spending eighteen months in a state of shutdown makes "normal" life feel incredibly overwhelming by comparison. Did I...always talk to this many people? Take this many classes? Commit to this many projects?
All these factors lead to everyone's favorite word: burnout. Trying so hard to stay on top of everything equals not accomplishing much of anything. Yet, I still want to commit to more! It's frustrating. However, my perspective shifted a little last week as I remembered a very important word. No.
In November, Lauren Yee's Hookman will make it's University of Maryland debut. (And I'm in the cast!) This "slash killer comedy" involves stage combat, violence, and lots of fake blood. In order to make sure the cast and crew feel comfortable, our amazing director (Nathanial Claridad) brought in a fight choreographer (Jenny Male) to help us stage the combat scenes and teach us about stage intimacy and consent.
The first activity in our cast consent workshop? Giving and receiving the "no." Jenny discussed how we should feel comfortable both saying no to others, and hearing someone else say no to you. We had to walk around the room, asking others if "they'd like to get a thumbs-up." We could either say yes or no to the thumbs-up. Simple as that. Kind of. It took me thirty seconds to realize just how hard it is to say no- especially to friends!! I wanted to say yes to everyone. After all, it's just a thumbs-up! I tried to lean into the activity and get more comfortable saying that little word. No. It was empowering.
As actors, we grow up programmed to say yes to everything and everyone. We hear that everyone is replaceable, and if you don't try anything and everything- you get fired. I learned to bend over backwards in order to please people and get roles. Jenny helped us rewrite that narrative. She helped me remember that we don't have to say yes to everyone. We are all just people, responsible for taking care of ourselves. We all deserve the autonomy to choose what makes us happy and safe.
After the workshop, I thought a lot about how this carries into the real world. I can say no to others- in and outside of theatre. College is crazy, with lots of commitments and choices to make every day. But, at the end of the day, it's up to us what to say yes to. That's our right as actors, friends, and humans. This is sooo much easier said than done. In fact, I already said yes to a commitment I probably shouldn't have agreed to- WHILE writing this article. But, saying no is a process that I'(M) Willing to start this year. Having that freedom to pick and choose what truly makes us smile, as opposed to trying to please everyone else, makes acting/college/life just a little easier to handle.