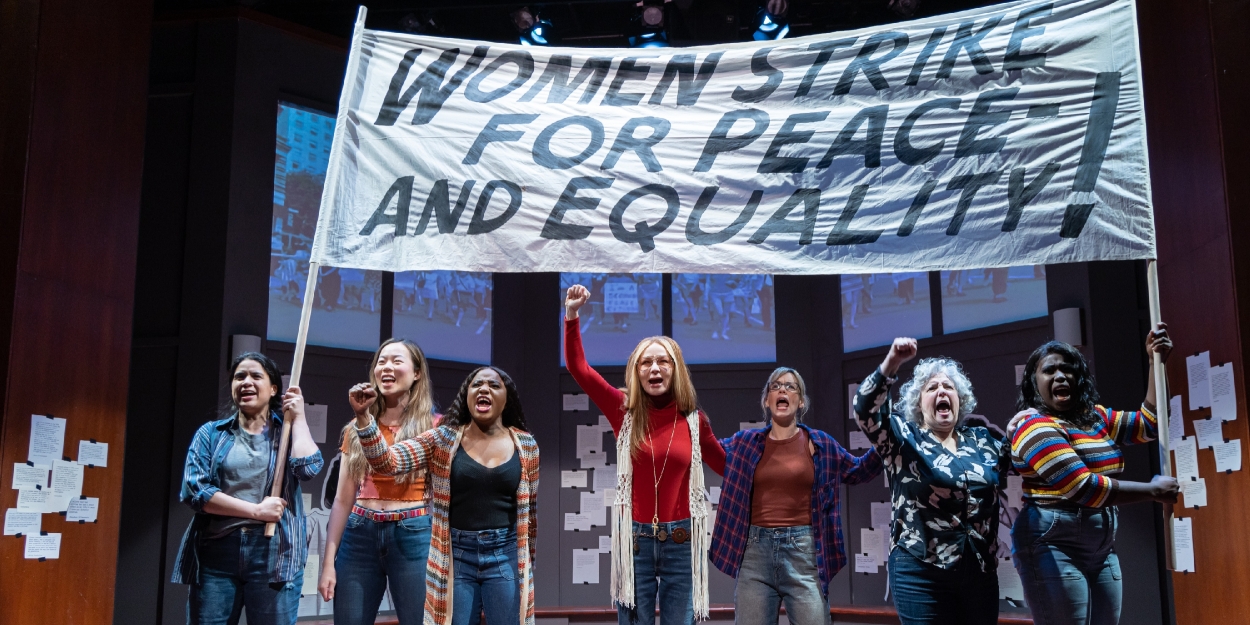 Review: GLORIA: A LIFE By Emily Mann At Theater J
Just the ticket for Women's History Month
Playwright Emily Mann specializes in writing plays which are also documentaries. (As Director Emily Mann, she's directed 50 plays during a 30 year career as Artistic Director Emily Mann of the McCarter Theatre, from which she recently retired. Actors are not the only triple threats in the world of theatre.) But as a playwright, Mann brings to the theatre research skills to rival Ken Burns and dramatist skills to rival--well, nobody, really. She's the only American playwright ever to write mostly about real people and events: Viet Nam war veterans, the Holocaust, the activities of the Klan as recently as 1979, the Delany sisters, homophobia (her Execution of Justice at Arena Stage in 1985 won a Helen Hayes Award.). So, lucky DC, Mann's Gloria: A Life brings this biography of Gloria Steinem to Theater J through April 2. (And lucky opening night audience--the event brought both Mann and Steinem to the room where it happened, causing a standing O before the houselights even went down.)
Mann wisely populates the stage with more than just Steinem. An ensemble of six women play a slew of people who were part of Steinem's life and career. There's also footage on screens above the stage of news broadcasts and several of Steinem's speeches and interviews (e.g. a chilling clip from a Larry King show when a caller berates Steinem on live TV) as well as many photographs of her as a youngster, as a Playboy Bunny, as a women's march leader, and a sort of a home movie when Congresswoman Bella Abzug sang special lyrics to "Glow Worm" on the occasion of Steinem's 50th birthday. (Steinem turns 89 in a couple of weeks.)
In case you just moved out of an efficiency under a rock or are so young that you think the American feminist movement began in January of 2017 on the Mall while wearing a pink, knit hat, here's what you ought to know on your way in to Gloria: A Life. After graduating Phi Beta Kappa from Smith in 1956, Steinem moved to New York and began seeking freelance writing gigs. In 1963, one of those jobs sent her undercover as a Playboy Bunny (the wizard or rather Google will explain). The resulting article, which exposed the frequent sexual harassment of women who worked in Playboy clubs and other negative details such as the fact the management stole 50% of the women's tips, put Steinem on the map as a journalist. In 1968, she helped found and edit New York Magazine, and in 1971, she co-founded Ms., the first-ever magazine written, edited, owned, and operated by women. (The slide show on the screens includes a terrific array of some of its covers.) From then on, Steinem has been one of the most important and active leaders in the world of causes promoting benefits for and equality of women. Mr. Obama awarded her the Presidential Medal of Freedom in 2013. Books of her collected essays (1983) and a memoir (2015) and frequent speaking engagements make sure her ideas stay on the front burner; once in a while, she joined Jane Fonda on the Mall to get arrested for raising awareness about climate change on Fire-Drill Fridays in The Before Times.
Gloria: A Life dramatizes dozens of pivotal moments in this life and career. Director Holly Twyford (herself a triple threat: director, acting teacher, 4-time Helen Hayes Award winner in acting) paces the vignettes perfectly--seven performers can seem like 700 at a demonstration for women's rights; and then sometimes Twyford calls for one of Colin K. Bills' specials to single out Steinem so that she can tell a more intimate story about her mother or her husband in quieter surroundings. Like solo moments in chamber music or jazz, Twyford knows how to conduct what Mann calls for the six-woman ensemble to do: stand out, step back, blend, speed up, calm down, team up, move on. The production resembles a sports event that also has thinking, language, and caring.
Ensemble members Debora Crabbe and Awa Sal Secka bring to rousing life Dorothy Pitman-Hughes and Flo Kennedy whose activism and feminist leadership helped Steinem bring racial diversity to her work. Indigenous, Mani Yangilmau performs with stately energy the role of Cherokee Chief, Wilma Mankiller, who schooled Steinem on Indigenous ways and culture. Sherri L. Edelen's take on Bella Abzug (complete with red fedora) is a hoot, and her portrayal of Steinem's mother is deeply moving, deeply troubling. Sydney Lo and Helen Hayes Award-winner Erin Weaver round out the team.
Susan Lynskey's performance as Gloria Steinem would be a career-making one if she were not already so successful. Lynskey captures both Steinem's introspection and her aptitude for inclusion and team-building. Lynskey is just wonderful to watch--always thinking, completely feeling, never imitating. Her work is more embodiment than performance--watching her makes viewers forget that she isn't Gloria Steinem.
Tip of the hat to Costume Designer Moyenda Kulemeka who has found a vast and variegated batch of jackets (and hats, scarves, costume jewelry, and vests) with which to help Twyford drive the actors nuts; remembering which garment goes with which character and when to wear it, and to often do this onstage without benefit of a dresser is just one of the ways in which, for an actor, art isn't easy. But the many costume pieces help the audience direct mental traffic since Mann chooses so many events and people from Gloria Steinem's exemplary and very interesting life.
The play runs, intermissionless, about 100 minutes. (Theater J asks the audience to wear masks.) But there's a sort of Act II afterwards; it's not your fore-mother's post-show discussion; the audience scripts it. It's a caucus--the Algonquin word Mankiller taught Steinem for "talking circle." Gloria Steinem doesn't believe in silos; she thinks that it's groups which can get stuff done. So rather than bolt for the exits when the houselights come up, stick around and act well your part--there all the honor lies.
Photo Credit: Ryan Maxwell Photography