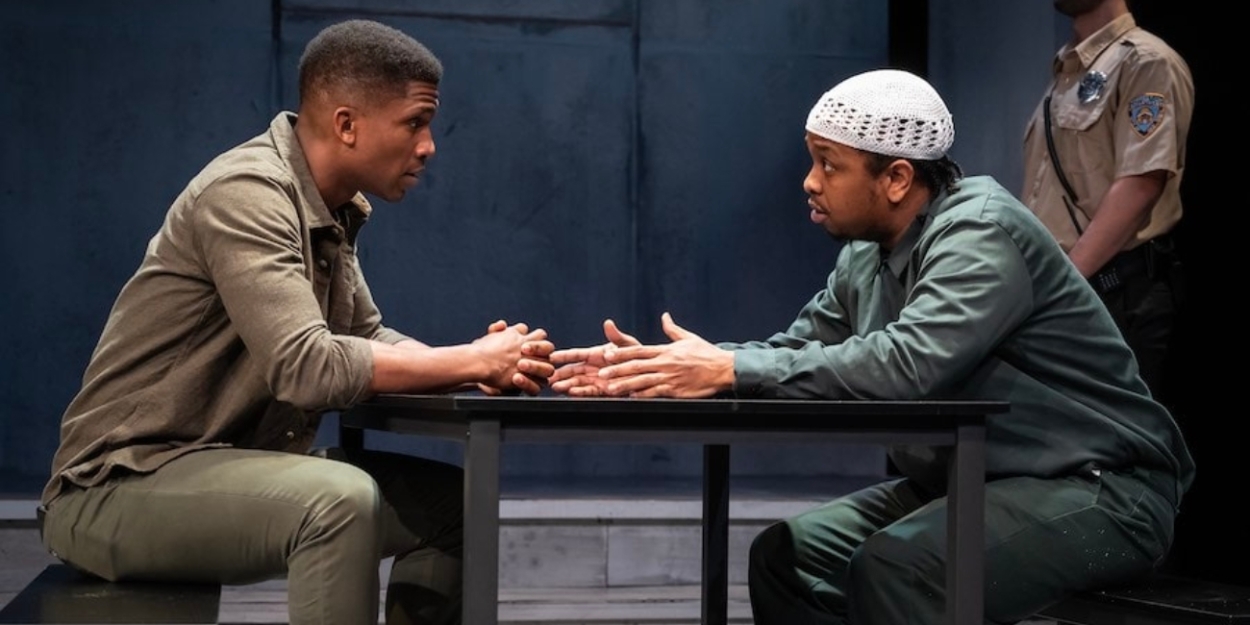 Review: BARS AND MEASURES at Mosaic Theater
Brothers navigate jazz and justice
The clever title of Idris Goodwin's play "Bars and Measures" at the Mosaic Theater refers both to components of musical notation as well as the harsh realities of the American justice system.
And that's where the story starts - in a prison where an incarcerated jazz musician awaiting trial transcends his harsh surroundings by keeping the music alive in his head, passing his knowledge to his visiting kid brother.
Practicing the scat parts of a tricky Ahmad Jamal riff is the wordless communication between brothers who have had so many things divide them. Bilal (Louis E. Davis) is steeped in jazz and won't let anyone touch his standup bass while he's locked up; Eric (Joel Ashur) is trained in classical music but open to other routes to musical explorations. Bilal had covered to Islam; Eric is still Christian. Both have been underfoot of an oppressive system; Bilal has found a more radical way to oppose it. And there are the usual big brother / kid brother dust-ups.
A rapper and spoken word artist before he began writing plays, Goodwin knows the power of language and rhythms of communication. The interchanges between brothers - and between Eric and a talented vocal student (Lynette Rathnam) - have a give-and-take energy that propels the play. Its success in the D.C. premiere may be due to the work of Reginald L. Douglas, the Mosaic artistic director in his directoral debut there.
Commissioned by a Sacramento theater group and first staged nearly a decade ago, "Bars and Measures" was based on a newspaper clipping about a true life story about a pair of similar brothers.
As the brother locked up, Davis quietly seethes with rage, though he knows enough about his situation not to needlessly rile his jailor (Afsheen Misaghi). Ashur, who like Davis has been a standout at other D.C. area stages, is arresting in his complex role, trying to keep a connection to his brother while also realizing he is his own person.
Required to play a bit of piano in his role, he does so convincingly, just as Rathnam rises to the occasion as a singer. Their budding romance on stage unfolds charmingly as well.
Paige Hathaway has created a terrific set, where the blinds of Eric's apartment on one end of the stage mimic the lines of the bars in the jail, where the overhead barred windows look like something out of a Robert Gober sculpture. Lighting director John D. Alexander's stripes of expressive lines of blue light embedded in the walls give a sharp abstraction well suited to the music.
"Bars and Measures" has changed shape over the years, and the current production ends somewhat unsatisfyingly with what comes off as a series of speeches. At a breezy 80 minutes, there's not enough time to go into the huge story of government coercion in religious communities to commit terrorism.
And while it's common for recent plays to have the smallest number of cast members possible, it would have been interesting to have the mother of the men, of whom they speak, to be actually part of the play, to see what she would make of their life choices.
As it kicks off a season of new plays at Mosaic, "Bars and Measures" has the crucial involvement of DC Jazz Festival, which, if it didn't already provide technical assistance in some of the playing or scat singing, brings talented local jazz musicians to play before performances, as curated by Kristopher Funn, who also wrote the original score for the Mosaic production.
Running time: About 80 minutes, no intermission.
Photo credit: Joel Ashur and Louis E. Davis in "Bars and Measures." Photo by Chris Banks.
"Bars and Measures" runs through Feb. 26 at Mosaic Theater, performing at Atlas Performing Arts Center, 1333 H St NE, Washington. Face masks required. Tickets at 202-399-6764 or Click Here