National Philharmonic Celebrates American Jazz With 'Sounds of New Orleans: A Tribute to Louis Armstrong'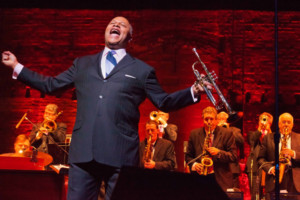 Witness the unforgettable jazz musician Byron Stripling's electrifying performance in "Sounds of New Orleans: A Tribute to Louis Armstrong" with The National Philharmonic, led by Maestro Piotr Gajewski, on Saturday, March 30, 2019 at 8 p.m. at The Music Center at Strathmore's Concert Hall. Stripling got his start as the lead trumpeter in the Count Basie Orchestra and will perform Armstrong's greatest hits, including his signature version of When the Saints Go Marchin' In. Stripling will perform other Armstrong hits, including Saint Louis Blues, Statchmo Scattin' & Swingin', and What a Wonderful World. Stripling has performed as lead trumpeter and soloist with symphonies around the country, as well as at Carnegie Hall. Ticket prices are $10-$72. Strathmore is located at 5301 Tuckerman Lane, North Bethesda. For more information or to purchase tickets, visit www.nationalphilharmonic.org or call 301.581.5100.
The great jazz pioneer Louis Armstrong spent his life traveling the world as an ambassador for the musical form that's America's greatest contribution to the arts. Trumpeter and singer Byron Stripling has lived a similar life, performing the timeless music in the style originated by Armstrong and his contemporaries. "Nothing can ever get old in jazz, because it's meant to be felt differently all the time," Stripling said.
"When I played in Count Basie's band, we were probably on the road almost 200 days a year, and it never felt old. We played April in Paris every night. We played One O'Clock Jump every night. Not only did I hear them and feel them as something new at each show; I actually felt I was part of the experience. Think of all the movies that include Armstrong's What a Wonderful World including Robin Williams, Good Morning Vietnam," Stripling concluded.
Stripling has delighted international audiences with his soulful voice and charismatic swagger. He is a frequent performer with the Boston Pops Orchestra and is a featured soloist on the PBS television special, "Evening at Pops." Currently, Stripling serves as artistic director and conductor of the highly acclaimed, award winning Columbus Jazz Orchestra. He first debuted at Carnegie Hall with the New York Pops, and has since performed with more than 100 orchestras around the world, including the National Symphony, Seattle Symphony, Baltimore Symphony, Vancouver Symphony, Toronto Symphony, and Dallas Symphony, among others. He has been a featured soloist at the Hollywood Bowl and performs at jazz festivals throughout the world. Also an accomplished actor and singer, Stripling performed in the lead role of the Broadway bound musical, "Satchmo," made a cameo appearance in the television movie, "The Young Indiana Jones Chronicles," performed in the 42nd Street production of "From Second Avenue to Broadway." Stripling has also provided solos for The Grammy Awards, television theme songs such as 20/20 and CNN, and other television commercials.
Stripling began his career as a lead trumpeter and soloist with the Count Basie Orchestra under the direction of Thad Jones and Frank Foster. He has played and recorded extensively with the bands of Dizzy Gillespie, Woody Herman, Dave Brubeck, Lionel Hampton, Clark Terry, Louis Bellson, and Buck Clayton in addition to The Lincoln Center Jazz Orchestra, The Carnegie Hall Jazz Band, and The GRP All Star Big Band. Stripling was educated at the Eastman School of Music in Rochester, New York and the Interlochen Arts Academy in Interlochen, Michigan.
Louis Armstrong (1901-1971) was one of the most iconic American trumpeters in jazz history. Born in New Orleans, Armstrong grew up in abject poverty, but also discovered a passion for jazz music. Armstrong played in marching and jazz bands throughout his teenage years, eventually making it to Mississippi riverboat dance bands in the 1920s. Armstrong began to play alongside-and sometimes, replace-New Orleans jazz musician King Oliver. Eventually, Armstrong would play throughout New York City and Chicago, where he started his most popular early work, the Armstrong Hot Five and Hot Seven recordings of 1925-28, which catapulted him into fame. Armstrong became an innovative performer, touring the United States and Europe as a soloist and with other big bands. He was one of the inventors of scat singing, and often sung lyrics on his recordings. In addition to playing the trumpet, Armstrong was a notable actor, comedian, singer, and bandleader.
Maestro PiGajewski is one of a select group of American conductors equally at home in nearly all musical genres. He is the music director and conductor of The National Philharmonic at the Music Center at Strathmore, and a sought-after guest conductor. He was a student and disciple of the late Leonard Bernstein, and is described by The Washington Post as an "immensely talented and insightful conductor, whose standards, taste and sensitivity are impeccable." With one foot in the United States and the other in Europe, as Principal Guest Conductor of the Silesian Philharmonic (Katowice, Poland) and frequent guest at other orchestras, the jet-set maestro's seemingly limitless repertoire, most conducted without a score, amazes critics and audiences alike.
Led by Maestro Gajewski, The National Philharmonic is known for performances that are "powerful," "impeccable," and "thrilling" (The Washington Post). In July 2003, the National Chamber Orchestra and Masterworks Chorus merged to create The National Philharmonic, an ensemble with more than 50 years of combined history, bringing high caliber musical performances to the Washington area. The National Philharmonic took up residence at the state-of-the-art Music Center at Strathmore upon its opening in February 2005. Now, more than 250 performances later, and with far-reaching educational programming, The National Philharmonic is the largest and most active professional orchestra based in Montgomery County.
As the Music Center at Strathmore's orchestra-in-residence, The National Philharmonic showcases world-renowned guest artists in time-honored symphonic masterpieces conducted by Maestro Gajewski, and monumental choral masterworks under National Philharmonic Chorale Artistic Director Stan Engebretson.
To purchase tickets for Sounds of New Orleans and for information about the Philharmonic's remaining 2018-19 concerts, please visit www.nationalphilharmonic.org or call the Strathmore Ticket Office at 301.581.5100. Tickets are $10-$72.