BWW Review: Thought-Provoking, Site-Specific THE FREDERICK DOUGLASS PROJECT at Solas Nua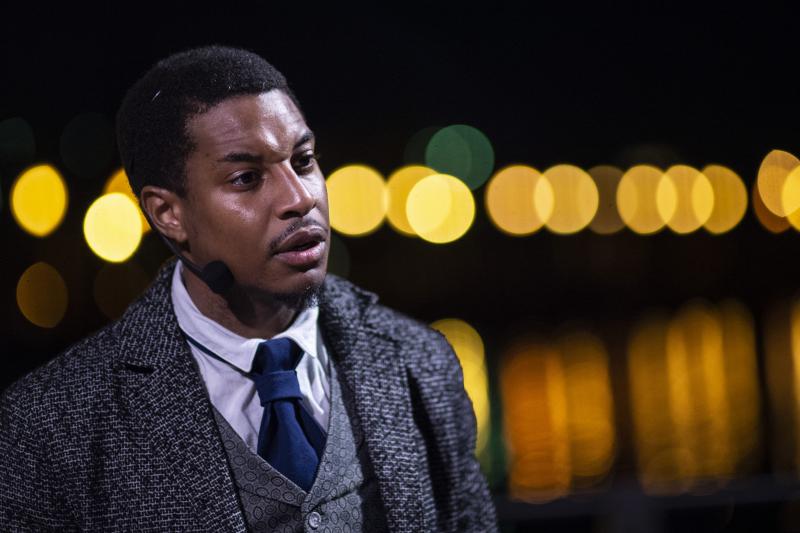 THE Frederick Douglass PROJECT is an innovative and ambitious world premiere musical commissioned by Solas Nua. Staged on a pier jutting into the Anacostia River, the production gains added resonance in the shadow of Douglass' historic home at Cedar Hill and the bridge that bears his name.
The new work was devised by Solas Nua, a company dedicated to contemporary Irish arts, to commemorate the bicentennial of Frederick Douglass' birth by exploring his 1845 lecture tour of Ireland, a time when Douglass says, "I seem to have undergone a transformation. I live a new life."
The production features live music, hip-hop, and dancing in a blend of African American and Irish cultures to create a work that underscores the timelessness and universality of the quest for human rights and dignity, of seeking freedom and banishing subjugation.
THE Frederick Douglass PROJECT consists of two short plays staged seamlessly in one 70-minute production. AN ELOQUENT FUGITIVE SLAVE FLEES TO IRELAND by acclaimed local theater artist Psalmayene 24, and WILD NOTES by award-winning Irish playwright Deirdre Kinahan, together give audiences a fascinating dual perspective using Douglass' experience in Ireland as a jumping off point to explore the sad shared experience of suffering, suppression, and displacement.
Gary L. Perkins III is a steady and charismatic Douglass. He projects power and authority when needed, but excels in the quieter, one-on-one moments sharing insights and deepening his own understanding. Madeline Mooney, as Susan and Margaret, is key to both short plays. Feisty Susan on her way back home to Ireland contrasts with weathered Margaret, educated and looking for new opportunity yet battered by Ireland's blight and oppression.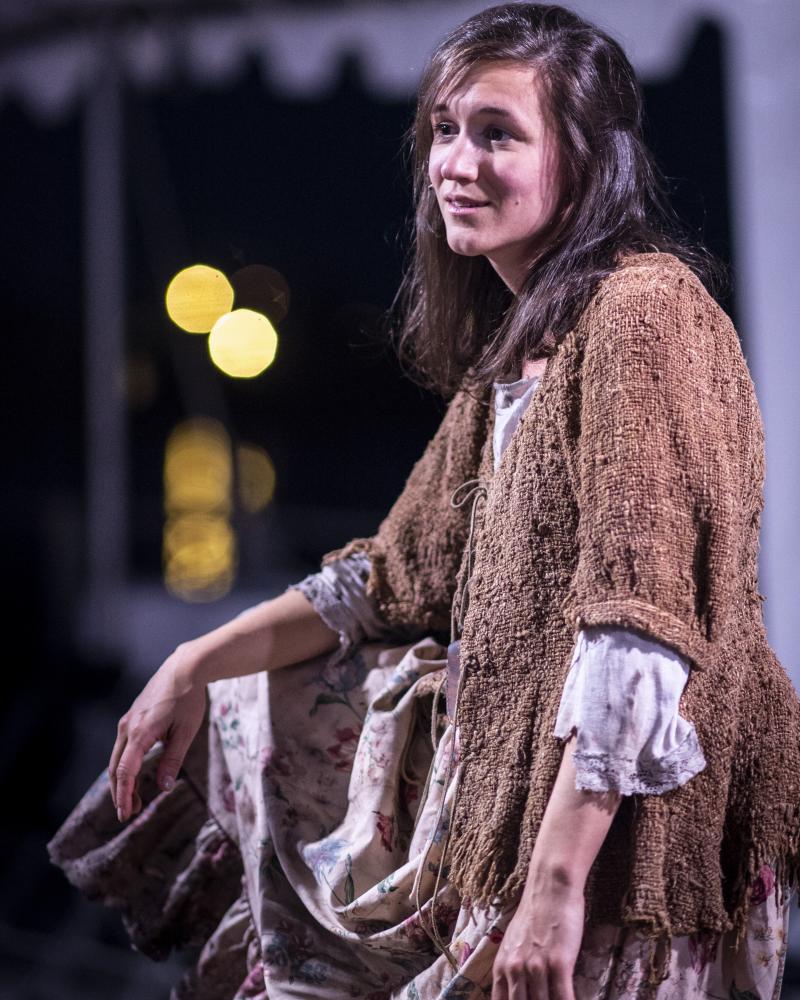 Each member of the strong ensemble has break-out moments. Tiffany Byrd is a desperate woman seeking sanctuary from the atrocities of Uganda's Lord's Resistance Army. Louis Davis' contemporary young man hopeless and unfairly imprisoned for years without trial. Jenny Donovan's haunting depiction of a young woman whose developmental disability leaves her vulnerable to abuse. Michael Crowley brings ringing authority as the ship's captain. Daniel Westbrook and Kevin Collins are menacing good ol' boys.
THE Frederick Douglass PROJECT is directed by Raymond O. Caldwell, resident director and lecturer at Howard University. The two plays share one cast and one set. They flow directly from one play to the other without even a change in lights or sound to indicate one playwright's vision from the other. The concept allows THE Frederick Douglass PROJECT to explore some big, meaty topics, but comes at the expense of getting to connect with characters, particularly with Frederick Douglass. Although each of the component plays, AN ELOQUENT FUGITIVE SLAVE FLEES TO IRELAND and WILD NOTES, are solid and compelling, THE Frederick Douglass PROJECT as a whole would benefit from beats that build the shared themes, propel the audience from one play to another, and echo key refrains. This is a big work with big themes yet it is at its most captivating when we zero in on the characters as they open their hearts and expose their humanity.
Tiffany Quinn's choreography uses the tight, close space to great advantage. Stomping feet and slapping hands provide great percussive punctuation of the text. The swaying bodies convey the movement of the sea, the passage of time, the sting of violence.
Jonathan Dahm Robertson's scenic design transform a canvas tent on a pier at the bustling Yards Marina to a pitching ship on the Atlantic and the docks of famine-plagued Ireland. The functional, flexible set pieces use simple wood, chairs and canvas to great effect. Marianne Meadows' lighting merges with the central stage to contrast warm tones with moments of focused, hot intensity. Costumes by Danielle Preston provide needed simplicity and movement while maintaining the specific features of the mid-19th century. Yet small details like the anachronistic zippers on Frederick Douglass' quilted high tops show us that this story is ageless and just as significant now as more than a century ago. With a space this intimate, every stitch, hem, and shoelace is on display. Music and sound direction by Michael Winch weaves the live, on-stage strings and percussion with recorded pieces. Traditional Irish tunes merge with contemporary music. The stormy weather on opening night added its own dramatic flashes and rumbles-audiences may need to contend with weather beyond the pier's tent.
Audiences gain a lot from the unique theater experience on the Anacostia, surrounded by Douglass' enduring legacy and strong ties to the locale-but the production will have another innovative staging. Thanks to the support of the DC Commission on the Arts and Humanities, 400 high schoolers attending DC public and charter schools will see THE Frederick Douglass PROJECT staged at the Metropolitan A.M.E. Church in downtown Washington where Douglass was a member and where his funeral was held. With each new site there is a different opportunity for resonance and exploration.
THE Frederick Douglass PROJECT is a highly-original, thought-provoking work of art. The production blends two fresh and significant dramatic voices, each with a unique perspective on the same time and themes. The site-specific staging heightens the drama and creates a memorable theater experience.
Runtime: approximately 70 minutes with no intermission.
THE Frederick Douglass PROJECT runs through May 24 on Wednesday through Sunday at 8:00 pm, with matinees on Saturdays and Sundays at 2:00 pm. The site-specific production is at The Yards Marina, 1492 4th Street SE, Washington, DC 20003. For tickets or specific performance information, please visit the Solas Nua website here.
Photos by Teresa Castracane. Top left: Gary Perkins III. Center right: (left to right) Michael Crowley, Dan Westbrook, Gary Perkins III, Tiffany Byrd, Kevin Collins. Center left: Madeline Mooney. Bottom right: Jenny Donovan and Tiffany Byrd.
Related Articles View More Washington, DC

Stories

Shows
Pam came to Washington for the politics but instead found a home in its cultural community. For more than 20 years, Pam worked behind the (read more...)