Review: The Washington National Opera's LA TRAVIATA is an Exquisite Revival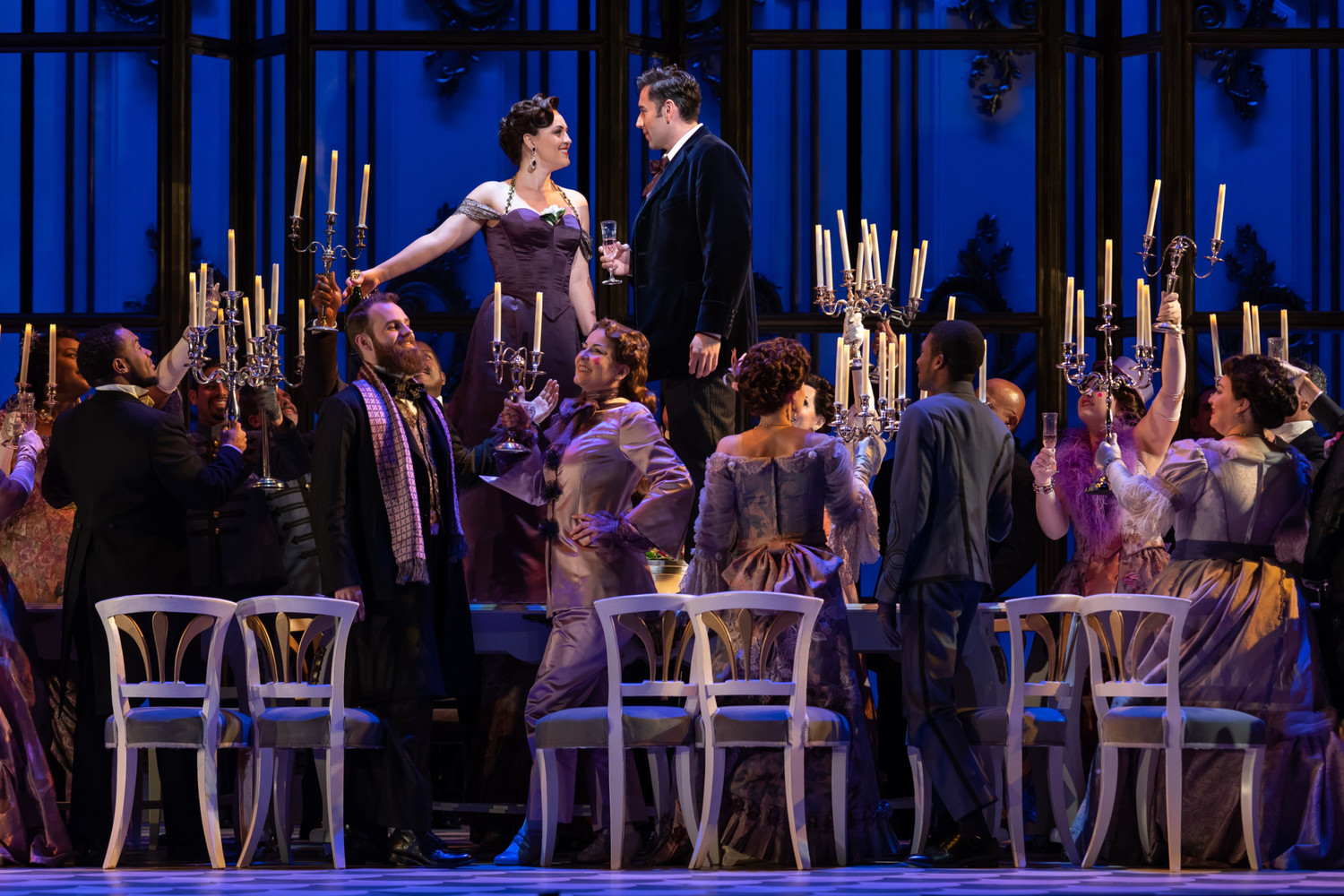 Even if you've never seen an opera, you know at least one or two of the tunes from Giuseppe Verdi's La Traviata, which has become one of the most popular modern representations for classical opera. While the work was jeered at the time of its premiere, this tragic tale has aged beautifully-with a lush score featuring some of the greatest duets. The Washington National Opera's newest production injects new life into this piece, thanks to smart directorial choices by WNO Artistic Director Francesca Zambello and a top-notch creative team.
At the production's start, Violetta Valéry (an enrapturing Venera Gimadieva), a renowned courtesan, hosts a spectacular soiree at her home. Alfredo Germont (Joshua Guerrero) arrives to the party and is immediately drawn to Violetta. Violetta initially rebukes Alfredo's advances, wondering if she is actually capable of real love. Three months later, Violetta and Alfredo are living together outside of Paris. Alfredo's father, Giorgio (Lucas Meachem), begs Violetta to leave Alfredo for the betterment of his daughter's prospects. Violetta complies, breaking off her relationship with Alfredo. The two eventually meet again in the second act but, just as they reconcile with one another, Violetta falls victim to consumption and meets her own tragic end.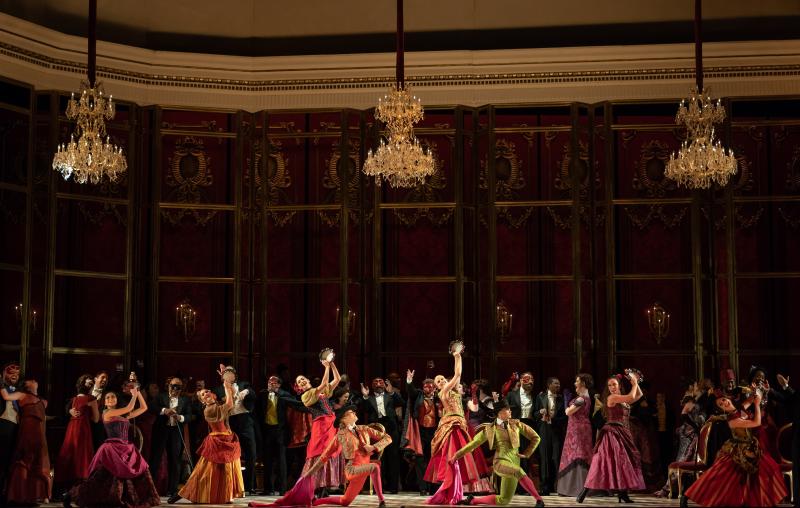 The brilliance of Ms. Zambello's production lies in her framing of the production in the doctor's office at the opera's beginning and end. There is no question that Violetta is ill from the get-go, with her beginning the production in a hospital bed as the haunting overture plays. The sudden shift from this hospital to Violetta's lavish party is expertly executed in one of the most fluid opera scene changes in recent memory and adding the additional level of the infirmary doesn't harm the overall flow for the scene.
The fluidity of the production is thanks in large part to Peter J. Davison's masterful set. Everything is just as grandiose as you would expect from an operatic scenic design, but it much more utilitarian than most operas. Actors can easily move set pieces on and off stage themselves to quickly facilitate a change without the curtain dropping for every scene change. Such choices help make elements such as a skillfully choreographed (by Parker Esse) dance possible at the top of the second act. Even the bones of the set are impressive, with large windows adorning the entirety of the stage and perfectly framing the action within.
Thankfully, the production team is rounded out by equally brilliant designers. Jess Goldstein delivers some stunning costumes which are at once elegant and impressively mobile. The fact that Ms. Gimadieva can lay herself on a hospital cot and emerge in a gorgeous gown without any hint that such a full dress was hiding under the sheets is an impressive feat alone. Couple that with a country outfit that looks straight out of Beauty and the Beast and Violetta has become the perfect jumping-off-point for the rest of the stunning clothes. Mark McCullough provides masterful support with his lighting design as well, helping to accent the best aspects of the set and costumes accordingly.
Violetta is such a compelling character thanks in large part to an ever-watchable Venera Gimadieva. With every note, she commands the stage no matter what other actions are taking place. The only time she is not the clear center of attention is when singing with one of her equally compelling counterparts. Joshua Guerrero delivers such tenderness in his intimate moments with Violetta that you can't help but rooting for the lovers even though their sad fate is inevitable. Each of them are powerful vocalists on their own, but their time together is when the production truly soars.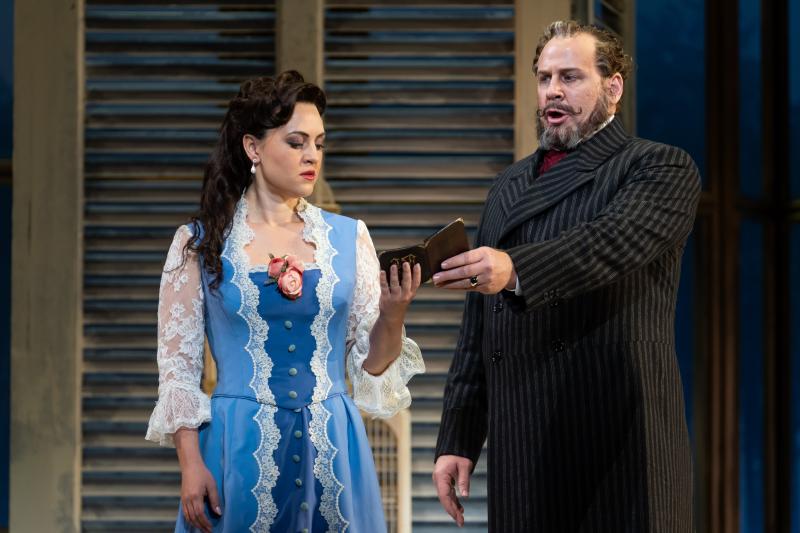 If there is a particular standout, however, it is easily Lucas Meachem, who practically steals the show as the elder Germont. While destroying his son's relationship, he is surprisingly human and relatable. When singing with Ms. Gimadieva, his beautiful baritone encapsulates all that is worth revering in opera as an art form. Winning over the audience is not easy in a role where you drive a wedge between the two protagonists. When Mr. Meachem is finished with his performance, however, you would never know that he was the most reviled character in this show when intermission hit.
I've often felt that Washington, D.C. audiences can give out their standing ovations a little too easily. With this newest production of La Traviata, the audience was on their feet the minute the curtain fell-and it was entirely justified. The WNO recently brought on a new General Director, Timothy O'Leary, and is poised to begin a new chapter with this move. If La Traviata is any indication of what is to come: this will be a chapter worth reading.
The Washington National Opera's La Traviata runs approximately three hours including a 25-minute intermission and is playing through October 21 at the Kennedy Center Opera House. For tickets and information, click here. For more information on the WNO's upcoming programming, click here.
---
Sam Abney is a Washington, D.C. based arts professional. A native of Arizona, he has happily made D.C. his new home. Sam is a graduate from George Mason University with a degree in Communication and currently works for Arena Stage as a member of their Development team. He is a life-long lover of theater and is excited about sharing his passion with as many people as possible.
To stay up-to-date on reviews from Sam, click here and subscribe to alerts.