Review: THE ELVES AND THE SHOEMAKER at Keegan Theatre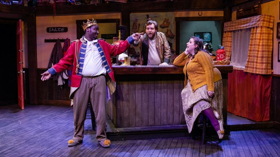 There are many companies presenting Theater for Young Audiences (TYA) shows in and around the DC area. One of the newest is a company that's been around for over twenty years, but has relatively recently branched out into the family entertainment genre.
Keegan PLAY*RAH*KA division's latest entry into the TYA market is a fun take on a Brothers Grimm tale, The Elves and The Shoemaker by Kristen Walter. It is performed on Matthew J. Keenan's set for Keegan's holiday perennial An Irish Carol - and yes, you can transform an Irish pub into a shoemaker's shop. Just remove the beer tap from the bar and voila!
Our shoemaker Eric (Jake Null), his wife Fiona (Maggie Leigh Walker) and daughter Shannon (Emily Dwornik) live in Grimmsville. Other town inhabitants include Georgy Porgie, who upsets all the girls by kissing them, and a peddler whose last business transaction was trading five "magic" beans for a cow from some kid named Jack. Eric's business has been dead for quite some time because his shoes are the most uncomfortable things you've never worn. Even his wife and daughter can't wear them, but they can't bring themselves to tell Eric that he should probably find another profession.
One night, Shannon meets that enterprising peddler (Duane Richards) in the woods. The peddler gives her a "magic" charm of the elves, which summons two elves named Zuzu (Debora Crabbe) and Herbie (Joe Baker) to Eric's shop. While he and his family sleeps, they work through the night to fix Eric's shoes and make them wearable. As you might imagine Eric's business picks up...big time. He now has more gold than he knows what to do with - and his daughter and wife just want to buy dresses. Ultimately, there is a lesson to be learned, but you'll have to see the show to find out what it is.
The six-member ensemble is ably directed by Alexis J. Hartwick. One of Keegan PLAY*RAH*KA's feature's is that it is completely sensory friendly, which means some of the bells and whistles such as flashing lights and loud sounds are omitted. Every performance is also ASL interpreted.
The show has to rely on the company to tell the story and put it across well to the audience. With a lesser director this show would be in trouble, but Hartwick's staging keeps her target audience interested throughout while putting in a few jokes to keep the adults interested too. You will howl at the old women who lives in a shoe seeking help after one of her laces broke from (I assume) having too many children. Oh...what to do!
Many of you know Jake Null as a musician but in this case, he comes out from behind his usual keyboard as our lead actor. While Null isn't necessarily as seasoned as his stage counterparts, he looks great in Shannon Marie Sheridan's costume and has excellent chemistry with his soon-to-be wife in real life, Maggie Leigh Walker as Fiona.
Speaking of Maggie Leigh Walker, I very much enjoyed her performance in this show. Walker and Null look so cute together.
Duane Richards portrays the Peddler and several other characters, including a maiden jumping prince (don't ask). He makes each portrayal distinct. No two characters are alike and you'll find yourself laughing out loud at one in particular.
Making her DC area acting debut let's welcome Emily Dwornik to the ranks of our area actors to watch in 2019. Her Shannon is endearing to be sure, and I look forward to seeing her onstage again sooner rather than later.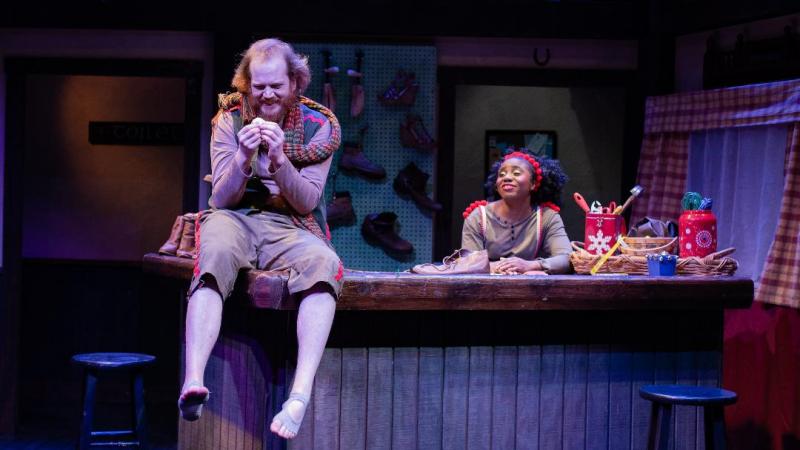 Last, but definitely not least, are our two shoe fixing elves Zuzu and Herbie who are whimsically played by Debora Crabbe and Joe Baker, respectively. Their characterizations make us wish we all had two elves in our back pocket to fix everything for us.
Overall, The Elves and the Shoemaker is a nice quick (55 minutes) theatrical attraction to take your whole family to in between running to Target for post holiday deals. Featuring a good bunch of performers and strong direction this show scores, and Keegan Theatre is now a key player in the TYA local market.
Running Time: 55 minutes with no intermission.
The Elves and the Shoemaker runs through December 30, 2018 at Keegan Theatre, which is located at 1742 Church St NW, Washington, DC. For tickets, click here.