BWW Review: SHAME 2.0 (WITH COMMENTS FROM THE POPULACE) at Mosaic Theater Company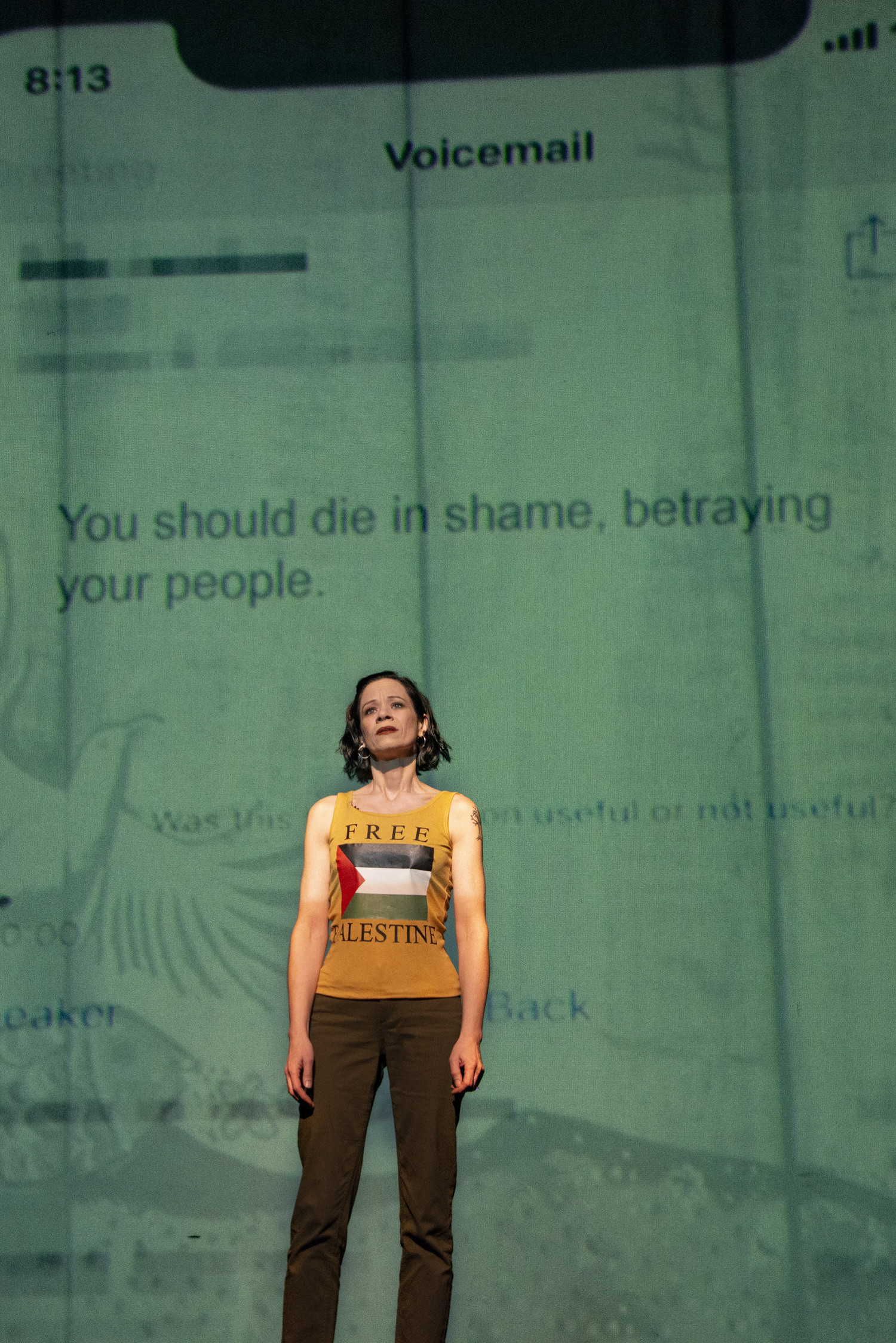 Shame 2.0 Review
Reviewing Shame 2.0 is complicated, because it's a complicated show. It's a workshop, still in progress, so this is really part review, part feedback, largely because I think the show is rough, but has a lot of great elements and a potential that makes it deserving of being seen well beyond this run.
To start, it's important to understand the context of the show - Shame 2.0 is an updated version of a previous play, based on the lives of Palestinian actor Morad Hassan and Israeli actress Einat Weizman, who co-wrote the original play, Shame (Weizman adapted the updated play as Shame 2.0). Set amongst the 2014 Gaza War, Shame 2.0 first introduces us to Morad as his career is on tenterhooks following protests of the Al Midan Theatre's decision to produce and perform the play, Parallel Time, which is based on the life and writings of Walid Dakka, who was convicted in the 1984 kidnapping and murder of Israeli soldier Moshe Tamam. Although the play focuses on prison life, when it was set to be staged at the Al Midan theatre in Haifa it was met with protests and accusations of glorifying the convicted terrorist, leading to threats of funding withdrawals from the Israeli Ministry of Culture, headed by Miri Regev. Against a backdrop of protests, news reports, and speeches from Regev and other officials about culture and free speech, Morad tells of his journey from a small town and the family sweet business to an actor in the middle of a national controversy to an actor trying to make a name for himself in the face of ignorance, racism, and politics.
Morad's story is followed by Einat's tale, starting with the day she wore a t-shirt her sister had gotten from a friend, emblazoned with the Palestinian flag and the words "Free Palestine." Einat, whose acting career was starting at this point, was photographed in the shirt and faced backlash for the garment, but it mostly died down until, years later, the photo resurfaced just as tensions were gathering in Gaza. The harassment started anew, coming in the form of phone calls, letters (both directly and to local papers), jeers and accusations from passersby, and Facebook messages. Her career suffered - she was cut from promotional posters and tours and jobs became scarce - and she regularly received death and rape threats. Her attempts to secure protection from the police were unsuccessful, and her only government support came from then-Minister of Justice Tzipi Livni, who could only promise political, but not personal, protection. In spite of this, Einat continues to act, and starts to write and direct as well, seeking to give Palestinian stories a voice; her work eventually places her in the Al Midan theatre, where she meets Morad, and the two eventually go on to write and act in Shame. She also becomes intrigued with Walid Dakka, who has maintained his innocence and advocated for pacifism, Palestinian nationalism, and prison reform; the two eventually connect through his wife, who sees Einat's plays, which are also regularly targeted by Minister Regev's loyalty laws. Einat points out the parallels of her journey from actress to political playwright with her country's radical descent.
Mosaic's production has the herculean task of taking these stories and successfully conveying them in 90 minutes. There's always a sense of a lot going on, even though the production relies on three actors and minimal sets and props. Morad Hassan plays himself and reads for Dakka, living out his earlier dream of playing the main role in Parallel Time. Einat Weizman, who wrote this updated adaption of their play, stayed on the production side of this performance, and is portrayed by DC-based actress Colleen Delany, who manages to embody the role, which is no easy feat given her subject's presence. Lynette Rathnam rounds out the cast, taking on roles as needed, most notably as Minister Regev's English-speaking counterpart. The cast works on a mostly bare stage, with only stools, a table, chairs, a podium, and a microphone to work with, which feels like a smart choice, given the complicated material.
Behind the actors, though, is a screen used to help move the story - we see theaters where Morad worked, Einat's infamous photo, newsreels, speeches, and examples of hate mail. For the most part, this is effective, but there are occasionally moments when the inclination to punch up the creative aspect goes a little too far; in a few of Regev's speeches, the screen changes the color to better convey the mood, but also breaks the video into multiple squares, like a wall of televisions, each with fast-running closed-captioning in Hebrew overwritten with English, but still not quite aligned with the actors on stage. The effect is a bit overwhelming, which may convey the mood (overwhelming seems an adapt description of the whole situation), but also leaves audiences struggling to keep up with the full tale.
While Morad's section of the show is interspersed with news reports and speeches, Einat's segment is peppered with real comments, voicemails, and letters of abuse. Cards are distributed to the audience, which creates the effect of insults coming from unexpected places - Delany simply reads out the numbers one the back of the cards as cues, then silently listens to the threats without reaction, which is powerful to watch. However, the distribution of the cards was a little distracting since it was done mid-show and in part by Delany herself; it might be more effective if they're distributed earlier on, or quietly by the stage management team, so there isn't the break in the performance and so they're a little less anticipated.
It's also a little unclear how much of this production is from the original Shame and how much is new - certainly Morad's comments about being a DC tourist attraction and Einat's references to Shame 2.0 are additions, but without the distinction, it's hard to really see why this second version exists and fully appreciate its value as an update.
Lastly, although the show seems to aim to partly be about giving more voice to Palestinians, the show felt like it didn't quite finish with Morad's story; we know very little of his time between the immediate aftermath of the closing of the Al Midan and his time in DC, and the little we know really comes from his passing presence in Einat's story. This is further felt by the fact that while all Hebrew in the show is translated to English - in subtitles and in speech - no Arabic is translated. While it may be symbolic of the silencing of Palestinian voices, it also felt contrarian to the purpose of the show. I had the benefit of an Arab-speaker sitting next to me to translate, but I feel like it would be helpful for audiences to not only hear the words, but to also understand them.
Overall, Shame 2.0 is a workshop with tremendous potential and interesting stories to tell. It's a complicated show about a complicated issue, but it also brings out universal themes that transcend race, nationality, and political ideologies. It's certainly worth seeing, and, with time, will sharpen into a powerful piece of art.
Shame 2.0 (With Comments From the Populace) plays at the Atlas Performing Arts Center as part of Mosaic Theater Company's Voices from a Changing Middle East Festival, and runs through February 17th. The production is roughly 90 minutes with no intermission.
Photo Credit: Christopher Banks

Related Articles View More Washington, DC

Stories

Shows