Review: Rich and Rewarding TALLEY'S FOLLY at Theater J
In the midst of DC's December winter holidays, Theater J brings to us ... a valentine. "This story will unfold as a waltz, a valentine" we are told in the opening monologue - and in the gifted hands of director Aaron Posner, Talley's Folly delivers the beauty and rhythm of a waltz, and the big beating heart of a valentine.
While Talley's Folly is a romantic comedy of two mismatched people unsure of their next steps, it is no Hallmark fluff. Lanford Wilson's Pulitzer Prize winner is a tender and compelling look at complex characters struggling to overcome their vulnerabilities and discover if they can join together to make a shared life.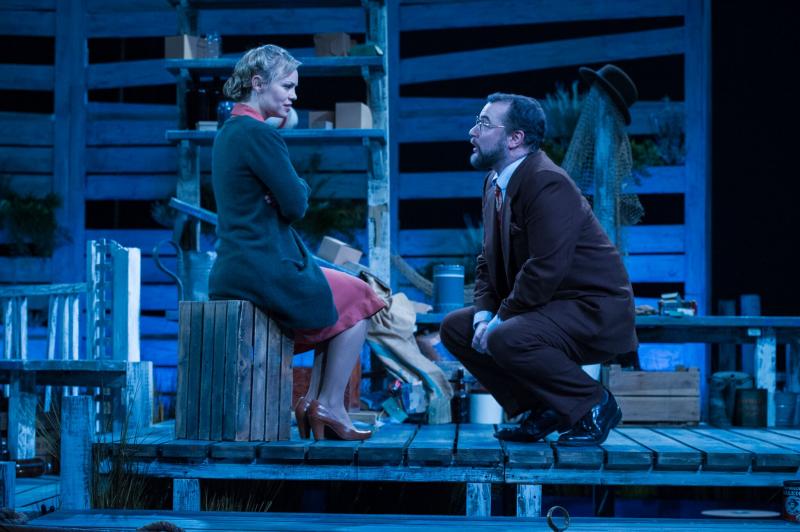 Talley's Folly takes us to the Missouri Ozarks during World War II as the country struggles to emerge from the Depression, and the gears of industry begin to turn. These wider issues, though, are in the background as the focus takes place between two people in a ramshackle boathouse - a "folly" created by a past generation of the Talley family.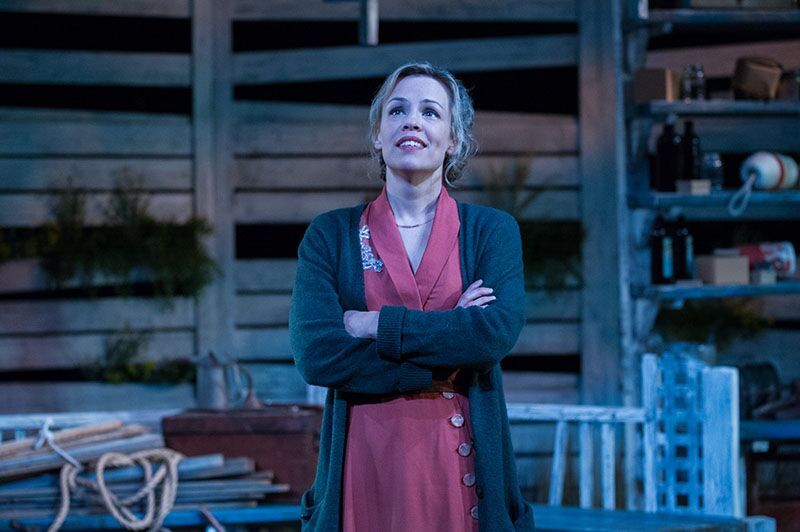 The detailed world is created by just two actors on stage for little over an hour and a half - 97 minutes, to be exact, as we are told by Matt at the outset. Matt Friedman (played by John Taylor Phillips) is a 40+ Jewish accountant based in St. Louis, who took a vacation to small-town Lebanon, Missouri a year ago and fell in love. Sally Talley (played by Helen Hayes Award winner Erin Weaver) should be small town royalty - a college educated former cheerleader, and daughter of the textile mill's owner. But at 31 Sally is seen as both black sheep and old maid, fired from her role as a local Sunday school teacher and eager to get out of Lebanon.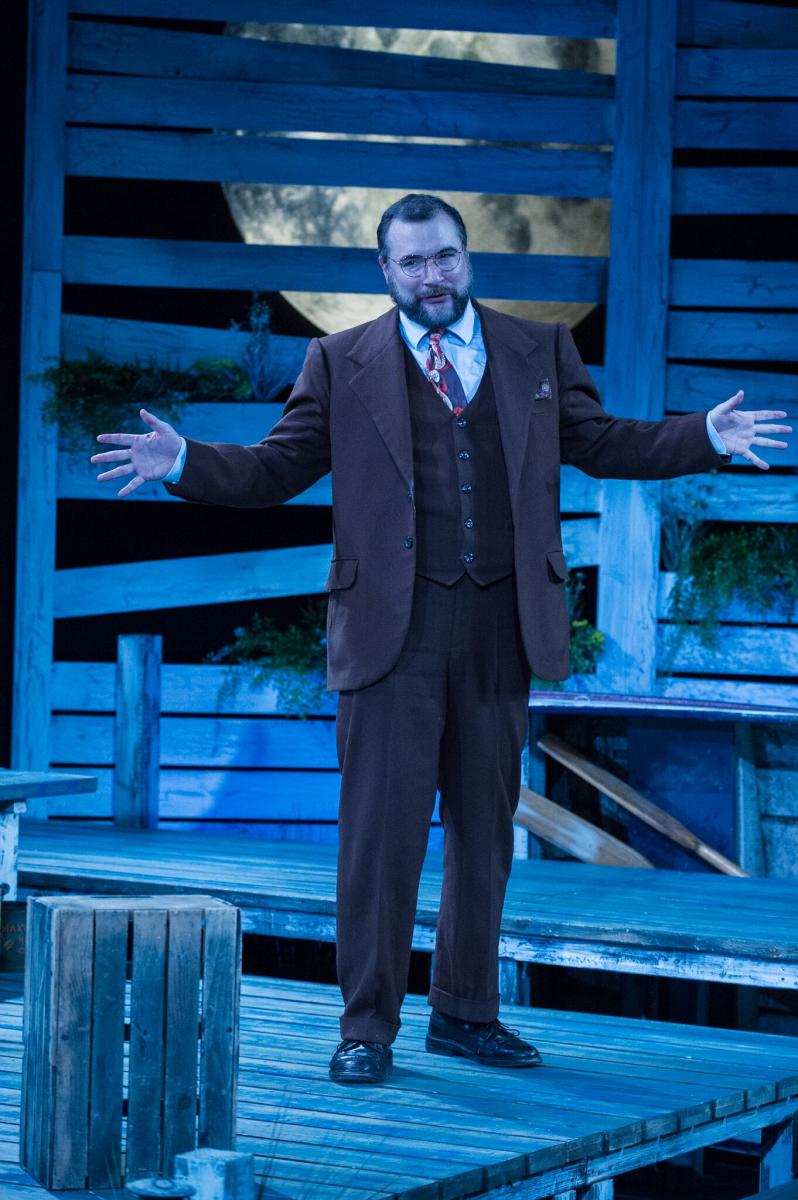 Matt and Sally enjoyed a summertime romance one year back, spending nearly every day of the week together. Matt is besotted and has written every day since. He has called Sally's Aunt Charlotte every two weeks. He has come to the hospital where Sally works as a nurse's aide. Yet Sally has only answered one letter and she hid in the kitchen when Matt came to the hospital to visit.
In an opening monologue to the audience, reminiscent of a folksy Thornton Wilder's Our Town, Matt tells the audience that they are about to witness a "once-upon-a-time" romance that could happen only in the theater. In breaking the fourth wall he creates good will and curiosity. We cheer him on.
As Matt, actor John Taylor Phillips, making his DC-area debut, is a likable teddy bear, quick to launch into a comedy routine and undeterred in his effort to connect. Erin Weaver, one of DC's most lauded actresses, creates a Sally who protests from the outset, but in crossing her arms tight against her body she ensures no true emotion will escape. "You can chase me away or you can put on a pretty dress," Matt says, "but you can't put on a pretty dress to come down here and chase me away." Phillips and Weaver are well paired, their emotions ebb and flow like the current of the folly's nearby river. Phillips and Weaver show us that although Matt and Sally have many superficial differences, they dig to discover a deep affinity.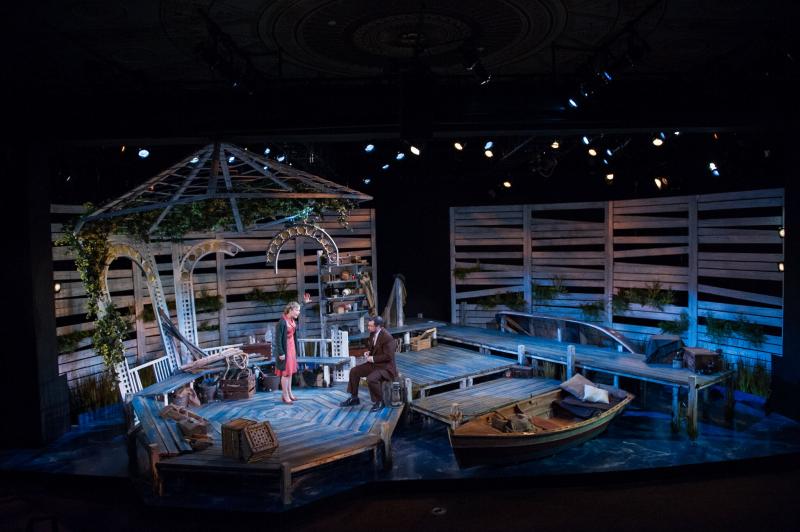 Paige Hathaway's gorgeously detailed set is nearly a character itself. Tumbling into decay, the once-excessive boathouse gazebo is both beautiful and dangerous. Sarah O'Halloran's sound reinforces a riverside folly in July, with subtle crickets and cicadas low in the background. Jesse Belsky's lighting design includes a full moon that rises and brightens over the hour and a half. Costumes by Kendra Rai set us in time and place. The production values as a whole are lush and lovely.
Director Aaron Posner, one of Washington's busiest theater artists, has brought DC a wide range of fascinating work over the years, from classic to contemporary. Posner's most recent Theater J projects were Everything is Illuminated and Broken Glass. He has earned multiple Helen Hayes Awards - for both playwriting and directing. Here he tackles a contemporary classic. In Talley's Folly he creates a rich and rewarding production. In director's notes Posner says he finds Talley's Folly "a nearly perfect play. It is small, but mighty. It is a humble and beautiful story - almost as much a fable or tale or romantic love poem as a play."
Theater J's Talley's Folly is warm and wonderful, and beautiful to behold.
(Note that Theater J's 2018-2019 season is taking place around town at four different DC venues while the historic Edlavitch DCJCC undergoes renovation. Talley's Folly makes great use of the historic Tivoli Theatre, home to GALA Hispanic Theatre, in Columbia Heights.)
Runtime: Approximately 97 minutes with no intermission
TALLEY'S FOLLY by Lanford Wilson is produced by Theater J at GALA Hispanic Theatre, 3333 14th Street NW, Washington, DC. The production runs through December 30 with performances Wednesdays, Thursdays, and Sundays at 7:30 pm; Sundays and select Saturdays at 2:00 pm; and Saturdays at 8:00 pm. Wednesday matinees will be held December 19 and 26 at 12:00 pm. For tickets or further information including assistive services and a schedule of post-show discussions visit the company's website.
Photos by C. Stanley Photography: Erin Weaver and John Taylor Phillips in Theater J's production of Talley's Folly.