Review: Dark and Unrelenting RICHARD THE THIRD at Shakespeare Theatre Company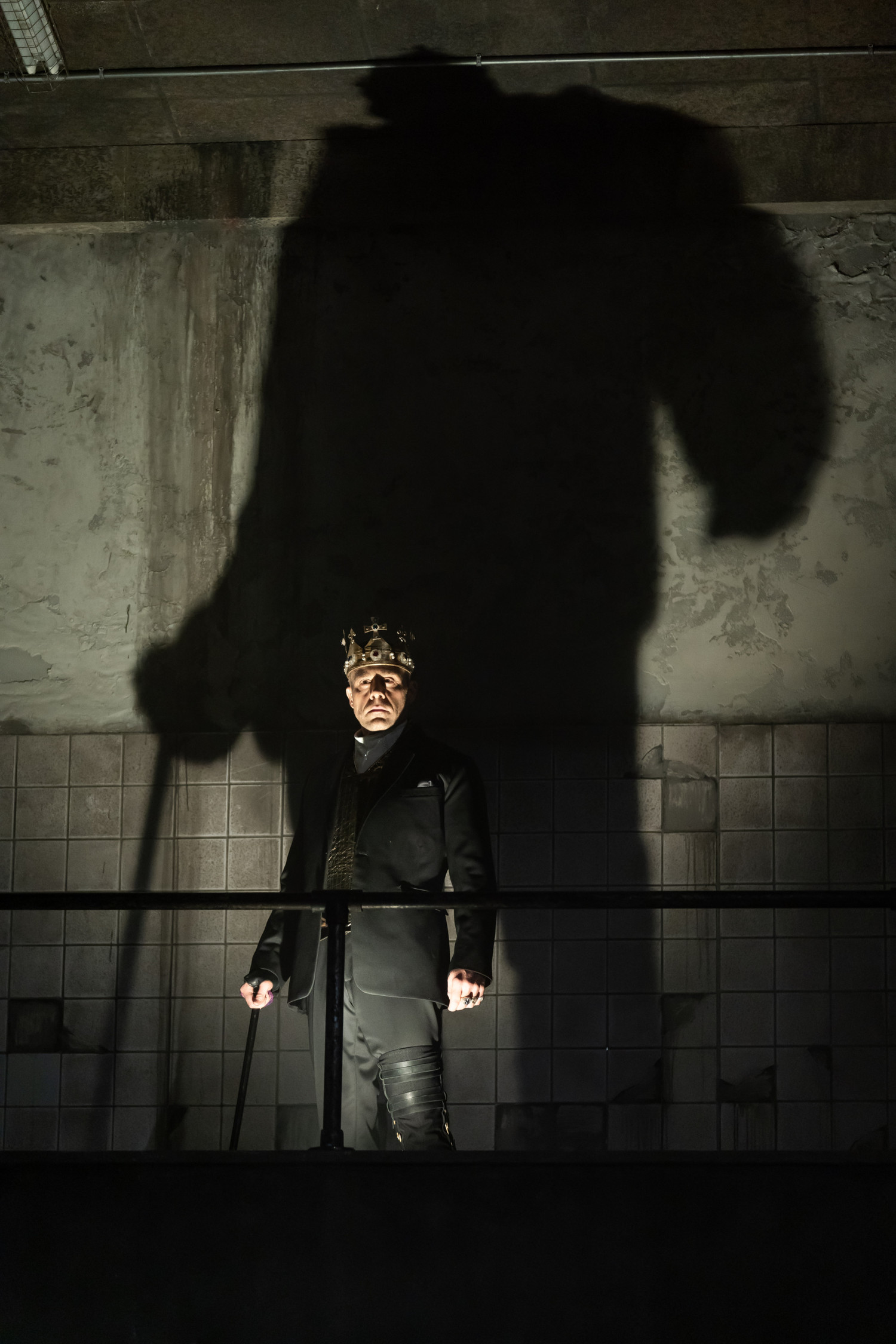 Richard the Third is one of Shakespeare's most famous villains. Ruthless and astute, savvy and unscrupulous, Richard pursues power with a single-minded and dangerous intensity. In the Shakespeare Theatre Company's production, directed by David Muse, Richard's world is grim, gray, perilous, and unrelenting.
"It's a great play for now," says Muse, in prepared director's notes. "It's about a heartless man, a con artist, a man obsessed with winning and power, a misogynist, a spinner of news and misinformation, a man who thrives by beating others, a man who uses and discards people. It's about how a country responds to a leader like this. We watch people negotiate with their own mortality, align themselves with power and resist secretly if at all."
Matthew Rauch in the title role is d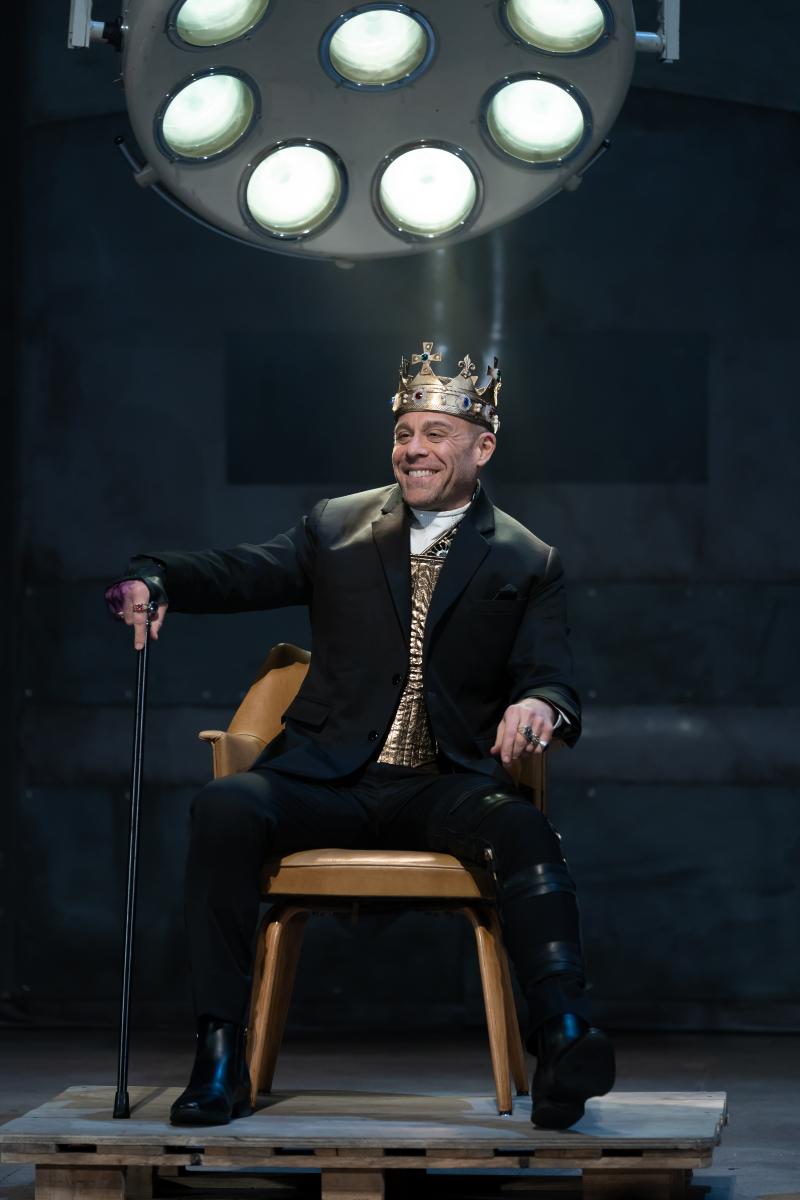 eliciously complex - we, too, are alarmed to find ourselves wooed by his intelligence and charisma even as we are repelled by his treachery and dogged fixation with acquiring power any cost. Broadway and television veteran Rauch says much with an arched brow to the audience, or with inflection. Richard's disability is not overtly emphasized in this production, a dandy's cane, a leg brace, and a boned corset nod to his physical nature; the emphasis here is his terrifying need for supremacy.
This Richard the Third features a cast of especially strong and memorable women cast as figures who are little more than pawns with limited options in a man's world. Lizan Mitchell, as Margaret of Anjou, changes the energy of the stage as she enters the room, cursing Richard and his family with her nearly mystical prophetic cries. In her grief and with limited choices, Cara Ricketts' Lady Anne of Neville bends to Richard's courtship over the corpse of her husband. Robynn Rodriguez as Queen Elizabeth, mother of the two young princes, scrabbles for dignity. Sandra Shipley as Richard's mother, the widowed Duchess of York, displays no maternal softness for her manipulative, power-obsessed son. Casting Sofiya Cheyenne as the Mayor of London and Evelyn Spahr as the Earl of Richmond expands meaty roles for women and allows
contemporary audiences to see these roles in a fresh light.
Muse, veteran Shakespeare Theatre Company associate artistic director, now artistic director of Studio Theatre, assembles an able ensemble caught in villainous Richard's ever-spiraling blood-thirsty quest for control. This relentless march of evil is punctuated by the ensemble of actors by marching, sharpening knives, striking the ground - a steady, percussive beat of terror underscoring the production. People, quite literally, are tasked with mopping up Richard's messes.
Soon after we return to our seats after intermission, the audience numbs to the relentless progression as the depiction of torture is more explicit and Richard and his cronies offer no surprising nuance or subtlety. The action is full out torment and there is no respite.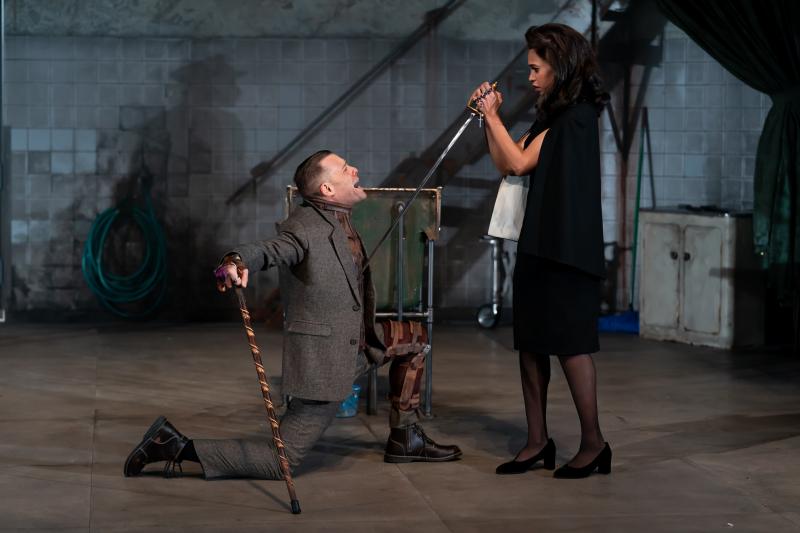 Scenic designer Debra Booth brings us to a morgue, dominated by a huge medical light. The set is a grey rusting bunker, where Richard's enemies are efficiently dispatched. The cinder block walls ooze dirt and gore, unable to contain the filth. Lighting Designer Lap Chi Chu alters a dim, fluorescent sickly warehouse mood with focused bright surgical intensity. The successful choice to use projected supertitles helps speed exposition and provide clarity. Lindsay Jones' original music and sound design features a feedback-laden heavy metal guitar that mirrors Richard's world: grating, loud, off-putting, and without relief. Murell Horton's costumes nod to many time periods; despotism is not unique to one era. A Jackie O suit, courtly gown, proper naval school uniform, desert fatigues, butcher aprons, and a steampunk corset easily coexist. There is little color on stage - sets and costumes are in grays, browns, black, or white. The one exception is punctuation of red blood. The production elements combine to notify us that there is no comfort or beauty to be found in Richard's dank, foul world.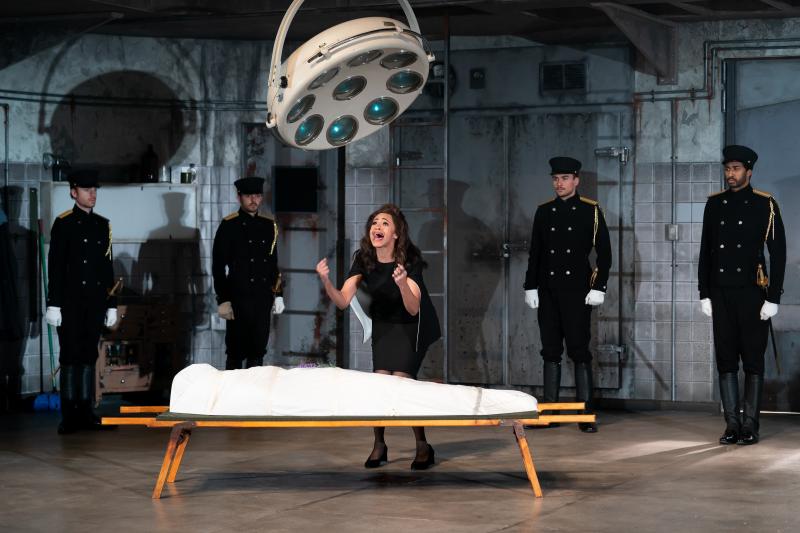 Richard aims to usher us from our winter of discontent. With the vision of Richard's dystopian rule, I am tempted to stay firmly burrowed like the groundhog, reluctant to venture forth. Shakespeare's tale of villainy, and the Shakespeare Theatre Company's interpretation, asks the audience to venture into a severe and harsh world. It is a dark and fascinating journey, but not for the faint of heart.
Richard the Third by William Shakespeare runs through March 10 with shows on Tuesdays, Wednesdays and Thursdays at 7:30 pm; Fridays and Saturdays at 8 pm; Sundays at 7 pm; matinees at 2 pm on select Saturdays and Sundays.?The production is at Sidney Harman Hall, 610 F Street, NW, Washington, D.C. 20004.? For tickets or further information on the production or special events, please visit The Shakespeare Theatre Company website here.
Photo credit: Scott Suchman. Top and next: Matthew Rauch as Richard III; middle: Lizan Mitchell as Margaret of Anjou and Robynn Rodriguez as Queen Elizabeth; next: Matthew Rauch as Richard and Cara Ricketts as Lady Anne of Neville; bottom: Andrew Thornton as Ensemble, Billy Saunders, Jr. as Ensemble, Cara Ricketts as Lady Anne of Neville, Sheldon Donenberg as Ensemble and Mihir Kumar as Ensemble.