Click Here for More Articles on REGIONAL - Virginia - Northern VA
BWW Review: 1st Stage Presents Poignant Regional Premiere of HERO'S WELCOME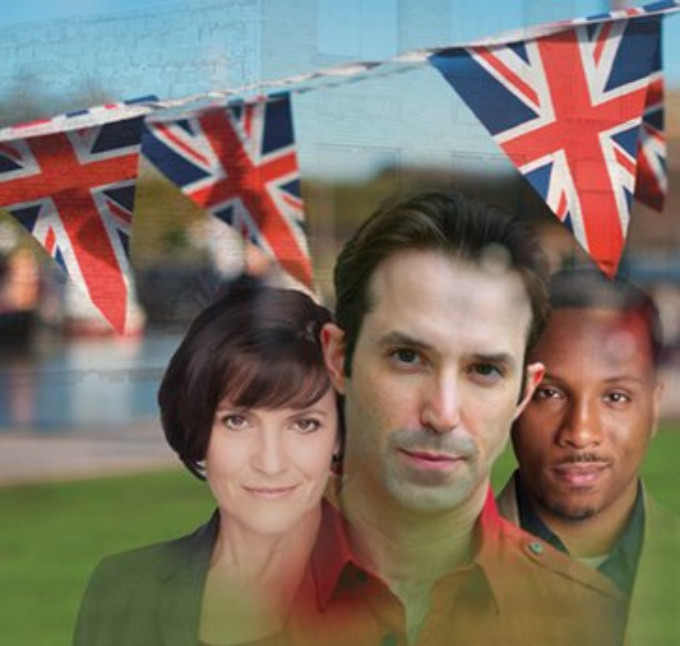 There's nothing quite like a British dark comedy to usher in the unofficial start of autumn. The poignant regional premiere of HERO'S WELCOME at 1st Stage in Tysons fits the bill, with its undercurrent of personal drama that quickly rises to the surface, engulfing a town in figurative flames that could turn literal at any moment.
This is Alan Ayckbourn's 79th play, and something about it feels like an installment in a series of many plays, as if a few plot and character peculiarities could be changed and the social and sexual dynamics would remain largely the same. This isn't necessarily a deficit, though, because it makes the material come off as classic and universal.
The catalyst for the juicy yet simplistic plot is the return of "war hero" Murray (Nick Depinto) with his young, foreign bride Baba (Angeleaza Anderson) to his hometown after 17 years away. Murray's childhood friend Brad (Clayton Pelham, Jr.) used to go head-to-head with him in everything from games to girls, and Brad's competitive nature hasn't changed. They both have a history with the town's mayor, Alice (Lisa Hodsoll), who has turned frostier over time. She's opted for stable, affable Derek (James J. Johnson) as a husband. Brad, meanwhile, emotionally abuses his lovely wife Kara (Anne Bowles), who seeks out human kindness and connection in other people instead.
The six actors are exceptional under Alex Levy's direction. The three male actors share good chemistry and play characters who seem to be on a spectrum from reliable (Derek) to volatile (Brad), but they take a backseat to the far more interesting female characters.
Baba and Kara start out with little agency but end up the real heroes of the play when they use what they have at their disposal to get what they want. With dedicated study, Baba goes from having broken, practically nonexistent English language skills to grasping more complex words than perhaps anyone else around her. She's eventually able to convey her true intelligence, standing up for herself when needed and helping Murray in his efforts to raise money to renovate his family's old pub and hotel. Kara ultimately reaches a breaking point after years in her self-described prison of a home and takes her fate into her own hands. By contrast, Alice starts out in a position of official power but has only one way to go from from the top.
These are interesting studies in female empowerment, but the action sometimes plods. Some of the proceedings are essential; after all, this is the kind of work that requires heavy foreshadowing and character development. For example, there's a pleasing, on-the-nose sense of foreboding when Baba sounds out the words "sinister", "ominous", and "predatory" from her English book, and when a rifle is yet again set carelessly on the sofa after some skeet shooting. However, the dialogue and delivery could do with trimming to keep the fire crackling.
The realistic set design (Kathryn Kawecki) is a bit cluttered, but it accomplishes the crucial job of separating the three distinct settings. The sound design (Reid May) is equally practical in that it sets distinct scenes apart from each other.
I found the conclusion too pat and sentimental, but it ties up all loose ends in a satisfying way. Overall, any deficiencies of HERO'S WELCOME are overcome by the hardworking cast, who passionately relay this provocative tale.
Running time: approximately 2 hours with one 15-minute intermission.
HERO'S WELCOME runs through October 7, 2018, at 1st Stage in Tysons, 1524 Spring Hill Road, Tysons Corner, VA 22102. Tickets can be purchased at www.1ststage.org or by calling (703) 854-1856.
Promotional photo: from left, Lisa Hodsoll as Alice, Nick Depinto as Murray, and Clayton Pelham, Jr., as Brad, courtesy of 1st Stage website.
Related Articles
Barbara Johnson is a Northern Virginia-based young professional with a passion for music and theatre. As a lifelong performing arts enthusiast, she is thrilled to (read more...)