BWW Review: SKELETON CREW at Dorset Theatre Festival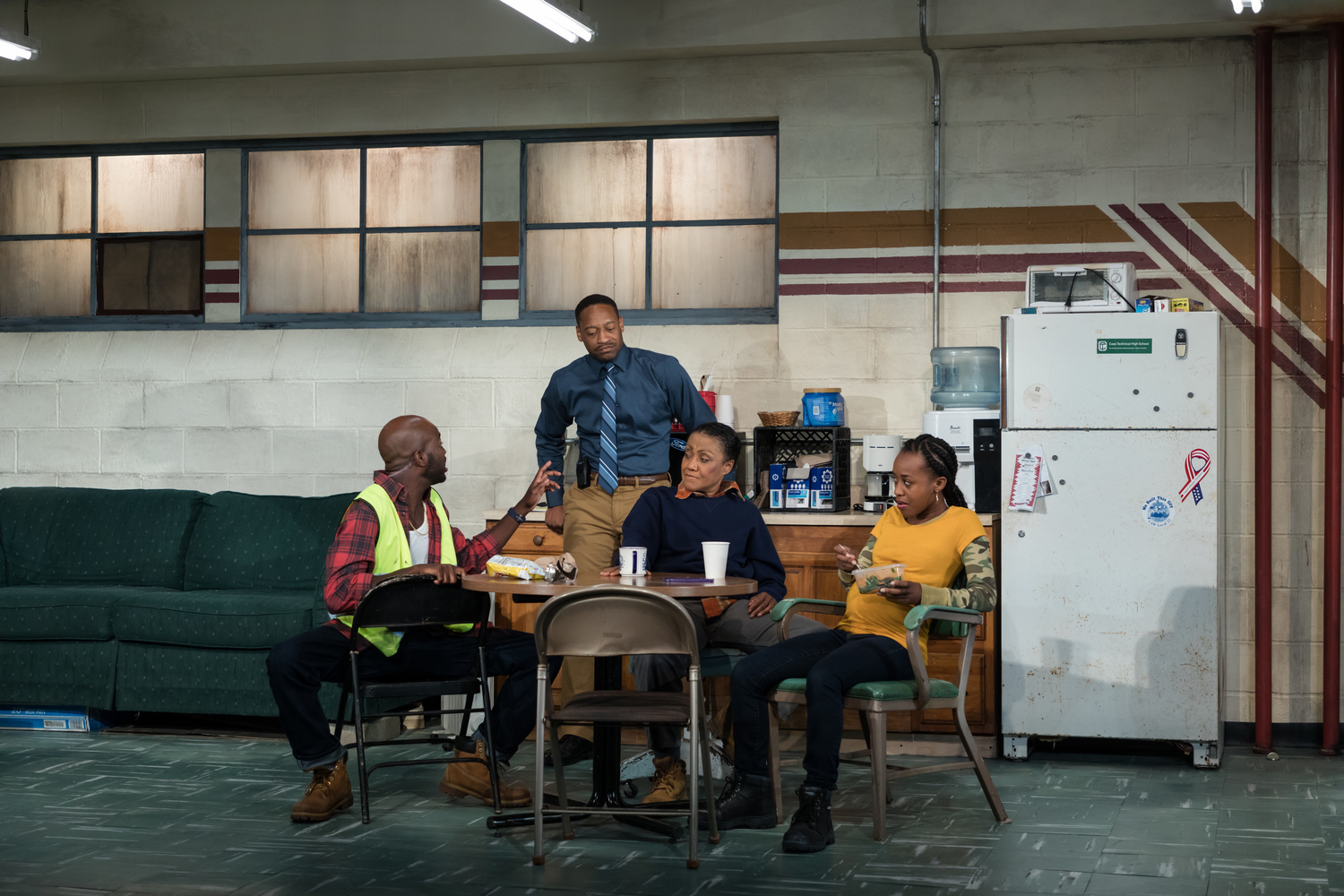 I cannot recall the last time a standing ovation continued well beyond the moment when the house lights go up and it's clear the actors are not coming out for an encore curtain call. Let me be clear: Vermont audiences are liberal with their standing ovations. I recall very few productions that do not include one at the conclusion of the show
But this was different somehow. The tangible appreciation that exuded from those congregated in the intimate Dorset Playhouse was palpable and powerful. You could see it on the faces of the cast members: mildly surprised with a hint of restrained delight. As they exited the stage, Brenda Pressley, who had played the character of Faye, buried her face into her hands, seemingly overcome with emotion.
Something had definitely gone down.
Undoubtedly, director Jade King Carroll deftly shaped the evening's drama with ferocious precision. The four actors delivered, each one, masterful and nuanced performances that had the audience on the edge of their seats during one of the myriad moments of conflict and tension that unfold as their fates--inextricably tied to that of the factory--hang in the balance. A collision of two worlds more different than a Detroit auto parts factory and bucolic, rural Southern Vermont could hardly be contrived and Dominique Morisseau's brilliant script shone in this unlikely corner of the theater world.
Entering the theater, you're instantly transported into the world of the play--scenic designer Kristen Robinson's factory break room literally jutting out into the audience at an angle, fluorescent lights, banged up lockers, fading paint, one of the panes of glass in the windows patched up with a square of cardboard and duct tape. Above the playing space, there are a series of block panes that end up being used to project compelling and stylized video clips designed by Joey Moro during scene transitions.
The pre-show music heightens the effect. There was some sort of rhythmic, industrial track being played on a tight loop. It was reminiscent of the repetitive sounds of the factory floor, cold and impersonal, but also somehow alive, too: a heartbeat. Sound in the play is practically another member of the cast and designer Karin Graybash does a tremendous job of building an ambient world, punctuating beginnings and endings, and sustaining tension.
Add to this Michael Giannitti's smart, spare lighting concept and Alice Tavener's perfectly executed costume design, and the stage has quite literally been set for some of the most powerful drama and exquisitely rendered character development you're likely to see.
The world of a Detroit factory facing a potential shutdown is brought to life through four characters. Brenda Pressley plays Faye, the longtime employee who is just months away from hitting her 30-year mark at the factory; Leland Fowler plays Dez, the driven, passionate young man with a vision for something bigger; Mirirai Sithole is Shanita, single mother-to-be with a killer work ethic, yearning to make her father proud; and Gabriel Lawrence portrays Reggie, the mid-career plant manager who worked up from blue collar into management and straddles both worlds with predictable difficulty.
Each convincingly draws the audience in to their complex lives as they navigate a future full of uncertainty. Pressley's Faye is at the heart of the drama--she parallels the history of the plant, has mentored and mothered the younger workers, and is the head of the plant's UAW chapter. She's queen of the break room, quick-witted, and feisty, but under all her toughness, she is deeply compassionate and caring. Having mentored Reggie and recommended him for promotion to management, she stands solidly in the tension between the workers and the white collar bosses, trying to hold the pieces together as things fall inexorably to pieces. She observes, "Everybody handles tension differently," and Morisseau's script is a master class in all the different ways things can fall apart--or together--for each character as they face the rising tension.
Lawrence plays a tightly-wound Reggie, with the weight of the world on his shoulders. He starts the show at a relatively frenetic level, which left me a bit tense myself wondering if he'd have the runway to build to the climax and the stamina to sustain the energy and pace of his restless torment. I should not have worried. He, like every member of the cast, executed dynamic shifts and landed each beat with aplomb. His explosive scenes with Dez countered with his tender interactions with Faye were deftly woven to depict a broad emotional range that he tackled flawlessly.
The interplay between Dez and Shanita was a delight to watch. Fowler and Sithole respectively played their roles with clarity and conviction; the dance that ensues as Dez pursues his dreams and Shanita's affections with equal intensity serves to use the personal as an effective portal into the working lives of factory workers more universally. The loves and the losses, the struggle and the striving are particularly well-rendered through the prism of these two young workers--their lives only just beginning as their known world collapses on all sides.
New York Times reviewer, Ben Brantley called Skeleton Crew "a deeply moral and deeply American play." I concur wholeheartedly. Through the play runs myriad questions--implied but unasked--about this American life, about race and class, about what next in this post-recession, global economy. When Faye brings in a book of African names for Shanita's baby, Dez cynically exclaims, "African names? That baby won't get no job with no African name..." The audience laughs, understanding and acknowledging the well-publicized fact of implicit bias in hiring practices here in the United States. And when we come to Reggie's own moment of crisis near the end of the play, white privilege stands in stark contrast to what constitutes an unforgivable gaff for a black man in a position of power. The full impact of the contextually particular obstacles faced by each character comes to a head and the audience is invited to examine what this means for America, what does it mean for each and every American.
Skeleton Crew is a story of America that can hardly leave you unchanged once you've experienced it. It invites its audience to engage in thought-provoking conversations, to push beyond the abstract discussions about a dying industrial era and shifting political landscapes and grapple with our history and our future in a present hour that is, in itself, on fire anew.
Dorset Theatre Festival brings this important story to our small corner of the world and it is not to be missed. Finer storytelling would be hard to find and the standing ovation was richly deserved.
"Skeleton Crew," a drama by Dominique Morisseau at Dorset Theatre Festival plays July 19-August 4 at Dorset Playhouse, 104 Cheney Road, Dorset, VT 05251 $48-$58. For tickets or information, call 802-867-2223, or go online to dorsettheatrefestival.org.
Featured at the Theatre Shop
T-Shirts, Mugs, Phone Cases & More