Yorke Dance Project Celebrates 20th Anniversary at Theatre Royal Winchester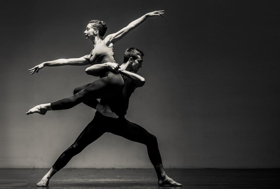 Yolande Yorke-Edgell's contemporary ballet company, Yorke Dance Project, heads to Theatre Royal Winchester on Tuesday 12 February to celebrate its 20th anniversary.

Yorke-Edgell first set up her company on Los Angeles in 1999, relaunching it when she returned to London in 2009. Since then, the company has become known for presenting by past masters and emerging artists from both the UK and the USA.
TWENTY, the company's anniversary programme, features new works by Robert Cohan CBE, LA-based choreographer Sophia Stoller and Yorke-Edgell herself alongside the first restaging of Sir Kenneth MacMillan's Playground since its Edinburgh Festival premiere in 1979. Two of the original performers - Susie Crow and Stephen Wicks are working on the recreation - and Sir Kenneth's daughter Charlotte is reimagining the original set and costume designs.
MacMillan began work on Playground with the Orpheus myth in mind. In rehearsal the Orpheus character mutated into an intruder at a psychiatric hospital as MacMillan explored the blurred lines between madness and sanity. The playground becomes more like a prison with its four inmates acting out fantasies of childhood, sometimes multiplied over and over again, like a hall of mirrors.
As legendary contemporary choreographer Robert Cohan approaches his 94th birthday in March 2019, he is creating his sixth work for Yorke Dance Project. The work for nine dancers is his first for a large ensemble for 20 years. Mythic and life-enhancing, Communion is set to music by Nils Frahm and designed by Cohan's former London Contemporary Dance Theatre collaborator, John B Read.
Between and Within is a new work by emerging LA-based choreographer Sophia Stoller with original music by Long Beach-based composer Justin Scheid. The dance becomes a duet of duets as four performers play out the complex dynamics of a relationship between two people. Two of them face off, journeying from resentment and anger to resolution and acceptance. Two of them play out the characters' inner dialogues and internal conflicts.

Yolande Yorke-Edgell's latest work Imprint pays tribute to the three choreographers who have been most important and influential throughout her career as a dancer: Richard Alston, for whom she danced at both Rambert and his own company, Bella Lewitzky, whose LA company she joined in 1994, and Robert Cohan with whom she has worked so closely over the past few years.

Yorke Dance Project's exceptional dancers are: Abigail Attard Montalto; Jordi Calpe Serrats; Ellie Ferguson (apprentice); Dane Hurst; Freya Jeffs; Edd Mitton; Ben Warbis; and Yolande Yorke-Edgell. In Winchester, guest artist Oxana Panchenko, who has danced with English National Ballet, Ballet Boyz and Michael Clark Company amongst others, will be joining the company on stage for Playground and Communion.

Yorke Dance Project are at Theatre Royal Winchester on Tuesday 12 February at 7.30pm. To find out more, and book tickets, visit www.theatreroyalwinchester.co.uk or call the Box Office on 01962 840 440.