The Marlowe, Canterbury Announces New Children's Festival LITTLE WORDS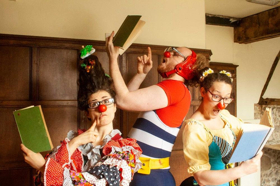 Aimed at those aged from to two to 11, it runs during the half-term holiday (Monday 28 May to Sunday 3 June). There are shows, events and workshops at The Marlowe Theatre, The Marlowe Studio, The Marlowe Kit (in Stour Streeet), and in the city's streets.
One of the highlights is Hero And Her Paper Navy, an interactive nautical adventure in seach of new worlds, treasured words and long-lasting friendship. Hero, an intrepid Elizabethan explorer, will set sail with her navy of cardboard ships between the harbours of The Marlowe foyer and The Kit. She will be helped by her shipmates (the audience), who will have a special quest.
Hero And Her Paper Navy is presented by Animate Arts Company, whose Artistic Director Jo Dyer is a Marlowe-commissioned artist. She said: "We're building brand new cardboard creations that will be unlike any other pieces we have made.
"This will be a truly bonkers, interactive and playful piece, perfect for children and families in the half-term break. With cardboard and an adventure at the heart of this show, who can resist?
An adaptation of David Walliams' Awful Auntie is brought to The Marlowe Theatre by the award-winning producers of Gangsta Granny. It's a tale of frights, fights and friendship, featuring an owl, a ghost and an awful auntie.
There are shows in The Marlowe Studio every day throughout Little Words, including poet and rapper Simon Mole's Friends For All, a re-imagining of Oscar Wilde's The Selfish Giant, All Hail The Snail, poet John Hegley's living library of songs, poems, stories and animal drawings, and There Was An Old Lady Who Swallowed A Fly with well-known songs to sing along with the family.
Marlowe-supported artists Acá will be performing A Clown Creation In One Earth Rotation at The Marlowe Studio; the clowns will rehearse and perform a literary classic chosen by the public in under 24 hours! There will also be an open rehearsal for the show.
The Marlowe Kit (the former Heritage Museum) opens for two puppetry shows. Thumbelina, a retelling of Hans Christian Anderson's tale using hand and stick puppets, and A Necklace Of Rainbows, which uses live music and shadow puppetry to retell the stories of the children's author, Joan Aiken.
Free events include a Mad Hatter's Tea Party, poetry workshops and family tours.
For details of all Little Words events, and to book, go to marlowetheatre.com, or call the Box Office on 01227 787787.