BY THE WATERS OF LIVERPOOL Will Embark on UK Tour
The tour kicks off in Liverpool at the Epstein Theatre Wednesday 6 September – Saturday 16 September 2023.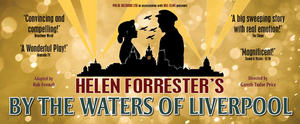 A brand new stage production documenting the early life of best-selling author Helen Forrester is going back on the road during Autumn 2023 after its inaugural tour came to a standstill at the start of the Covid pandemic.
Helen Forrester has won a legion of fans across the world with her enigmatic and touching portrayal of her life story in four volumes of autobiography Twopence To Cross The Mersey, Liverpool Miss, By The Waters of Liverpool, and Lime Street At Two.
After a number of years in the planning, the eagerly awaited By The Waters Of Liverpool production began a 17-venue UK tour spanning almost three months - however the curtain came down just two weeks in as the country went into a national lockdown.
Fast forward almost three years, and the team behind the production is thrilled to announce the show's return with By The Waters Of Liverpool Autumn 2023 UK Tour.
The new eight-week tour will visit 12 venues starting in Liverpool and finishing in New Brighton - both locations hugely important in Helen's life story.
The tour opens with a 10-date run at Liverpool's Epstein Theatre from 6 September 2023, and concludes with six days at the Floral Pavilion in New Brighton in late October - just a few miles from where Helen Forrester was born in Wirral.
Between Liverpool and New Brighton, the production will also visit venues in Crewe, Coventry, Sale, Rhyl, Darlington, Lichfield, St Helens, Southport, Halifax, and Lytham.
By The Waters Of Liverpool is a stunning period drama produced by the team who brought the smash-hit Twopence To Cross The Mersey to the stage. It also features sizeable chunks from Helen's earlier book Liverpool Miss, together with flashbacks to Twopence To Cross The Mersey and elements of Lime Street At Two to give audiences a complete picture of her life.
The new touring production of By The Waters Of Liverpool is once again produced by Rob Fennah and Lynn McDermott for Pulse Records Limited and Bill Elms. The show is directed by Gareth Tudor Price.
The cast will be announced in the coming weeks.
Millions of people worldwide are familiar with Helen Forrester's life story which is told through her best-selling volumes of autobiography Twopence To Cross The Mersey, Liverpool Miss, By The Waters Of Liverpool, and Lime Street At Two.
Helen's literary achievements were further celebrated in 2020 to mark her 100th Birthday when an iconic Blue Plaque was unveiled at the late author's family home in Hoylake on the Wirral, a place which featured heavily in her work.
The tour announcement follows a successful tour of its predecessor Twopence To Cross The Mersey which toured the UK throughout Autumn 2022 to rave reviews.
Writer Rob Fennah enjoyed a long friendship with Helen Forrester since adapting her first book Twopence To Cross The Mersey into a stage musical in 1994. It premiered at the Liverpool Empire Theatre and Helen travelled from her home in Edmonton, Canada, to see first-hand her story brought to life on stage. Rob later went on to develop Twopence into a straight play which has toured successfully since its first outing in 2015.
Since the author's death in 2011, Rob has remained friends with Helen's son Robert Bhatia. The productions are fully endorsed by the Helen Forrester Estate.
By The Waters Of Liverpool has sold more than a million books. It is set in the 1930s after Helen's father went bankrupt during the Depression. Her family were forced to leave behind the nannies, servants and comfortable middle-class life in the South West of England. The Forrester's chose Liverpool to rebuild their shattered lives. They were in for a terrible shock. Taken out of school to look after her young siblings, Helen is sick of being treated as an unpaid slave and begins a bitter fight with her parents for the right to go out to work and make her own way in life. But by 1939 and with Britain on the verge of war Helen, now aged 20, has still never been kissed by a man. But things start looking up for her when she meets a tall strong seaman and falls in love.
Writer and Producer Rob Fennah commented: "When By The Waters Of Liverpool was forced to close back in March 2020, we all thought it was a setback and we'd be back on the road within a few months. It never occurred to us that it would be over three years before the show would hit the stage again. As with everyone working in the arts at that time, it proved to be a very difficult period forcing many talented people to leave the industry for good. But in true Helen Forrester style, we managed to survive and now want audiences to know that By The Waters Of Liverpool is coming back, bigger and better than ever."
Helen Forrester's son, Robert Bhatia, said: "The partnership between playwright Rob Fennah and my mother Helen, and her legacy, has been outstanding."
Helen Forrester's best-selling volumes of autobiography include Twopence To Cross The Mersey, Liverpool Miss, By The Waters Of Liverpool, and Lime Street At Two.
Tour Dates
LIVERPOOL - EPSTEIN THEATRE
Wednesday 6 September - Saturday 16 September 2023
www.epsteintheatre.co.uk
CREWE - LYCEUM
Monday 18 September - Tuesday 19 September 2023
www.crewelyceum.co.uk
COVENTRY - ALBANY THEATRE
Wednesday 20 September - Thursday 21 September 2023
www.albanytheatre.co.uk
SALE - WATERSIDE
Friday 22 September - Saturday 23 September 2023
www.watersidearts.org
RHYL - PAVILION
Tuesday 26 September - Wednesday 27 September 2023
www.rhylpavilion.co.uk
DARLINGTON - HIPPODROME
Friday 29 September - Saturday 30 September 2023
www.darlingtonhippodrome.co.uk
LICHFIELD - GARRICK
Tuesday 3 October - Wednesday 4 October 2023
www.lichfieldgarrick.com
ST HELENS - THEATRE ROYAL
Monday 9 October - Wednesday 11 October 2023
www.sthelenstheatreroyal.com
SOUTHPORT- THE ATKINSON
Thursday 12 October - Saturday 14 October 2023
www.theatkinson.co.uk
HALIFAX - VICTORIA THEATRE
Monday 16 October - Tuesday 17 October 2023
www.victoriatheatre.co.uk
LYTHAM - LOWTHER PAVILION
Thursday 19 October - Saturday 21 October 2023
www.lowtherpavilion.co.uk
NEW BRIGHTON - FLORAL PAVILION
Tuesday 24 October - Sunday 29 October 2023
www.floralpavilion.com