Review: LITTLE SHOP OF HORRORS at the West Coast Players
LITTLE SHOP OF HORRORS at the West Coast Players in Clearwater runs through February 5.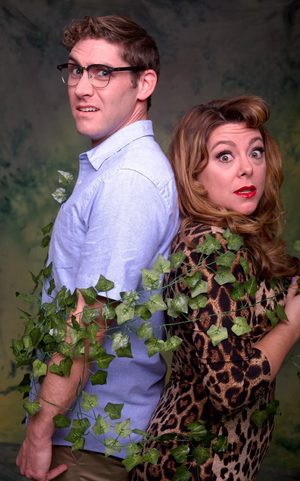 LITTLE SHOP OF HORRORS is a guaranteed good time. No matter if you like your musicals Assassins-dark or Little Mermaid-light, it will appeal to you. It's one of the few musicals that is both cult and mainstream at the same time, a show that includes adult themes but is still child-friendly. It's hard to find someone who doesn't like it. And the current production at the West Coast Players in Clearwater is a solidly entertaining version of a musical that is, alas, solidly entertaining by nature. Like the Beatles' Mr. Kite, a splendid time is guaranteed for all.
But this WCP production also boast a young visionary director in Troy Reamsnyder who likes to mix it up, and who has made an artistic choice or two that seem risky, ballsy and open for debate. Is this twist of his necessary? Does it help propel the story even further? Or are the twists and additions there for their own sake? For those of us who have seen LITTLE SHOP OF HORRORS numerous times (and have performed in the show before), do we see these changes, these artistic add-ons, as a re-imagining, a way to tell the story so it doesn't seem old or stale the dozenth time audiences have experienced it? But will it also leave newbies confused? I think the audience was divided with these choices in this production, which is okay. Theatre shouldn't be safe; it should promote conversations and debate, and the new twists, which I will describe in detail later in this review, at least certainly do that.
Based on the 1962 Roger Corman movie of the same name, LITTLE SHOP OF HORRORS would introduce the world to the star songwriting team of Alan Menken and Howard Ashman, both of whom would later find even greater success, opening the doors to Disney's second wave of classic animated movies with The Little Mermaid and Beauty and the Beast. If you doubt that these two men could possibly create shows so different in substance and style, then listen to "Part of Your World" from Little Mermaid and you'll discover it sounds an awful lot like LITTLE SHOP'S "Somewhere That's Green" (and it even has a similar meaning).
The plot is simple: Boy meets plant; boy feeds plant; plant takes over the world. But LITTLE SHOP OF HORRORS is more than just a retelling of the classic B-movie horror film. It's an ode to the early 1960s, where girl group songs littered the airwaves (notice the name of the Greek Chorus urchins in LITTLE SHOP--Chiffon, Ronette and Crystal--which are the names of actual girl groups in the early 1960s). Atomic Age allusions proliferate, including Howdy Doody, TV dinners, Donna Reed, and Better Homes and Gardens magazine. It's also a story about stardom-would you feed dead humans, commit homicide even if indirectly, in order to be spotlighted with worldwide fame? Seymour, stuck in Skid Row, a nothing in the world, gets a taste of the Big Time and, for a short time, he even gets the girl...all due to feeding human remains and blood to his ever-growing mean-green-mother of a plant.
In the WCP production, Joe Houser as Seymour Krelborn inhabits one of musical theater's great nebbishes. At first I worried if he wasn't too athletically built for such a nerdy gutter prince, but as the show went on, we buy in that he is this lost lamb. We never get the sense that he's been draining his own veins early on to feed the plant--which would leave him pale and bandaged early on--but it's good stuff. Also, the actor needs to be aware that he shouldn't be stepping on Audrey II's "legs" or "tentacles," something he did more than once (he should be protective of the plant early on, which means he would not step on her). But we feel his protective love for his co-worker Audrey, abused by her maniacal boyfriend. And Houser's singing is just right, perfectly capturing this poster child of nerdiness, a geek god.
As the love of Seymour's life, Audrey, Jessica Ulbrich is wondrous. We feel she's a wounded soul, with little self-worth, and she permits the S & M gone wrong with her bad boy beau because she thinks so low of herself. She's not enjoying the kink, especially the look on her face (and yes, her black eye). Her "Somewhere That's Green" is gorgeously sung, bringing out the tender qualities of Audrey's dream, a broken soul yearning for a better future. And her duet with Houser on "Suddenly Seymour" in Act 2 is sensational, one of the best musical moments of the night. I just wished the song ended with a real kiss, not a nose rub and not some forced stage business after a brief blackout that would find comfort in a high school production.
As Seymour's flower shop boss, Mr. Mushnik, Nick Wilbur has a strong demeanor, the perfect size and the right singing voice for the part. But he's way too young and his makeup, especially the drawn lines, does not work in the intimate environment of the WCP stage, where the audience is just a few feet away. Mr. Wilbur is a fine actor, and the audience really responded to his big number ("Mushnik and Son"), but we can't disregard one of the lousiest makeup jobs I've seen in quite some time. (Maybe a mustache would help age him better?)
As the Greek Chorus urchins, Jessie Deggans, Katrina Young and Phineas Slaton keep the show moving at a brisk pace. God bless their energy! Ms. Deggans (as Chiffon) fits the time period perfectly and owns the stage; Ms. Young (as Ronette) has some wall-shaking pipes and acts as the de facto leader of this pack; and Phineas Slaton (as Crystal) has the best facial expressions you'll find anywhere.
Now we come to one of the twists in this show: Nontraditional casting lands the key part of Orin Scrivello, DDS, into the capable hands of Katie Vorhees, a Bay area theatre favorite. This Orin, a male played by a female, seems like a lost cast member from a road company of The Rocky Horror Picture Show. The character doesn't drive the show with the punch we're used to; it's played as a laidback Dominatrix Dentist that needs to be seen to be believed. Vorhees' voice was hard to hear in the spellbinding "Be a Dentist!" and the song can be taken even further (you feel her holding back a bit). There's a quiet danger to Orin, a soft-spoken Goth sadist, but something is missing in this interpretation. The role was intended to be an homage to leather jacketed bad boys found in the song "Leader of the Pack" (there's even a pun..."Here he is, girls, the Leader of the Plaque!"): Part Brando in The Wild One, part Elvis, and part the motorcycle boys of Scorpio Rising. With Vorhees' fascinating interpretation of the part, we miss everything that has to do with the time period, and with her underplaying of the role (a Dominatrix who's so supposedly good at dominating that she doesn't need to lift a finger or raise her voice; even her giggles after sucking in laughing gas seem muted), her threats to Audrey just don't carry the same wallop that they should.
We know Vorhees is a performer to be reckoned with, so it's a shame that all of the side characters in Act 2 aren't played by this dynamic soul to showcase her true versatility. It's part of the fun of the show, especially in "The Meek Shall Inherit." The ensemble does well, including Caitlein Jammo, Jazmine Mateus, Jamie Morrison and Aidan Anderson, but we miss the showboating fun of having the same performer portray all of these roles, sometimes changing wardrobe within seconds of each other.
And then there's the biggest twist of all. Yes, there are neat Audrey II puppets that grow throughout the show and even mingle with the audience (I wanted more of this), but there is also a "drag spirit of Audrey II" who hovers around the stage starting near the end of Act 1 and continuing all through Act 2. Yes, you heard that right: A drag spirit of Audrey II. Played by the amazingly talented DJ Scheutt, this big-haired spirit of Audrey II looks like a Star Trek Klingon in St. Patrick's Day drag. The moment he entered, glowing under a green light, my mouth was agape in shock and confusion at this re-imagining. I thought: What is going on? He resembled a bearded Ursula, and it took quite some time to adjust to this change (purists will have a hissy fit). This will certainly answer your question if you ever wondered what LITTLE SHOP would look like performed at Hamburger Mary's.
The drag spirit of Audrey II even causes mayhem far away from the flower shop; at one point he's even aiding Orin's undoing in the dentist's office. Audrey II, who is set to take over the world, knows no bounds in this production. And then in Act 2 the concept sort of, maybe, kind of grew on me (perhaps not totally, but it wasn't so jarring), and the drag spirit of Audrey II started appropriately creeping me out: Like Buffalo Bill from The Silence of the Lambs with Female Trouble-Era Divine painted-on eyebrows. DJ Scheutt is marvelous vocally and plays the part in true eye-rolling splendor. But does it help the story? Or does it take away from the puppets, almost leaving them superfluous?
This is a different LITTLE SHOP than I've ever seen, which can be considered a compliment. Mr. Reamsnyder's directorial choices are ballsy and full of chutzpah, to say the least; he's a new director, but he brings a freshness and spirited perspective to a show that can be too well-known, too moldy; a show that oftentimes loses its fangs, its bite. That said, questions remain. Are the changes risky? (Yes!) Should they be seen and heatedly discussed? (Yes!) But do they ultimately work? (Um, let me get back to you on that.)
Technically, the show is fine. The set, bathed in Erika Bruzual's and Nick Silvestro's cool lighting, is severely minimal, and they could use more Early Sixties props. The cash register in Mushnik's shop looks rightly old and rundown, but the telephones are way too modern for the time period. Costumes work well enough, and Troy Reamsnyder's and Bianca Rotondo's basic choreography works (this isn't Chicago, so don't expect a Fosse revival here in the dance department). And music director Nathan Daugherty gets the most out of his cast (Seymour, Audrey and the drag spirit of Audrey II shine the brightest vocally, singing to the well-timed canned music).
Mr. Reamsnyder directs with a sure hand, and his show is marvelously paced. It's not too fast, not too slow. And the new twists need to be experienced, whether you agree with them or not. But they sometimes make this like experiencing the show anew. You may have seen LITTLE SHOP OF HORRORS before, but never quite like this!
LITTLE SHOP OF HORRORS at the West Coast Players in Clearwater runs through February 5.