BWW Review: Nick Hoop & Ryan Fisher Lead an Outstanding Ensemble in Innovocative Theatre's Shattering COLUMBINUS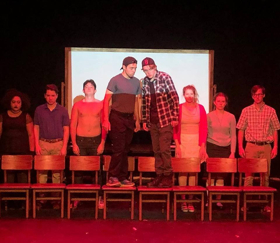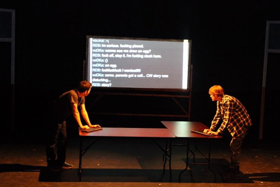 "Eric filled Dylan's yearbook with drawings: swastikas, robokillers, and splattered bodies. The dead outnumbered the living. An illustration in the margin suggested hundreds of tiny corpses piling up to the horizon, until they all blended together in an ocean of human waste...Eric went through his own book, marking up the faces of the kids he didn't like. He labeled them 'worthless,' said they would die, or just made an X over their pictures. Eric had two thousand photos to deface, and eventually he got to almost all of them." --from Dave Cullen's book, Columbine
"Directors will be fighting over this story. I know we're gonna have followers because we're so...God-like. We're not exactly human--we have human bodies but we've evolved into one step above you..." --Dylan Klebold, quoted in the basement tapes he filmed with Eric Harris before the Columbine massacre
The Columbine killings remain the 1990's most significant event. I do not treat such a statement lightly, especially when we're dealing with a decade that includes the first Gulf War, the O.J. Simpson murder trial, the Oklahoma City bombing, and Monicagate. But the mass shooting at Columbine High School on April 20, 1999, still resonates in our everyday life. It's sort of a Teenage 9/11, and in one horrific instance, the country realized that the boys next door might just be "the monsters next door" (as Time Magazine labeled the teen killers, Eric Harris and Dylan Klebold). It's been twenty years, but every time there's a school shooting, it all comes back to Columbine.
So, how do you create a play about this kind of terror without glorifying the tragedy and in some ways bringing the killers' wishes to life? Harris and Klebold wanted to be notorious, to scare the hell out of everyone, to kill and kill again, and much of their intentions came true (even if they were not alive to see that). Although the Columbine death numbers were much lower than the killers had wanted, they got the infamy and they got the spread of fear that they so desired. As Michael Moore states in his Oscar-winning documentary, Bowling for Columbine: "One thing adults should never forget...It still sucks being a teenager, and it sucks going to school...And after Columbine, it really sucked." That's the way Eric and Dylan wanted it: to make your life really suck.
Is any show about this, in honestly and excitedly shining a light on these two killers and the victims, inadvertently sensationalizing them? This thought crossed my mind while I was watching the brilliantly realized and immensely powerful COLUMBINUS by the United States Theatre Project (written by Stephen Karam and PJ Paparelli). The production is presented by Innovocative Theatre in association with Stageworks.
By telling this story, do we also play into the Columbine myths, those falsehoods that became common knowledge right after the shootings--the Trenchcoat Mafia angle, the bullying angle, the Marilyn Manson-made-em-do-it angle, and the Let's-use-Columbine-to-promote-Christianity angle? The good news is that, though the killers are certainly spotlighted here, the victims are where it comes down to in COLUMBINUS, and most of the show is quite accurate with the facts. (To be fair, the show is officially set in "a fictional American high school in Littleton, Colorado." But with pictures of the actual Eric and Dylan projected onto a screen, and with the actual quotes taken from the killers and various witnesses of the Columbine shootings, we're not fooled with any of this "fictional" talk.)
Were the killers victims as well? The show certainly poses this question: High school was hell for Eric and Dylan, and it seems hell for nearly everyone else in Columbine. But Eric and Dylan, due to various circumstances, plotted a violent exit to their personal hells: Create even more hell for everyone else. For over a year before the killings, they telegraphed their motives and methods to an adult population that didn't notice their actions, or want to notice them. They were in clear sight, setting up the end of the world, but their parents, their teachers, their employers, their therapists, and the police looked the other way. Their hate festered, undetected, and it all came down in the carnage of their teenage helter skelter on April 20th, 1999.
COLUMBINUS is an important piece of theatre that covers the Before, During and After of this horrifying tragedy. We see the events from a variety of angles, entertainingly put together like a puzzle that maybe we're too scared to solve. The show opens with the characters stripping off their clothes to go to bed; in some ways this acts as a metaphor for the way these characters will eventually strip off the layers of their personalities so that we can get a glimpse of their real selves. The show then takes us on this fatal road--from everyday life at school to the worst day of all, where two boys decide to play God and kill the world. It's like The Breakfast Club meets Natural Born Killers.
COLUMBINUS sometimes tries too hard, teetering on becoming an SNL parody of a teenage problem play. This is especially true with some of the bits in Act 1--an odd superhero scene, a classroom sequence dealing with past buddy killers like Leopold and Loeb, and a bizarre cooking show that's really about how to make pipe bombs (the latter scene is certainly interesting and saved by the talent of the lead actor). But thankfully, the play only occasionally dives into this pool of didacticism and bathos.
One of the strongest sequences I've seen in quite some time deals with one of Dylan Klebold's essays being read aloud in Creative Writing class. The juxtaposition of Klebold's frightening prose with the benign voice of a teacher who corrects his grammar and punctuation, but misses the red flags of the violence in his writing, is brilliantly created. As Dylan reads his writings about killing so many people, the other students are moving in slow motion, bathed in a red light (incredibly evocative lighting by Matt Beil here) as the essay is projected onto a white board (Jake LaMay's projections add so much to this production). I always wondered why Columbine was a perfect storm where two boys all but screamed their intentions to a world that refused to hear them; this scene showcases the answer to that more than any other.
There are moments of horror in COLUMBINUS that we can't turn away from no matter how hard we may want to. Act 1 is all over the place, and Act 2 is mesmerizingly terrifying and specific. We know what's coming, and suddenly there we are, in the Columbine library. This is the scene that you remember, that you carry with you. And it delivers in a way that only live theatre can accomplish. It shows the carnage but in as tasteful a way as possible--two boys with their backs to us, punching a board, the sound coming across like shotgun blasts, as the stories of the library horrors are being shared. Watching this lengthy section is scarier than any Halloween Horror Night you will ever experience. Because it's so stark and so real.
The show ends on an incredibly poignant note--each cast member writes the names of the victims on a large blackboard. This well-earned moment carries the power of the closing scene from Schindler's List, when, one by one, the surviving Schindler Jews place stones on Oskar Schindler's grave. It's the same sort of power here, an ending so moving that even writing about it seems to lessen the effectiveness of the experience.
It's hard to believe that I have gotten this far in the review and have not mentioned the best thing about COLUMBINUS: The outstanding ensemble. This is one hell of a cast that takes us on one hell of a ride.
Each one of the actors in COLUMBINUS is given his or her moment to shine. Harrison Baxley is quite solid and wonderful as AP, the Brain who is hardly noticed in the Columbine hallways. Aubrey Vollrath as "Perfect" perfectly captures the stuck-up school princess. Kidany Camilo Nieves rightly brings out his character's secret sexuality as the Prep. Fiona Walsh, a current student at Blake High School, is sensational, strong and moving, as Faith, the devout Christian of the group. And the very talented Caleb Brening takes the Jock stereotype and turns it on its head; he's the worst kind of bully at times in Act 1, but he'll break your heart in Act 2.
Alexandria Crawford is incredible as Rebel, a girl who cuts herself and always seems to be on the outside of the cliques, the girl who doesn't belong. With her expressive eyes, Crawford says more with a silent expression than any monologue could ever do. Her haunting work in Act 2, when she and the other cast members recount the incidents occurring in the Columbine library, will not be forgotten.
Ryan Fisher looks alarmingly similar to Dylan Klebold. When an image of the real Klebold appears in a background projection, and Fisher is standing in front of it, the audience finds it truly startling. In the infamous basement tapes (and in the play), Harris and Klebold wonder which director will film their story--Spielberg or Tarantino. If either director ever does decide to make a film based on the Columbine killings (which is highly doubtful), then they should know that they have the perfect doppelganger with this University of Tampa student. Fisher is the most intense presence onstage, screaming out of so much frustration, and brings layers to a character we would normally loathe. With his angular face, gawky physique and backward baseball cap, he's quite frightening, but the way Fisher plays him, he also comes across somewhat pitiable. He wants out at one point, and Eric keeps dragging him back. Fisher is a major find, a new face to our local theatre scene, and completely and horrifically believable in the role.
Nick Hoop is off the charts as Dylan's partner in crime, Eric Harris. Harris was a psychopath who recruited a suicidal depressive to take out the world. Hoop is truly fearsome here, a fake smile scarring his face as he gets through the world with a certain cache of charm. At times he's scary in a Heath Ledger-as-Joker kind of way, but it's also different than that, deeper. The way Hoop plays Eric, he actually likes his hate; he gets off on his disdain toward mankind. We see his psychosis, but we also see how the world has treated him. When he speaks German with Klebold, it chills to hear this. I had read how Harris would do this often, in a wink to the Third Reich, but to actually revisit this with this tremendous young actor was quite unexpected, and quite terrifying.
In Hoop's hands, Eric Harris embraces his differences from everyone but plays the game of sanity, especially when having to suffer fools not-so-lightly--the Jocks, the teachers, and an unseen guidance counselor who feigns caring even though there's a sports page readily seen by the future killer underneath his file. He knows he's smarter than everyone else, and it's that arrogance, mixed with hate, that is a major part of the causation of the shootings. And yet he knows he can charm anyone. He can make a pipe bomb, get arrested for stealing, and still talk his way out of it. He's the scariest character in recent years. We see his mind ticking, but we don't know what he'll do next. Whenever he's onstage, you find yourself not wanting to make a sound for fear he might turn on you and the rest of the audience.
Hoop has been one of the shining lights in our local theatre scene for a few years now, and he always creates interesting characters with lots of depth and mystery. But this is from another dimension entirely--a truly terrifying portrait of a truly terrifying young man.
Director Staci Sabarsky has guided this award-worthy ensemble with a deft hand. It's imaginatively staged, and except with some major lagging in Act 1, rightly paced. There are a few questionable directorial choices, but one that I heartily disagree with: The curtain call. I think it's a mistake having the cast come out one by one to thunderous clapping. This is truly an ensemble piece, and we should see the Columbine kids as an entire group at the end, standing and then exiting. I understand the need for individual appreciation for performances well done, but I think it damages the mood at the end of the piece. Also, the way it is set up now, I find it a bit disquieting when the killers get the loudest ovations.
COLUMBINUS can boast of one of the great soundtracks of any show in recent memory; it's even better than "Whatever," the 1990's music box set (that dared not include any Nirvana). When I walked into the Stageworks theatre before the show, "Black Hole Sun" was playing, and I knew I was in Grunge heaven. Pearl Jam, Beck, Nirvana, Foo Fighters, and The Verve are just some of the bands whose works can be heard before and even during the performance. (Only the Foster the People song, "Pumped Up Kicks," in the pre-show selection seemed a bit too obvious for my tastes; I preferred that they kept the music relegated to the Columbine era.)
Technically, COLUMBINUS is a marvel. Jeannine Borzello's set is correctly minimal: Eight chairs, a white board that acts as a giant projection screen, and some tables. LaMay's projections and Beil's lighting, combined with Nina Rametta's props and costumes (appropriate for the time period), set up the atmosphere perfectly. But it's the ensemble that drives this show.
On April 20, 1999, I was in my pop culture store in Ybor City when my mother called to tell me about the shootings at a high school in Littleton. I immediately turned on a television set in the shop and witnessed images of Columbine students, their hands on their heads, being led out of the school. Then came the constant media assault. When the images of Harris and Klebold were later shown, it just boggled the mind. The two boys looked so ordinary, like anyone you'd see on a sidewalk or hallway. How could they do such a thing? We didn't know it then, but we were entering a new age, an age that we have not quite exited. Our lives changed, and when I got back into teaching a few years later, I could feel that change, especially recently, each time that we prepare for the next active-shooter drill. Eric and Dylan may have failed at their overall body count, but they succeeded in their notoriety and their spread of fear. We live in a country where their horrific shadow still casts us into their darkness. They weren't the first and sadly (and obviously) not the last of this breed. But they are the ones that we remember, and thankfully the play's closing scene rightfully guides the focus back where it belongs: The victims.
COLUMBINUS will thrill you, horrify you, entertain you, and rattle your world. It is an experience that is not to be missed--an important story, bravely tackled by an incredible young ensemble. The incidents may have happened twenty years ago, but watching it brings it all back home and makes us confront a question that we don't want answered: When and where will it happen next?
COLUMBINUS plays at the Stageworks Theatre until January 20th. PLEASE NOTE: Each of the Saturday and Sunday matinees will be followed by an all-important talk-back featuring a group of expert panelists.