Review: Kudos to the Wilde Theatre Company and Their Production of Frank Wildhorn's JEKYLL & HYDE: THE MUSICAL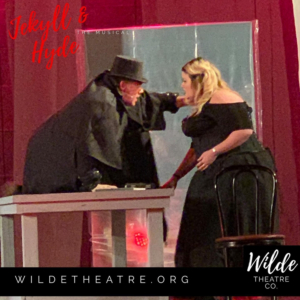 It's sometimes dicey seeing a new theatre company's very first show. Sometimes they just aren't ready for prime time and need a few productions under their belt before the reviewer walks in, pen in eager hand. It's especially true of professional companies that are just starting out; expectations are high, sometimes unreasonably so. I've seen several new company's first shows, musicals and non-musicals alike, that had me throwing my notebook across the floor in not-so-sweet surrender. They reminded me of that great 1980 quote of movie critic Vincent Canby when he described the famous flop, Heaven's Gate, as "a ship that slides straight to the bottom at its christening." I've seen such terrors before. Few things are worse than an awful unveiling, and a root canal sans novocaine is not one of them. Trust me, the exploding rats in the early episodes of Stranger Things Season 3 are far more appetizing. (Between those horrific rats and a bad first production, I'll take the rats every time; at least they seem to die quicker.)
That's why I am so happy to report that the newest local theatre group, the Wilde Theatre Company, is starting off on the right foot. This is a professional company that wants to focus on creating innovative ensemble-based theatre in the Tampa Bay Area. It doesn't hurt that the Founding Members who are on and behind the stage burst with talent, and one of them, as the title role in their first show, is in amazing vocal shape. It also doesn't hurt that they are able to pull some strings and get some of the best performers, both local and from afar, to help their dreams blossom to life with their first show. Although their initial production of Frank Wildhorn's JEKYLL & HYDE: THE MUSICAL is far from perfect, with several issues to contend with, it's just about as good a first outing as you'll likely find.
With music by love-him-or-loathe-him Wildhorn and lyrics and book by Leslie Bricusse, JEKYLL & HYDE: THE MUSICAL is delightfully overwrought; it carries the subtlety of a sledgehammer blow, both in its story and its themes of the duality of man. (A second theme also emerges: Don't choose work over relationships.) The lack of a light touch in the score is actually part of its charm. I could say the same for Phantom of the Opera, or sections of Les Miserables, or any literary classic done in this pop-musical manner. It has to have that Bigness, that over-reaching score, and this one, Wildhorn's most popular work, has become a cult fave whose members are known as "Jekkies."
I am not a Jekkie, though I see the power of Wildhorn's songs (and obviously of the original 1886 Robert Louis Stevenson gothic novella). I see how so many of the numbers--"This Is the Moment," "in Her Eyes," "Once Upon a Dream," "A New Life" and "Confrontation"--have become iconic or near-iconic, plaguing Thespian competitions from now until forever. And I see how the title part is an actor's dream, where any performer worth his salt will tackle with gusto and verve. An actor portraying two different roles, one of them a monstrous murderer, has more sides than Les Miz's Jean Valjean and no Phantom of the Opera mask to cover your facial expressions; who wouldn't want to play that?
With the incredibly powerful Randall Delone Adkison as both Dr. Jekyll and Mr. Hyde in the Wilde Company's production performed last weekend at the Steinbrenner High Theatre, there's no need to worry. The show is in incredibly good hands.
Adkison nails his musical numbers, chills the spine, stirs the soul. He holds the last note of "Lost in the Darkness" for a sensationally long time, reminding me of the last note of "Gethsemane" from Jesus Christ Superstar. It goes on and on, and the audience is left mouthing "Wow!" And his iconic "This is the Moment," Jekyll's version of "Music of the Night," was outstanding. You would be hard-pressed to find a stronger version of the song any time soon.
Without the help of changing looks or using some kind of voice-altering device in the microphones, Adkison is able to bring Hyde to life. The audience must suspend its disbelief early on because when characters say they don't recognize this Mr. Hyde (who looks very similar to Dr. Jekyll), the audience certainly can (and have to pretend that we don't). But soon enough, our imaginations take over and we can start seeing the dreaded difference. Crouching Gollum-like, a hat tipping over his wild eyes, Adkison's Mr. Hyde showcases the euphoria of evil, the deliciousness of devilry. His "Confrontation," sung to his reflection and over-dramatically giving the actor free reign to chew the stage as both Jekyll and Hyde, is a humdinger of a number, a tour de force. It's as if Jean Valjean kept turning into the vile Thernardier.
Adkison's performance alone would be worth the price of admission here, but there's so much more talent on that stage.
Kira Spunar is a lovely presence and a real find as Emma, Jekyll's betrothed. She matches up well with Adkison, and the two of them gorgeously tackle their big duet, "Take Me as I Am." Her big solo, "Once Upon a Dream," is gorgeously rendered, and I would still be applauding it if I could. She's a remarkable talent who shines in every instance onstage.
The stalwart David O'Hara makes the most of his part, Sir Danvers Carew, Emma's dad. He's a comforting presence, although I think it was an error for him to move when he says to his daughter, who's about to be married to Dr. Jekyll, "I don't know how I'll let you go" (by moving on the line, it seems that he's already letting go, which is not the most powerful choice). However, there was another moment, a very small, specific choice of his that I adored--after a particularly pithy line, he laughs to himself and gives a very real, loving gesture to his daughter, showing in one specific movement their entire relationship. It's those little moments that sometimes mean the most. God, as Stephen Sondheim keeps reminding us, is in the details.
One of my favorites in the cast is the versatile Matt Burke, who played numerous roles throughout--the Bishop of Basingstoke, Spider, Poole and the Doctor. Each role was specific with its very own idiosyncrasies.
Karli Gundersen as the doomed Lucy reminded me in a way Seurat's 1889 painting of "A Young Woman Powdering Herself." The actress once again brings down the house with her various songs, including "Someone Like You," which is not to be confused with Adele's version, though I'm sure Ms. Gundersen can probably vocally challenge Ms. Adele if she so chooses. When it comes to Karl Gundersen and her always amazing singing voice, I think I've run out of every cliché when describing it. Here's one for this review: Yes, she can sing anything and make it sound exquisite; imagine if she sang the Mueller Report, then no one would be able to question its contents.
Ian Longen and Zach West do well enough as, respectively, Gabriel John Utterson and Simon Stride, and newcomer Mitchell Smithey is welcomed as a commanding General Lord Glossop. The hard-working ensemble was passable, though some of them appeared way too young for the show. "Murder, Murder," performed with umbrellas, could be even more foreboding; the cast seemed a little too tame here for my tastes as they spread the killing news. (Also, everyone with a solo singing part needs to have a microphone.)
Boasting a large live orchestra, led by conductor Jason Allgair, is a major treat, and they sounded powerfully strong, sometimes too strong. Oftentimes the orchestra was so loud that it drowned out some of the cast, especially the ensemble. I could not understand the lyrics of their first big song, "Façade," at all. I was underwhelmed by this number anyway, especially when the ensemble occasionally finds itself standing in a boring straight line (which should be shied away from as much as possible, unless you are doing A Chorus Line, a kick line or a curtain call). Also, on the nit-picky side, as is often the case, some characters had proper accents and obviously others didn't.
The sparse sets--moveable scaffolds, gurneys and white drapes--work for this particular production. Sometimes the lighting was quite effective, such as when the shadows of the cast are used to create a particularly eerie effect behind the drapes; I would like to have seen even more of that. Carlos Rodrigues' costumes, appropriately set to the time period, also work. I like how they are in black and white, underscoring the theme (the light and dark nature of mankind) by just the wardrobe. There is also a splash of red throughout, and since this is JEKYLL & HYDE, we can pretty much figure out its bloody symbolism.
Kudos to director Lindsay Warfield, who has done a marvelous job guiding the production, aided by choreographer Brian Curl. It's an exciting time for this new company, where they have now officially planted their artistic flag in our local soil. And I can't wait for their next foray, where they will up the ante and, with a second show, prove that they are more than a one-hit wonder. But it's exciting when you think about it--I got to witness the birth of a great notion, a new theatre group, sprung to life before my very eyes. When Randall Adkison sang the first lines of the first song, "Lost in the Darkness," this was the moment when the Wilde Theatre Company was officially born.