Review: An Intimate, Devastating FUN HOME at American Stage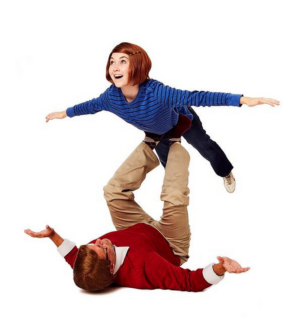 "Caption: My Dad and I both grew up in the same small Pennsylvania town. And he was gay. And I was gay. And he killed himself. And I...became a lesbian cartoonist." --Alison (Adrianne Hick) near the beginning of FUN HOME
Just when I thought we had come so far when it comes to LGBTQ rights, something happened during the opening night performance of FUN HOME at American Stage that disturbed me.
With music by Jeanine Tesori and lyrics by Lisa Kron, FUN HOME is a celebrated, richly written, sad, devastating and in the end uplifting Tony Award-winning musical. Structurally it's not unlike The Godfather, Part 2, which showcased two time periods--the rise of a Mafia father and the spiritual downfall of his son. In FUN HOME, based on Alison Bechdel's 2006 graphic novel, the tables are turned: a repressed gay father self-destructs in his sham marriage as his daughter comes out of the closet and, thus, survives and soars. It celebrates the freedom of coming out while also spotlighting the sadness of a life imprisoned in the closet. You would think if someone attends this brilliant show and, in particular, this top-flight American Stage production, then he or she would know something of the storyline and hopefully have a deeper understanding of our LGBTQ brothers and sisters.
But something happened during the production that must be addressed: Several people, obviously horrified by the sight of lesbianism onstage, bolted during the production. I counted nine of them. Nine lost souls who walked out of FUN HOME in the first twenty minutes. First of all, it's a stellar production, beautifully directed with incredible performances; why would they leave? Second, even though the scene that caused most of them to exit rapidly may have been too much for their sensibilities (a lesbian love scene on a dorm room bed), it was handled realistically and tastefully.
So, what caused those individuals to flee? In their distorted political views or due to religious hang-ups, did they not want to acknowledge the LGBTQ community at all and deal with such subject matter? Because of the title FUN HOME, did they expect a "fun" cotton candy musical, a rollicking empty-headed good time or an old-fashioned Lerner and Loewe easily digestible yawn-fest? Did they want the gay characters more sit-com funny, more light-hearted and TV-friendly, like in Modern Family? Or maybe did it hit too close to home, a mirror held up to a sham marriage or two?
These walk-outs reminded me of the time when I first watched The Color Purple in an Atlanta movie theater over three decades ago; when Celie and Shug shared an intimate kiss, several men in the row in front of me shuddered and screamed out, "Oh no!" But that was 1985; this is 2019....we've certainly grown as a country when it comes to gay rights, right? Judging by these walk-outs, obviously not enough.
FUN HOME has found a perfect home at American Stage. When it played earlier at the Straz, it would seem ill-fitting for such a large venue; here, the intimacy works. And the cast is astounding.
The part of Alison is played by three actresses of different ages: Mercy Roberts as Small Alison, Mollie Posnik as Medium Alison and Adrianne Hick as Alison (the Narrator). All three of these performers give incredible performances, even if they don't quite match up physically. Hick holds the show together, the glue that connects all of the pieces. We sense the person she is, a strong soul trying to understand her weaker father and why he did what he did. She's so riveting, yet so grounded and vulnerable.
Posnik has a glorious voice, and we sense her sexual awakening at Oberlin College--wanting to check out "the Power of One," but going back the next day not just to buy it but to buy every same-sex book she could find. We know that her coming out, including a tell-all letter to her parents, eventually saves her, just as her father's closeted world will eventually doom him. And the aforementioned dorm room scene with her first love, Joan (a splendid and very real Skyler Rosenthal donning a "Lavender Menace" shirt), is quite well played. And after her first night with Joan, Middle Alison's exuberant and freeing "Changing My Major" is one of the show's highlights, making anyone of any gender relive his or her very first time in a dorm room.
Mercy Roberts captures the inquisitive Small Alison perfectly. I like how she mis-pronounces so many words, and her sterling solo moment--the iconic "Ring of Keys," where the child realizes her attraction to the same gender--is gorgeously rendered here.
David Mann, as the doomed Bruce Bechdel, once again proves why he is one of the finest actors of our area. When I first saw him as the Emcee in Cabaret in 2012, with his sorrowful eyes, he captured the darkness that other actors sometimes shy away from. (I told this to someone who also saw it, and she added, "And he's so sexy! We just wanted to eat him up!") Here, Mann is not afraid to dive into this character's shadowy sides of the father, cruising in the darkness, seducing former students. He's so unhappy, so trapped, that he goes off on his kids and his wife without any notice. It's harrowing and yet we can't take our eyes off him--as he descends deeper and deeper into the character's darkness and despair. He remains a mystery, but mainly to himself, never actually being a true person, always just pretending with a forced smile that masks his true self. It's difficult for us sometimes, but we pity him. It's heartbreaking work and hands down one of the best performances I've seen all year.
Kristin Carbone plays Helen Bechdel, Bruce's wife, and she knows all about him and yet stays married. It's hard to sympathize with her plight, her inability to ever let go of her marriage, and then her song "Days and Days," brilliantly sung by Carbone, does the trick. Wow.
The songs are marvelous. In "Come to the Fun Home," Small Alison along with her brothers (the very talented Brinley Degwert and Tanner Grant) make up a bopping, demented commercial about the family-run funeral parlor (the fun home). It's like a trippy song by the DeFranco Family (featuring Tony deFranco), and with Heather Krueger's choreography, the three young actors nail it. In another segment, the Partridge Family is brought back to life in Small Alison's imaginary, pop-hallucinatory "Raincoat of Love" (her mother donning a Shirley Partridge wig).
Xavier Reyes rounds out the cast, portraying numerous characters, including some of Mr. Bechdel's cruising targets, with equal aplomb.
Director Karla Hartley has brilliantly guided a production that utilizes the entire stage. Her show is beautifully paced, never too fast or slow, and it ends with one of musical theatres most powerful numbers, "Flying Away (Finale)", that left me speechless. Charles Murdock Lucas' set is the perfect playground for the Bechdel family home and funeral parlor, aided by Mike Wood's stellar lighting design. Dina Perez's costumes suit each time period (the 1970's to today), and Jerid Fox's props work quite well (including various first edition books, yard sale finds like a bust of Quixote, and even a slinky).
Jeremy D. Silverman's musical direction is tops (the cast, young and older members alike, sounds marvelous), and the live band consists of just him on the keyboard and a percussionist (Melanie Downs). But that's all that is needed; they sounded wonderful. Still, even though it's not a typical musical, I wish a song list had been included in the program.
FUN HOME is powerful stuff and not always easy. That's what makes this production so phenomenal. Using Bechdel's memoir, it dares to shine a light on the darkness of repression and the freeing light of a life out of the closet. Its last line, so perfect, wilted me. I wish those audience members who fled stayed around to hear it, to confront the message that FUN HOME tells so eloquently, so movingly. That truth is power. The strong of character survive. Pride thrives. And love wins.
FUN HOME plays thru August 18th at American Stage.
    An actor, director, and theatre teacher, Peter Nason fell in love with the theatre at the tender age of six when he saw Mickey Rooney in "George M!" at the Shady Grove in ... (read more about this author)
Review: Kander & Ebb's Brilliant, Terrifically Terrifying CABARET at the Asolo Rep

November 25, 2022

It's a technical marvel from all aspects, with an outstanding cast beautifully directed by Josh Rhodes.
---
Review: Rick Elise's Wildly Inventive PETER AND THE STARCATCHER at the Stage West Playhouse

November 13, 2022

An all-star ensemble with Ryan Bintz soaring to the top as the evil Black Stache!
---
Review: A Powerful Production of Arthur Miller's THE CRUCIBLE at Palm Harbor University High School

October 23, 2022

In 2022, it's more pertinent and scary now than ever!
---
Review: A Cute FIRST DATE at the Carrollwood Cultural Center

September 18, 2022

Craig Ruska and Kara Doyle endear as the leads in this small-scale slice of life musical.
---
Review: Jobsite Theater Presents Steve Martin's Absurdist Comedy PICASSO AT THE LAPIN AGILE at the Shimberg

September 17, 2022

Albert Einstein meets Pablo Picasso (as well as some surprise guests) in this hilarious but sometimes forced comedy.
---