REVIEW: Paul Capsis Is Hilarious As The High Camp Drag Queen of LA CAGE AUX FOLLES
LA CAGE AUX FOLLES
Thursday 2nd February 2023, 7:30pm, The Concourse Theatre Chatswood
A celebration of fun and high camp with an underlying message of acceptance and family, LA CAGE AUX FOLLES allows audiences to see Paul Capsis take on one of the most iconic musical theatre drag roles. Director Riley Spadaro interprets Jerry Herman (music and lyrics) and Harvey Fierstein's (book) adaptation of Jean Poiret's 1973 French play in a limited season engagement.
Helping to breakdown barriers by putting a queer story on stage, Herman and Fierstein's LA CAGE AUX FOLLES, which first opened on Broadway in 1983, has gained a number of Tony Awards over its original and revival seasons, anchoring it as a significant piece of musical theatre. It incorporates the world of cabaret style drag revue shows as the setting for the conflict between a gay father and his straight son over the people they love. Nightclub owner and Host Georges (Michael Cormick), is familiar with soothing the ego of his partner and headline act, Albin (Paul Capsis), but the request from his son from a one night stand with a chorus girl in Paris some 20 years ago proves to be a bigger challenge than normal. The seemingly serial dater Jean-Michel (Noah Mullins) has come home with the news that he plans to marry Anne Dindon (Chloe Malek), the daughter of the "Tradition, Family and Morality Party" leader and he has invited is future in-laws for a visit but failed to mention his family circumstances and source of income so seeks to contrive an illusion that his birth mother Sybil and Georges are a conservative heterosexual couple for one night.
This production was originally scheduled to open in November 2022 with Cameron Menzies at the helm but it is understood that illness, caused the opening to be delayed and Riley Spadaro bought on as director as Menzies returned to his role as Chief Executive and Artistic Director at Norther Ireland Opera. Under Spadaro's direction, the work is presented as somewhat of an homage to the Drag artform while pulling back on the dramatic potential of the work, opting for over the top expression rather than heartfelt exploration of the human spirit beneath the sequins and feathers. While Fierstein's book keeps the story in Poiret's original setting of the French seaside town of St Tropez, Spadaro hasn't focused on ensuring that the characters maintain any particular accent with all performers wandering between an interpretation of French, English and broad Australian which does prove somewhat more distracting than if they'd selected one persona and stuck with it throughout. The choice to have Chloe Malek and Caity Plummer round out the line up of Cagelles was also interesting as they both stand out in stark contrast to the rest of the 'girls' in terms of height. While it is understood that Choreographer Veronica Beattie George May have wanted a fuller stage with a chorus line of 9, compared to the original Broadway production's 12, the work would have potentially had a more captivating impact with 7 statuesque male dancers in drag and it is noted that the 2010 Broadway revival only featured 6 Cagelles.
Grace Deacon's set design is kept relatively simple with the performance space sitting in front of the bandstand and being changed with the addition of simple elements that transform the stage from backstage to Albin/Zaza's apartment above the theatre and the waterfront café. James Browne's costuming for the Cagelles is bold and bright and designed to ensure that Zaza stands out amongst the "leaping and flying and flailing" dancing 'girls'. The fitting of the costumes, from the chorus to Zaza however doesn't seem sufficiently tailored to the performers and is therefore incongruent with the purported success of the nightclub. The costuming for Albin's 'maid' Jacob (Anthony Brandon Wong) also feels like somewhat of an afterthought when considering the female identifying butler is so passionate about their identity being recognized.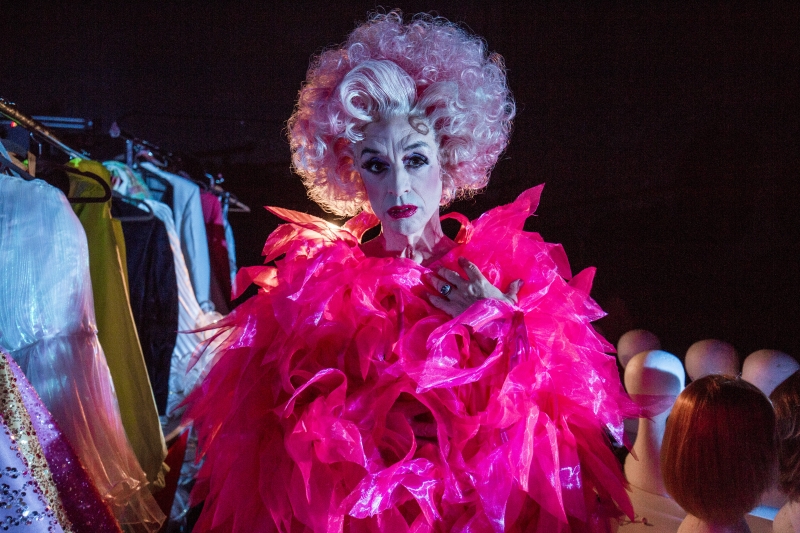 The big drawcard of this LA CAGE AUX FOLLES is the multitalented Paul Capsis as Albin/Zaza. Capsis 'hustles out his highest drag' with a brilliantly over the top expression of the aging drag queen and while Spadaro has opted to have A Little More Mascara delivered with an overblown expression of Albin getting deep into character rather than an opportunity to tap into Albin's underlying emotion and sensitivity, Capsis ensures that I Am What I Am ,a song that has come to be somewhat of a gay anthem, expresses Albin's vulnerability and pain. Capsis opening for The Best Of Times is equally poignant before Zaza is joined by Jacqueline, presented with amusingly absurdity by Lucia Mastrantone who commits herself body and soul to the brash restauranteur.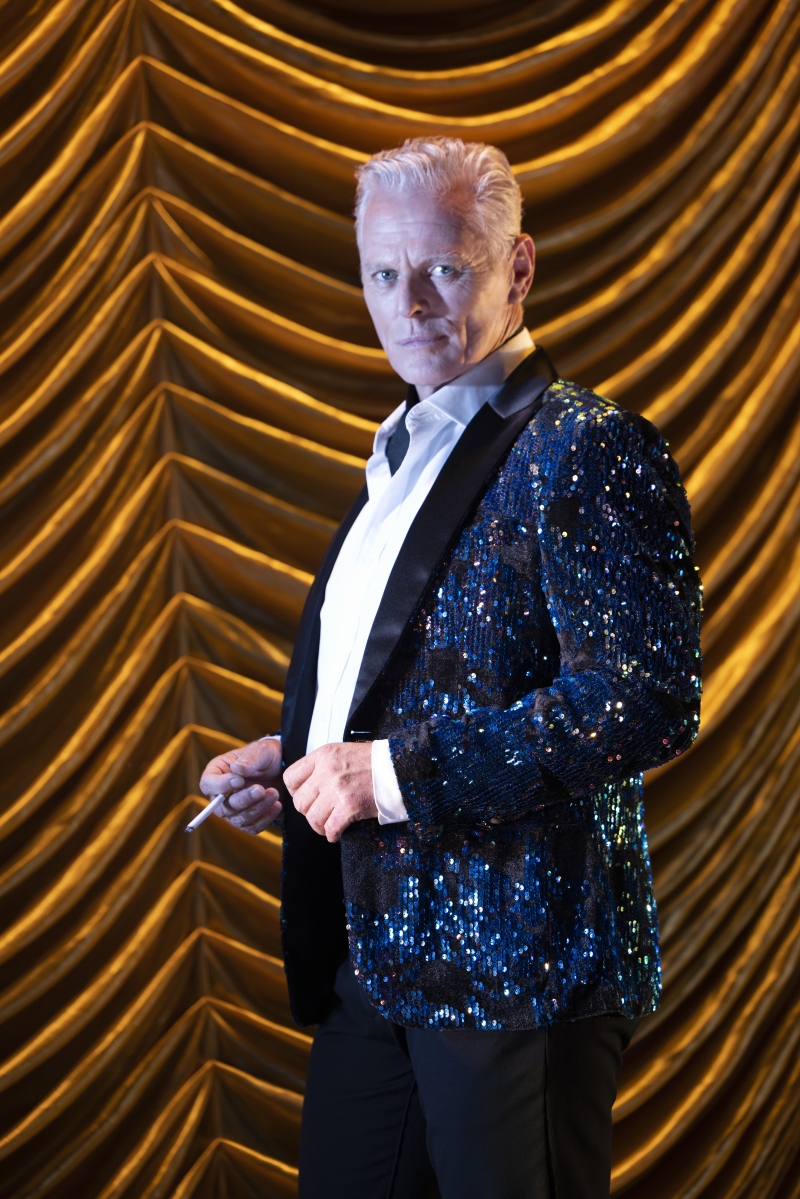 As Albin's partner Georges, Michael Cormick ensures that the character is seen as a contrast to Albin's dramatics while also expressing that he's not exactly the perfect person either as he's prepared to concede to Jean Michel's ill thought out plans to dismiss Albin's influence on his upbringing. Cormick's renditions of With You On My Arm and Look Over There proves a delicate expression of emotion against the energy of the Nightclub and the overwrought but understandable emotion of Albin.
While the season for this production has finished it did highlight the fact that Paul Capsis should consider incorporating more Drag characters in his broad range of characters and performance styles that have already positioned him as one of the leaders of the cabaret genre in Australia.
Photos: John MacRae