BWW Review: DJUNGELBOKEN THE MUSICAL (THE JUNGLE BOOK) at Waterfront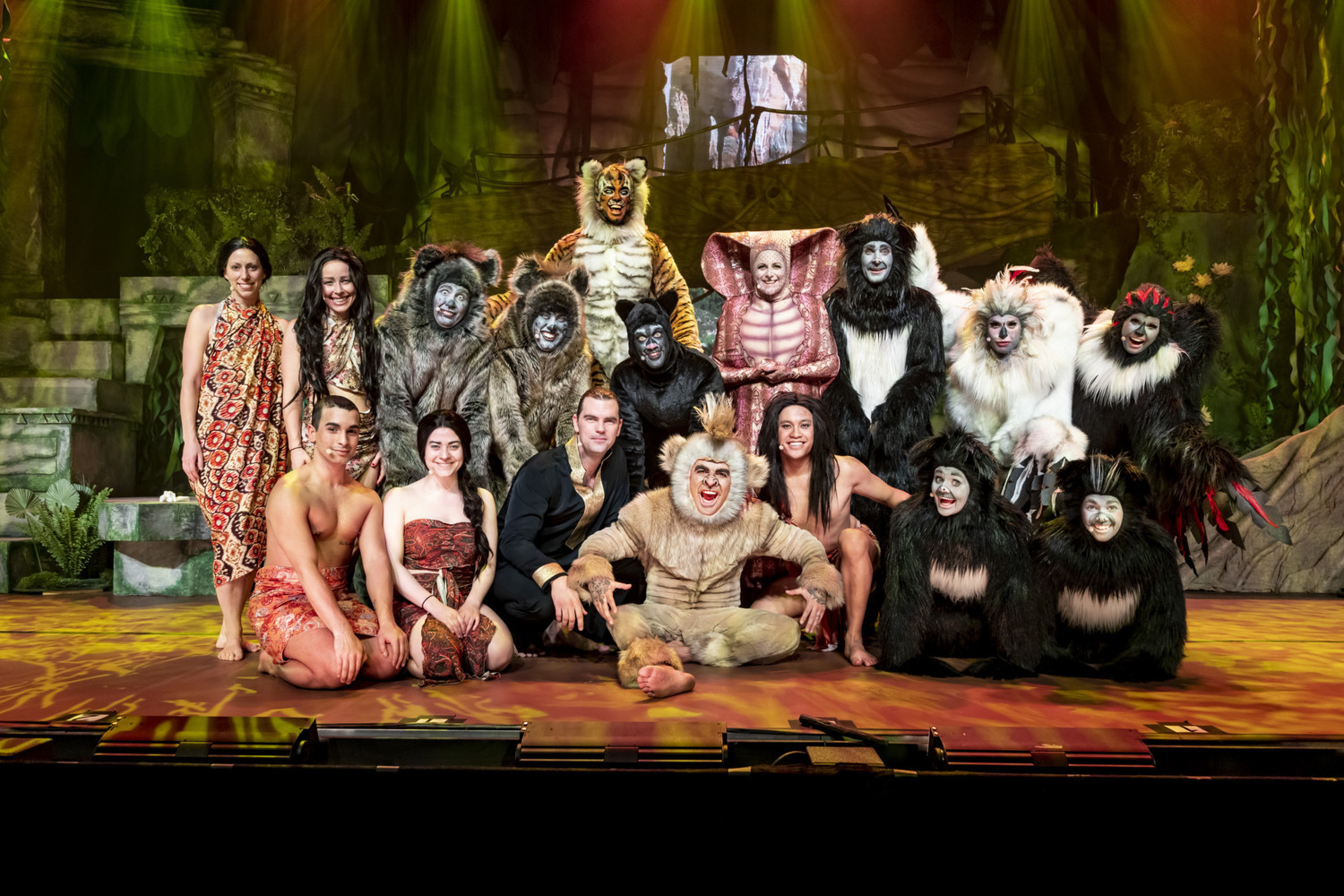 The premier of Djungelboken - the musical (the Jungle Book) 11 of November 2018
For some years, Dröse & Norberg has set up a family musical based on a famous story like The Wizard of Oz, Snow White the Musical and the Aladdin Adventure- The story they chosen this year is the Jungle Book by Rudyard Kipling. It's not a Disney version of the Jungle Book but a new musical with newly written music by Martin Landh and Peter Nygren. The well-known characters such as Mowgli, Baloo, Bagheera, Shere Khan and the snake Kaa is still in the story.
As this is a musical for the whole family, I asked a friends five-year-old daughter Moa to join me to the premier so I could experience it through her eyes. First we attended the press photo session which most of the actors attended on stage but unfortunately Shere Khan's make up was not ready so we had to wait and see his extraordinary makeup until the show. When the photo shoot was done, we went out through the mingle area and Moa's eyes grew wide when she saw all the champagne glasses with drinks set up on the tables, gold money, bananas and jungle sweets in big piles. "Will we have a taste?". Then there were some makeup artists who asked if she wanted to be painted like a cat, which she of course wanted. She thought it was quite exciting to walk on both the green and the red carpet. However it was not that exciting to see celebrities on the red carpet for her, not even the Ice-Hockey legend Börje Salming impressed her.
There was a bit of waiting time before the curtain was raised but as soon as it started she was transferred to another world.
The storyline is familiar. Mowgli (Nils Axelsson) lives with his family on the edge of the jungle. He loves to explore the jungle and one day when he is playing, the evil tiger Shere Khan (Jakob Stadell) comes to the village and the villagers try to scare him off with fire, but instead it becomes a fire that destroys the village. Mowgli stays alone in the jungle where he first meets Hyenorna Sick (Tomas Åhnstrand) and Zack (Olof Ramel), The vultures Huulda (Tilde Fröling) and Hekla (Emma Rickfjord). They want to eat up the little delicious Mowgli. But Mowgli succeeds to scare them away, and meet the bear girls Liv (Anna Bob Hellberg) and Lycka (Annie Lundin-Hallgren) who are daughters of the friendly bear Baloo (Bill Sundberg). They think Mowgli is so cute and wants to take care of him. Their father Baloo agrees. Mowgli enjoys his time with the bears, but the fact that he can make a fire is not Baloo completely satisfied with. Baloo takes him to his friends Bagheera (Eric Rusch) and the snake Kaa (Gunilla Backman) for advice. There is a rule of no fire in the jungle, therefor it is decided that Mowgli will return to another human village. During the voyage they also encounter King Gibbon (Méndez) and his ape army,
It's a nice and intense musical. The animals are very well made with lovely masks, wigs and suits by Michaela Hallgren and Thomas Malmros and their team. I was most impressed by the tiger Shere Khan and the snake Kaa. Fully agree with what Shere Khan says in a scene "I'm the Biggest, the Best and the most Beautiful creature." Jakob Stadell is really the best singer in this musical closely followed by Gunilla Backman. Jacob's powerful voice is perfect when he breaks into scary screams and when starts to sing "Eat Meat."
Shere Khan's mask is incredibly handsome and cool. He is huge compared to the others as he has extensions both on his legs and arms. When he reaches out, he dominates the scene totally. The snake Kaa is a delicious pink cobra with a wonderful voice. She swings back and forth just like a cobra where she stands spinned in her own body. Baloo and the little girls look so cozy and cuddely and radiats warmth. Tilde Fröling's white vulture costume is also very beautiful. In fact all animal masks are very well designed. The scenography (Erik Fredriksson) is nice and simple and the same throughout the performance, but with the help of video, we sometimes end up at a waterfall, for example. We are transferred to the jungle. Nice light design by Pelle Palmé, mainly green lights which enhance the jungle sensation.
It's a lovely show with a good mix of dance and music that the whole family can enjoy.
Moas comments directly after was "I want to see the sequel," "It's a lot better when there are real people who playing instead of what we see on television." "I really liked the young boy Mowgli, he was the best actor." But she agreed with me that Jacob Stadell as Shere Khan was the best singer.
Yes, it's hard to get better grades than a child looking forward to seeing the sequel and that it's better with people live than cartoon! Both me and Moa can therefore recommend it as a musical for the whole family.
The Jungle Book is playing a few dates at the Waterfront and goes on tour around the country and the last performance is March 16 at the Waterfront. Tickets can be booked at:
https://www.ticketmaster.se/artist/djungelboken-the-musical-biljetter/992235