BWW Preview: GHOST THE MUSICAL at China Theaten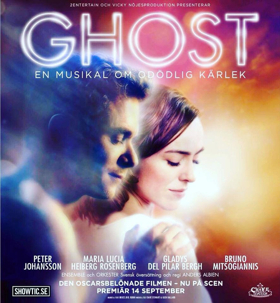 Today I was invited to a special press day at China Theatre when they announced the cast to Ghost the Musical. The show was hosted by Kattis Ahlström, a well know Swedish TV host. For some time we been discussing who we wanted to be in the cast and I was so happy to hear that it was my dream team for the roles of Sam and Carl. And the rest of the cast is absolutely fantastic as well.
Sam Wheat will be played by Peter Johansson. Peter Johansson is one of Swedens best musical artist who for example played Galileo Figaro in We will rock you in London for five year. He is Brian Mays favorite Galileo. Peter has been having the lead roles in several muscials as well as doing sold out arena tours all over Sweden. He is the kind of artist who can take any song and make it his. He has an outstanding energy and terrific voice.
In the Swedish version of We will rock you, Galileo Figaro was played by Bruno Mitsogiannis. He was also great. Peter and Bruno then did Rock of Ages together and magic was created. Together they are so great on stage. They also did Jersey Boys together where Bruno played Frankie Valli and Peter played Tommy de Vito. Before Peter been the bad quy and Bruno the good guy, so it will be fun to see the role reversed. Bruno is also one of the top musical artists in Sweden. Recently he played in American Idiot in Denmark.
Maria Lucia Heiberg Rosenberg who will play Molly is from Denmark and to be honest I never heard of her before. But she is well known in Denmark and for example she has played Elphaba in Wicked and did the Danish voice to Elsa in Forzen. And Elsa will now be played by Cassie Levy on Broadway and she was playing the original Molly in Ghost on West End. I saw the original cast in London a couple of times and it was a great show. Really loved it.
I think most of you have seen the movie Ghost where Demi Moore played Molly and Patrick Swayze played Sam, but it was Whoopi Goldberg who played Oda Mae Brown who won the Academy Award/Oscar. In Stockholm Oda Mae will be played by Gladys del Pilar Bergh. And she will be great as Oda Mae. Gladys has a real powerful voice and I think everyone will be impressed by her.
So the four lead roles are perfectly casted and the rest of the ensemble includes names like Sanna Martin, Alexander Larsson, Anna-Maria Hallgarn, Clarissa Krabbe to mention a few. It is a really strong ensemble.
But a musical is not just the ensemble.
Anders Albien is the director and has also translated into Swedish. Anders Albien had a great success with the Swedish version of Flash Dance which now is the version which is used when played internationally. He also just directed The book of Mormon. Anders Albien is well known for making new adaptions and he told us that they will make changes from the London and Broadway version. It will be more focus on the love and the feeling when someone you love dies. There will be dancing but not in the ordinary musical way. The choreographer is Jenny Widegren who was one of the members of the street dance company Bounce. Jenny is working together with Bianca Fernström.
In order to create the right magic and the illusions, Mark Parker from Singapore will use his wand over the show.
During the press show the cast performed four songs from the musical together with Janne Radesjö band. Peter and Maria sang a amazing version of Unchained Melody. Maria a heartbreaking "With you". Gladys, Clarissa Krabbe and Elenor Margarita Eriksson showed girl power in "Are you a beliver?" All these songs were in English but the last song in act one was in Swedish. Peter, Maria and Bruno together really showed to be a perfect match. Their voices together are so good and if it is soo great now it will be magic when they are ready for the opening night the 14th of September.
Without a doubt, this will be one musical not to miss in the fall. It has great competition from "The Bridges of Madison County", "Så som I himmelen (As if in heaven) and the show with Peter Jöback. But the autumn is long and when it gets darker and colder we all need a great musical. This will for sure be one I will see more than once.
Tickets goes officially on sale the 13th of March.
'