by Stage Tube - May 12, 2014
Raven's revival of this later play by Tennessee Williams that was 'rediscovered' in acclaimed productions in London and New York is an autobiographical play that Williams first began writing around the time he started The Glass Menagerie. It concerns a young writer who in 1938 moves to a ramshackle French Quarter rooming house that's home to an assortment of desperate and eccentric characters. The New York Times said Vieux Carre is, along with The Glass Menagerie, Williams' other autobiographical memory play, one of two 'critical bookends' to Williams' career. Scroll down to see a trailer for the production!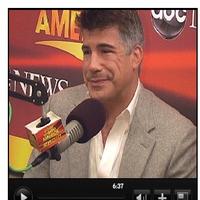 by BroadwayWorld TV - May 16, 2010
Theatre and television star Bryan Batt recently spoke out against an article in Newsweek by author Ramin Setoodeh, claiming gay actors are unable to successfully portray straight roles. A number of actors have spoken out against the article, which specifically notes Sean Hayes' performance in PROMISES, PROMISES as an example.