One Man, Two Guvnors Broadway
Always-famished and easily-confused, Francis Henshall agrees to work for a local gangster as well as a criminal in hiding ("TWO GUVNORS"), both of whom are linked in a tangled web of schemes and romantic associations... none of which Francis can keep straight. So he has to do everything in his power to keep his two guvnors from meeting while trying to eat anything in sight along the way. Simple.
Falling trousers, flying fish heads, star-crossed lovers, cross-dressing mobsters and a fabulous on-stage band are just some of what awaits at the most "deliriously funny" (The Daily Telegraph) new play to cross the pond in decades.
Tickets on sale December 1, 2011
Photo preview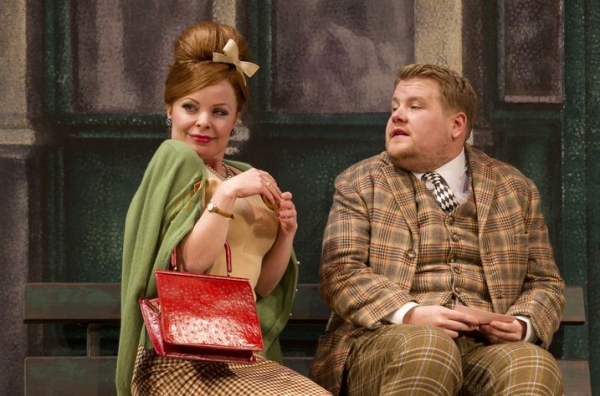 Featured Reviews For One Man, Two Guvnors
A Matter of Taste - Wall Street Journal
The only part of "One Man, Two Guvnors" that translates effortlessly into the universal language of lunacy is the last scene of the first act, a two-doors-and-one-staircase miniature farce adorned by the presence of Tom Edden, who plays an 87-year-old waiter of the utmost ineptitude. Since the program credits Cal McCrystal as the show's "physical comedy director," I assume that he is mainly responsible for the masterly staging of this bit, which reduced me to helpless howling. If you do see "One Man, Two Guvnors," be forewarned that it's downhill all the way after that.
Mistaken Identity May Be Closer Than It Appears - New York Times
It's a rich, slow-spreading smile, like butter melting in a skillet over a low flame. And whenever it creeps across James Corden's face in the splendidly silly "One Man, Two Guvnors," which opened on Wednesday night at the Music Box Theater, you know two things for sure: You're in for trouble, and you're already hooked. Struggle as you will, there ain't nothing you can do about it. That smile captures the essence of "One Man, Two Guvnors," Richard Bean's inspired adaptation of an 18th-century Italian farce by Carlo Goldoni, directed by Nicholas Hytner. A runaway hit in London, where it originated at the National Theater, "One Man" is, like Mr. Corden's grin, both satanic and seraphic, dirty-minded and utterly innocent. Letting loose and neutralizing all sorts of demons, it's ideal escapism for anxious times.