Enron - 2010 - Broadway
Based on real-life events and using music, dance and video, Lucy Prebble's Enron explores one of the most infamous scandals in financial history, reviewing the tumultuous 1990s and casting a new light on the financial turmoil in which the world currently finds itself. Director Rupert Goold (Macbeth with Patrick Stewart), along with a crack team of designers, will bring the most exciting and innovative theatrical event Broadway has seen this decade.
Video preview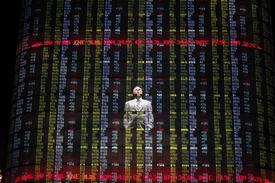 Schedule
Running Time: 2 hours and 40 minutes, with one intermission
Featured Reviews For Enron
Enron - The Hollywood Reporter
But for all its imaginative conceits, "Enron" is more intellectually than emotionally engaging. The characters rarely rise above the level of caricature and, with rare exceptions -- like the shattering moment at Lay's funeral when a financially devastated former employee angrily confronts an unrepentant Skilling -- the play fails to provide a human element to its complicated narrative.
Enron - Back Stage
Playwright Lucy Prebble gets points for ambition. "Enron" wants to be a bold, slashing piece of political theater that exposes the greed and selfishness at the heart of American capitalism through the titular energy company's collapse. I'm in sympathy with her point of view but unpersuaded by her methodology. Her play is like a big, shiny, beautifully wrapped package that once eagerly ripped opened reveals a horde of Styrofoam peanuts through which you search vainly for the anticipated present.