Enron Broadway
Based on real-life events and using music, dance and video, Lucy Prebble's Enron explores one of the most infamous scandals in financial history, reviewing the tumultuous 1990s and casting a new light on the financial turmoil in which the world currently finds itself. Director Rupert Goold (Macbeth with Patrick Stewart), along with a crack team of designers, will bring the most exciting and innovative theatrical event Broadway has seen this decade.
Video preview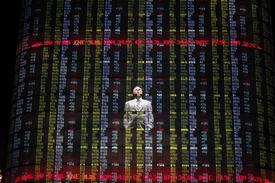 Schedule
Running Time: 2 hours and 40 minutes, with one intermission
Featured Reviews For Enron
Enron - Variety
Industry doomsayers were all wet about "Enron." This London bombshell is both a dazzling piece of entertainment and a gripping cautionary tale about the criminal chicanery that eviscerated the most respected corporate body in America. Still, it cost a bundle (a reputed $5 million) to haul this hi-tech show into town, and everyone's wondering if starstruck musical junkies will part with their coin for a straight play. What's clear is that the sensational stage effects deliver the same blood-pumping thrills of a musical, wrapped around a play, by Lucy Prebble, with more brains in its head than any tuner since "Assassins."
Enron - Back Stage
Playwright Lucy Prebble gets points for ambition. "Enron" wants to be a bold, slashing piece of political theater that exposes the greed and selfishness at the heart of American capitalism through the titular energy company's collapse. I'm in sympathy with her point of view but unpersuaded by her methodology. Her play is like a big, shiny, beautifully wrapped package that once eagerly ripped opened reveals a horde of Styrofoam peanuts through which you search vainly for the anticipated present.
Enron Broadway Cast