Enron - 2010 - Broadway Tickets, News, Info & More
Based on real-life events and using music, dance and video, Lucy Prebble's Enron explores one of the most infamous scandals in financial history, reviewing the tumultuous 1990s and casting a new light on the financial turmoil in which the world currently finds itself. Director Rupert Goold (Macbeth with Patrick Stewart), along with a crack team of designers, will bring the most exciting and innovative theatrical event Broadway has seen this decade.
Video preview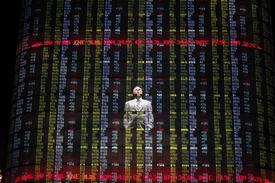 Schedule
Running Time:
2 hours and 40 minutes, with one intermission
Featured Reviews For Enron
Enron - Back Stage
Playwright Lucy Prebble gets points for ambition. "Enron" wants to be a bold, slashing piece of political theater that exposes the greed and selfishness at the heart of American capitalism through the titular energy company's collapse. I'm in sympathy with her point of view but unpersuaded by her methodology. Her play is like a big, shiny, beautifully wrapped package that once eagerly ripped opened reveals a horde of Styrofoam peanuts through which you search vainly for the anticipated present.
By the Numbers - New York
Unlike the company whose storied fall it chronicles, Enron clearly telegraphs its intention to defraud the consumer: "When we tell you [this] story, you should know it could never be exactly what happened. But we're gonna put it together and sell it to you as the truth." This proviso is delivered by a lawyer, who adds: "I could tell you how the world works, but I don't have the time, and you don't have the money." That gets broad laughs—and broad laughs are what's for sale here. Subtlety is not a commodity that Lucy Prebble's fast, flashy, feckless Epcot ride of a play is trading in: If twelve-gauge potshots at the likes of Schwarzenegger and Lehman Brothers are your taste, you won't be disappointed.