Big Fish - 2013 - Broadway
BIG FISH is a new Broadway musical featuring direction and choreography by five-time Tony Award winner Susan Stroman (The Producers, The Scottsboro Boys), music and lyrics by Tony nominee Andrew Lippa (The Addams Family, The Wild Party) and a new book by esteemed screenwriter John August (Big Fish, Charlie and the Chocolate Factory). Two-time Tony winner Norbert Leo Butz (Dirty Rotten Scoundrels, Catch Me If You Can), Tony nominee Kate Baldwin (Giant, Finian's Rainbow) and Tony nominee Bobby Steggert (Giant, Ragtime) lead the cast of amazing characters.
Based on the celebrated novel by Daniel Wallace and the acclaimed Columbia Pictures film directed by Tim Burton, BIG FISH centers on Edward Bloom, a traveling salesman who lives life to its fullest... and then some! Edward's incredible, larger-than-life stories thrill everyone around him--most of all, his devoted wife Sandra. But their son Will, about to have a child of his own, is determined to find the truth behind his father's epic tales.
Overflowing with heart, humor and spectacular stagecraft, BIG FISH is an extraordinary new Broadway musical that reminds us why we love going to the theatre--for an experience that's richer, funnier and BIGGER than life itself.
Video preview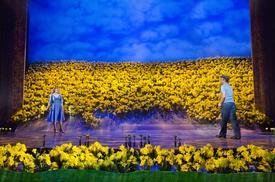 Photo preview
Schedule
Running Time: 2 hours and 30 minutes, with one intermission
Featured Reviews For Big Fish
Hooked by storytelling in 'Big Fish' the musical - Chicago Tribune
With the indefatigable, deeply engaged and seemingly irreplaceable Norbert Leo Butz driving its storytelling and willing the show's crucial emotional subtext into being by sheer force of talent and will, "Big Fish" arrives on Broadway as an earnest, family-friendly, heart-warming and mostly successful new American musical. Modestly and movingly scored by Andrew Lippa, "Big Fish" is set in the Deep South and honors that region's love of tall tales without exploiting the Southern stereotypes so common to the genre of musical theater.
'Big Fish' review: Ambitious musical, not exciting - Newsday
..it's a pleasure to watch [Norbert Leo Butz] engage in the fantastical adventures of both the healthy and the dying Edward Bloom, irrepressible teller of tall stories and bad jokes in "Big Fish." In fact, there are many pleasures in this ambitious but disappointing adaptation of Daniel Wallace's Walter Mitty-esque novel and Tim Burton's 2003 movie about a father's inability to make a truthful connection with his serious son...So it's crushing to realize, early on, that this gentle, sincere, beautiful-looking show is deadly dull. Author John August, who also wrote the screenplay, strings sentimentality and hackneyed picaresque escapades together as if they were equivalent balls on a string. Tension never builds, even when Edward's son Will (Bobby Steggert) tries to unravel the father's secret life.