All Hallows Eve
Eve and Evan are twins roped into yet another desperately dull Halloween by their parents. Managing to break free, they maraud, pumpkin-smash and toilet-paper, inadvertently crossing the thin line between worlds on this night of all nights. They enter a house and meet a demoness who has been lying in wait for just such a pair. A harrowing cat-and-mouse game ensues with the stakes being nothing less than their immortal souls. All Hallows Eve is a tale wrapped up in horror, comedy, and blood...and definitely not for young children.
Video preview
Schedule
Running Time: 80 minutes with no intermission
Schedule varies: check show website for most up to date information
Connelly Theatre
(New York, NY)
220 E. 4th St. (between Avenues A and B)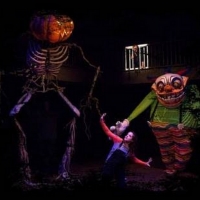 by BWW News Desk - August 21, 2019
Martin P. Robinson Productions and Little Shadow Productions presents All Hallows Eve, a wild, horror musical journey across the grey veil on a Halloween night, testing a sister's and brother's love against the forces of true evil, with book, lyrics and puppet design by Martin P. Robinson (Little Shop of Horrors; a?oeSesame Streeta??) and music by Paul Rudolph (Emmy Award-winning composer, a?oeSesame Streeta??, a?oeGLANKa??).