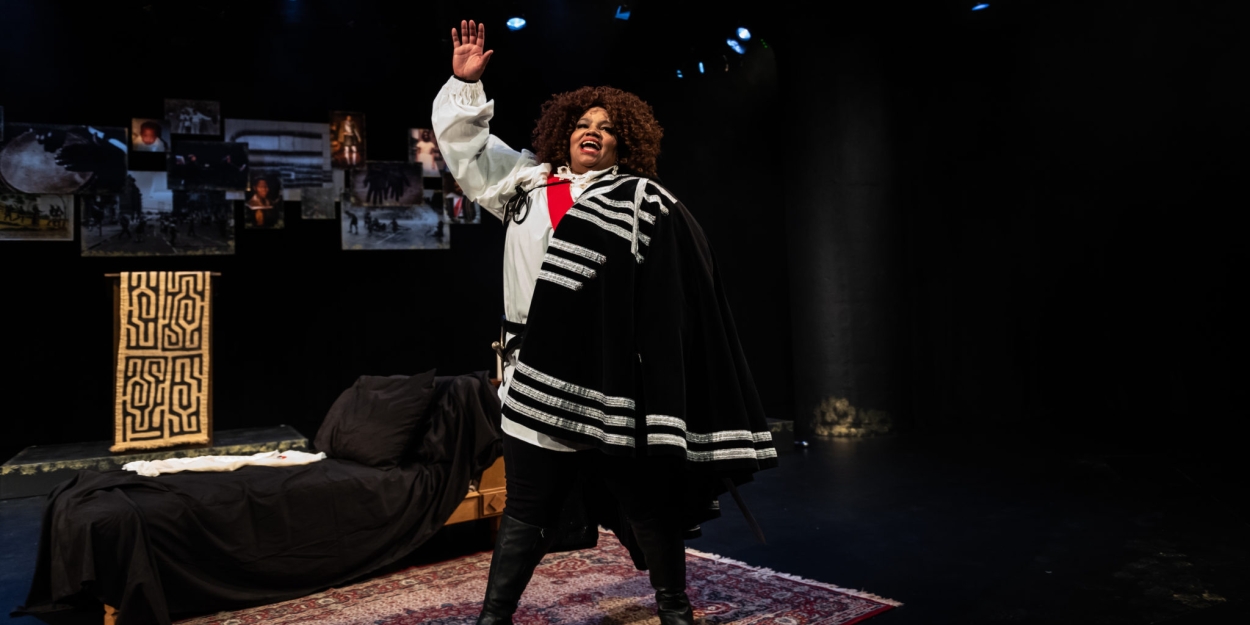 Review: BECOMING OTHELLO: A BLACK GIRL'S JOURNEY at Seattle Shakespeare Company
Debra Ann Byrd's one woman show comes to Seattle.
Dear Readers, you know I find one person shows to be problematic. Often, they get into maudlin territories and end up being someone else's therapy on stage. So, I was dubious when Seattle Shakespeare Company announced Debra Ann Byrd's one woman show "Becoming Othello: A Black Girl's Journey" to start off their 2023. As Byrd stepped onto stage at the Center Theatre, I took it as a good sign that we didn't get the cliché, "Oh, I didn't see you there" as if we'd intruded on her private moments. Instead, we got not words but song and movement offering up prayers to her ancestors who got her to where she is today. And then what followed was 90 minutes of a raw, well-paced, well-constructed look into this amazing woman who broke down the barriers erected in front of her by centuries of selfish oppression. Also, what followed was a hell of a way to start off 2023.
Byrd's life is fraught with tragedy, just like that of her beloved Othello. Absent parents, sexual assault, and ill children all leading up to tons of self-doubt as well as episodes of self-harm. But throughout it all, with people in power telling her "she can't", and her own stumbles, she comes out the other side making sure we know "she can", and how she doesn't only survive, but thrive.
But it's not just the stirring story that grabs the audience like a vice, it's Byrd's own talent and presence shining through. She is, put simply, the kind of actress you want to listen to. You want to know what she's saying and why. And so, when she puts that lens to her own story, the result is gold. But that's not all, as Byrd, along with director Tina Packer, have peppered Byrd's story with lines from Shakespeare's "Othello", a role she longed to play, and how Othello's journey mirrors her own. This, along with some brilliant pacing keeps this from being a laundry list of woes and accomplishments as she doesn't simply tell us what happened but invites us into the moments with all the characters in her life stunningly present.
The story is one of pain and triumph, striving to find purpose and deserves to be seen. Not just for her amazing performance but also to inspire her audience to find and track down their own goals. I can't say too much without explaining the entire journey and I want to leave that to Byrd. What I can say is this is what one person shows strive to be. Touching, tragic, funny, and inspirational without ever becoming a pity party. And so, with my three-letter rating system, I give "Becoming Othello: A Black Girl's Journey" from Seattle Shakespeare Company a fantastic way to kick off 2023, YAY. You want to catch this. And then you'll want for Seattle Shakes to bring her back so we can see all of her "Othello" in the future.
"Becoming Othello: A Black Girl's Journey" from Seattle Shakespeare Company performs at the Center Theatre through January 29th. For tickets or information visit them online at www.seattleshakespeare.org.