Click Here for More Articles on STUDENT CENTER - COLLEGE EDITION

BWW Review: Hell is Other College Students in Forward Flux's Harrowing THE SUMMER HOUSE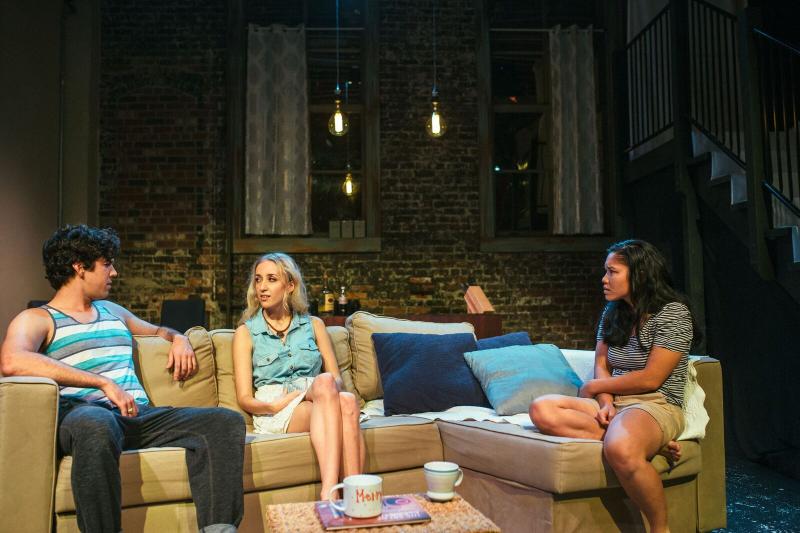 There lies an insidious nature beneath excessive indulgence, and three college students' summer break perfectly captures how dark too much fun can get in "The Summer House".
These three college kids are left in the rented summer vacation house: Harley (Tori Nelson), Dylan (Te Yelland) and Gil (Cameron Hodges). Harley languidly swipes on an iPad, claiming that croissants do not go bad. Gil huffs and puffs about a plumbing issue that may cost them their security deposit. Poor, sweet Dylan tries to make conversation with Harley to no avail. Like a modern day Sartre's "No Exit," Forward Flux's "The Summer House" traps these three unfortunate characters together, as they discover this vacation space-and Present Company-to be their own version of hell.
There is only one thing that we know for certain: one of their friends went missing at some point during their stay. Gil, Dylan, and Harley have their own sides to the story, all with varying ulterior motives and levels of concern. Gil, who had been dating this girl, does not seem the slightest bit concerned. He's more concerned with getting his security deposit and being left alone. Harley suggests that they at least enjoy their last night there by getting drunk and high, but seems to take no pleasure in the sex, drugs, and rock and roll lifestyle image she's cultivated for herself. Why worry, when you can be having fun instead? Innocent Dylan cannot take The Edge off, wringing her hands with anxiety as she worries about the wellbeing of her friend. We watch as the three of them cruelly negotiate their circumstances, bringing very malicious rumors about one another to the surface that may or may not be true.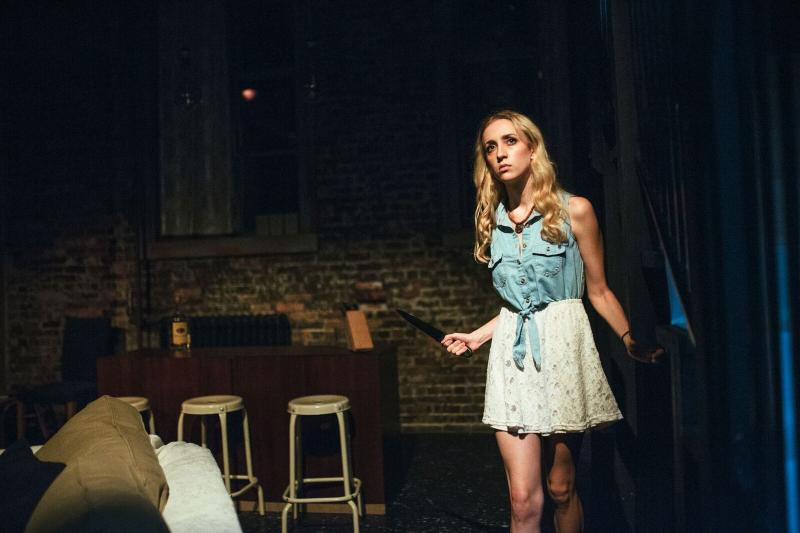 You want so badly for this production to be a dramatization of college student behavior, but the venom these three spit at one another-particularly Gil towards the girls-feels nauseatingly realistic. Gil is a misogynistic, slut-shaming trust fund kid who takes advantage of girls and really believes that he's a good guy. Not that Harley is particularly redemptive: it's easy to see that her aloof attitude is attention seeking, and she treats Dylan (who she claims to be her best friend) with no loyalty or sympathy. Despite Dylan appearing to Gil and Harley as the naïve prude, the very empathy they lack makes her the most intuitive of the three.
This is a short play-only 70 minutes long-so to get into more detail may lead to unintentional spoilers. As vaguely as possible, I'll say that the cinematic feeling of the production is chillingly effective. All three of the cast members did a fantastic job in their roles.
When you find yourself dishing and taking sides with certain characters after the show, that's when you'll realize the true genius of "The Summer House". You'll laugh when Gil and Dylan can't help but gossip despite disparaging it moments before, only to find yourself being the perpetrator once the curtains close. For this relatable and thoughtful production, I give Forward Flux's "The Summer House" 5/5 stars. This one's not to be missed!
Forward Flux's "The Summer House" performs at Gay City Arts through October 8th, 2016. For tickets and information, visit them online at www.forwardflux.com.