42nd Street Moon's 2021 Virtual Gala "You Can't Stop The Beat" at 42nd Street Moon
Dates

2/28/2021

Theatre


The Gateway Theatre, 215 Jackson St, San Francisco, CA
San Francisco ,CA 94111
Twitter Facebook Instagram

Tickets Info

$100 - $250
Phone: 415-255-8207




YOU CANT STOP THE BEAT will showcase the whos who of Bay Area talent performing hit numbers from musical theatre favorites like Hairspray, Come From Away, Bye Bye Birdie, Hamilton and so many more! Plus, Tony Award winners, Klea Blackhurst and Michael Maguire take the virtual stage along with Tony Award nominees Liz Callaway, Faith Price, and Emily Skinner! With this star-studded cast of over 40 artists from the Bay Area and beyond, this will be Moons event of the season!

News About 42nd Street Moon's 2021 Virtual Gala "You Can't Stop The Beat" at 42nd Street Moon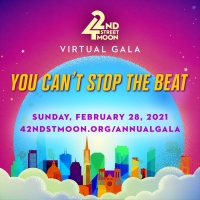 42nd Street Moon Announces 2021 Virtual Gala 'You Can't Stop The Beat'
February 04, 2021
San Francisco's 42nd Street Moon (Daren A.C. Carollo and Daniel Thomas, Co-Executive Directors) is pleased to announce a virtual 2021 Gala, YOU CAN'T STOP THE BEAT - an evening of uplifting performances and optimism for the future of the arts.