Kathryn Keats' Solo Musical Experience THE HUMMINGBIRD Returns to the Marsh in March
Performances run March 18 – April 15, 2023.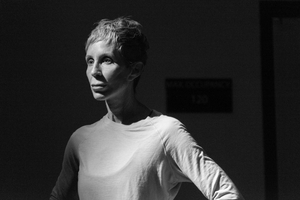 Due to popular demand, actor/singer/playwright Kathryn Keats returns to The Marsh San Francisco with her solo musical experience The Hummingbird. This riveting work takes audiences through Keats' harrowing and redemptive journey, which began with dreams of a stage career and ended with years living incognito with the help of Victim Witness Assistance.
In this compelling show with music, Keats relives her gripping tale of landing in New York City at age 17 to fulfill her promising Broadway ambitions, an adventure quickly derailed by an irresistible and seductive offer to become the muse of her Off-Broadway music director. The Hummingbird follows the love story between Keats and her music partner, his descent into madness, and her attempt to save him - a tragic experience that culminated in an arduous jury trial, followed by two decades living in hiding.
The Hummingbird will be presented March 18 - April 15, 2023 with performances at 7:00pm Saturdays at The Marsh San Francisco, 1062 Valencia St., San Francisco. For information or to order tickets ($20-$35 sliding scale, $50 and $100 reserved), the public may visit www.themarsh.org.
Kathryn Keats began developing The Hummingbird as a multicast show at Berkeley Repertory's The Ground Floor. One day while driving, Keats tuned into KPFA and heard an interview with acclaimed Bay Area director David Ford, a frequent collaborator with performers at The Marsh. She connected with Ford, as well as her long-time music collaborator Kevin Gerzevitz, and The Hummingbird became a solo beat musical under Ford's tutelage and direction. The piece won Best Solo Musical during The Marsh's 2020 MarshStream International Solo Fest, and was last seen at The Marsh San Francisco at the end of 2022. Local critics applauded the work, with The San Francisco Standard calling it "One of the best solo shows of the year." The creative team includes director/development David Ford, co-composer/sound design Kevin Gerzevitz, and creative producer Tina D'Elia.
Actor/singer/playwright Kathryn Keats, born Ellen Christian Munger, lived in anonymity for 20 years after her music and domestic partner lost his long battle with schizophrenia and held her captive for 54 days. With the help of Victim Witness Assistance, she put her promising career as a music artist on hold and went into hiding. Following the death of her former partner, Keats re-emerged into the world and completed her solo beat musical, The Hummingbird. She has been featured on various television, podcasts, panels and publications for several organizations including the YWCA, Center for Domestic Peace, Grief Dialogues and Reimagine. Keats has released original music with Grammy Award-winning and nominated producers and musicians including Pete Sears, Narada Michael Walden, Michael Manring, and Aram Avagyan, among others. She has played in a variety of music halls - from Yoshi's Oakland Jazz Club to the Bitter End, Symphony Space NY, and the Great American Music Hall. In 1987, Keats co-founded Mark Monroe Studios in San Francisco and Los Angeles. The studio supported the development of over 600 students, many who have gone on to successful careers in the industry. Keats has been a Method Acting Teaching Artist since 1993 for film and television actors throughout the world.