NATASHA, PIERRE, AND THE GREAT COMET OF 1812 Premieres at San Jose Playhouse
Performances run April 20 - May 28, 2023.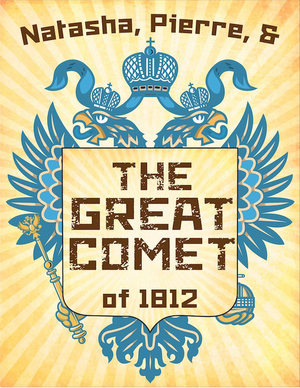 From the celebrated and award-winning composer Dave Malloy comes the 12-time Tony-nominated musical Natasha, Pierre & The Great Comet of 1812, an electropop opera based on a scandalous slice of Leo Tolstoy's War and Peace. It is a theatrical experience like no other. Malloy's inspired adaptation of a 70-page slice of War and Peace puts audiences just inches away from Tolstoy's brash young lovers, as they light up Moscow in an epic tale of romance and passion.
Join us for this FULLY IMMERSIVE production where the audience will be transported to a Russian tavern in the early 19th century as the action unfolds in front of you, behind you, above you and around you. Even the musicians will be placed around the room, whether strategically in a corner or strolling by your seat.
Following a critically exalted premiere at Ars Nova in New York City, a subsequent Off-Broadway transfer, and an acclaimed run on Broadway, this award-winning musical expands the possibilities for the genre with its daring score and bold storytelling.
This "vibrant, thrillingly imagined new musical" (NY Times) is "stunning and blazingly original" (Entertainment Weekly) and brings us just inches from Tolstoy's brash young lovers as they light up Moscow in a "heaven-sent fireball" (NY Times) of romance and passion. "One of the decade's best musicals" (Time Out NY), The Great Comet has "rousing music and ravishing performances".
THE GREAT COMET has been showered with rave reviews and a host of accolades, including the 2013 Richard Rodgers Award for Musical Theater, a Special Citation from the OBIE Awards, five Drama Desk Award Nominations, two Drama League Award nominations, a Henry Hewes Design Award, and the Off-Broadway Alliance Award for Outstanding New Musical, and 12 Tony-nominations including Best Musical.
Full casting has been announced for the new musical THE GREAT COMET, featuring the a cast of 10 and creative team members including Stephen Guggenheim as 'Pierre' and Paloma Aisenberg as 'Natasha.' Created by Dave Malloy (Preludes, Ghost Quartet) and directed by Scott & Shannon Guggenheim - THE GREAT COMET will blaze into 3Below Theaters (288 South 2nd Street) presented by San Jose Playhouse and produced by Guggenheim Entertainment beginning April 20 with opening night set for Saturday, April 22. Ticketing info will be announced shortly. To sign up for news updates and presale ticketing opportunities, visit www.sanjoseplayhouse.org.
Led by Guggenheim and Aisenberg, the cast of THE GREAT COMET will include Annie Hunt as 'Sonya,' Osher Fine as 'Princess Mary,' F. James Raasch as 'Bolkonsky/Andrey,' Nick Rodrigues as 'Dolokhov,' Juanita Harris as 'Helene,' Susan Gundunas as 'Marya D,' Corey Bryant as 'Balaga,' and Jared Lee as 'Anatole.' The live band is led by Tom Tomasello with Gus Kambeitz, Jerald Bittle, Mark Russo, and Kymberly Gillen.
THE GREAT COMET features direction by Scott Evan Guggenheim, choreography by Shannon Guggenheim, set and lighting design by Jon Gourdine, costume design by Julie Engelbrecht, musical direction by Stephen Guggenheim, and production stage management by Phil Lowery and Juan Richardson.
Performances run April 20 - May 28, 2023. Thursdays, Fridays and Saturdays at 7:30pm and Saturdays and Sundays at 2:30pm.
Performances take place at 3Below Theaters, in downtown San Jose. Free validation parking is available for up to 3.5 hours.
Reserved seating tickets range from $45-$55 and are available online at sanjoseplayhouse.org and via telephone at (408) 404-7711.
Discounts are available for Youth, Students, Seniors, Educators, and Military
Group Discounts are available for groups of 10 or more