Interview: Kareem Fahmy on His New World Premiere Play A DISTINCT SOCIETY at Pioneer Theatre Company
A DISTINCT SOCIETY plays through February 11, 2023.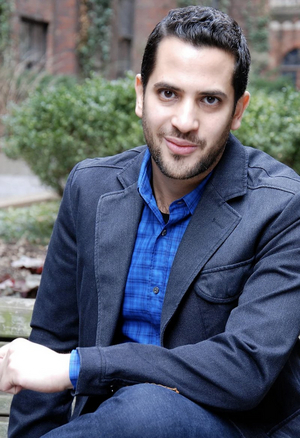 BroadwayWorld had the chance to speak with Kareem Fahmy about his new play A DISTINCT SOCIETY, currently receiving a world premiere at Pioneer Theatre Company in association with TheatreWorks Silicon Valley. According to the official description:
"A sleepy library that strategically straddles the U.S. and Canadian borders becomes an unlikely meeting place for separated families. Winner of the Next Act! New Play Summit, Fahmy tells the story of five people from different countries and cultures choosing between breaking the law or saving themselves, while trying desperately to understand one another. Alliances are built and broken, borders are straddled, but love and human connection prevail."
Kareem Fahmy is an award-winning Canadian-born playwright and director of Egyptian descent. He has worked previously at Pioneer Theatre Company and around the country--including Artists Repertory Theatre, City Theatre, InterAct Theatre, TheatreWorks Silicon Valley, Writers Theatre, Atlantic Theatre Company, Denver Center, and Northlight Theatre. He is the Co-founder/Chair of the Middle Eastern American Writers Lab. He holds an MFA in Theatre Directing from Columbia University.
Here is what he had to say:
1. How would you describe A DISTINCT SOCIETY?
A DISTINCT SOCIETY is a new play inspired in part by real events that were happening during the so-called "Muslim ban." At the Haskell Free Library and Opera House, a historic building that sits right over the border between Quebec and Vermont, families separated by the ban were meeting each other. Because the library is in both Canada and America, it was essentially a "loophole" and became a safe space for these separated families. The play is about an Iranian father and his daughter who are attempting to meet at the library. A French-Canadian librarian, a local teenager, and a U.S. Customs and Border Protection officer all get pulled into the drama around their reunion.
2. You've mentioned that the play is deeply personal for you. How so?
The town I was born and raised in, Sherbrooke, Quebec, is about thirty minutes from the Haskell Free Library. In telling this story, I'm writing about my home and my experiences growing up as one of the only Middle Eastern kids in a predominately white, French-speaking part of Canada. My parents are immigrants from Egypt, and I grew up speaking three languages (English, French, and Arabic) and practicing Islam in a community where nearly everyone was Christian. As an adult, I moved from Canada to the U.S. (I currently live in New York) so I identify with Canada, America, and the Middle East. A DISTINCT SOCIETY blends those three identities. Also, this play deals with a seismic event in Canadian history and one that shaped my teenage years: the 1995 referendum for Quebec separation. It was during that tumultuous time that I began to understand what a person's political power means and how we put our beliefs into practice through voting. Having felt so powerless throughout much of the Trump administration, I chose to write a play about five people who fall victim to a political system that wants to keep them divided.
3. Why are the themes and messages of A DISTINCT SOCIETY important?
The theme at the heart of this play is one I think we all grapple with: if a political system becomes corrupt and divisive, it will divide and corrupt all the people who live within that system. That's certainly something that's been top of mind for a lot of us lately, and I'm hoping this play can be both entertaining (as well as funny and heartbreaking) while also discussing some vital ideas.
4. What has the process been from writing the script to now mounting it at Pioneer Theatre Company?
This play's been in development for more than three years now and has had a number of developmental steps now culminating in this world premiere at Pioneer. It's truly humbling that my play would be presented in such a large theatre. The play was born out of a specific moment in recent history and I wasn't sure if it would continue to see the light of day after the theatre industry's long Covid shutdown, so it's gratifying that the play's themes and characters have continued to resonate.
5. What has your past experience been like working as a director for PTC?
I love coming to work at PTC and in Salt Lake City in general. This is my fifth project in Utah over the past few years and the reasons I keep coming back is that I love the audiences here. They are so welcoming and generous and always feel really engaged with the art they are seeing.
6. Why should Utah audience members come see the show?
The five characters you'll meet in A DISTINCT SOCIETY are really unique. They represent a number of different cultures, languages, faiths, and viewpoints. And the setting is really special: a library that's literally divided in half by the border. A library is a place full of stories, a place for reflection and community, and I have a feeling the audiences will enjoy spending 95 minutes in the Haskell Free Library.
A DISTINCT SOCIETY plays through February 11, 2023. For tickets, call the box office at 801-581-6961 or visit www.pioneertheatre.org.
Photo Credit: Kareem Fahmy