Queens Theatre Presents THE MONKEY KING: A Kung-Fu Musical
Performances are February 11-12.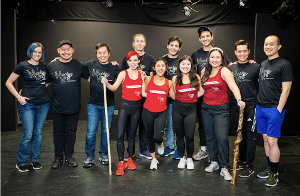 On Saturday, February 11th and Sunday, February 12th, Queens Theatre presents The Monkey King: A Kung-Fu Musical, an original production by real-life dynamic duo husband and wife team and theatre artists from Forest Hills, Queens, Kimbirdlee and Jonathan Fadner.
Based on the legendary mythical figure from the popular Chinese novel, "Journey to the West," by Wu Cheng'en, The Monkey King: A Kung-Fu Musical is an action-packed, epic adventure with a twist! The beloved main character is a woman! Kimbirdlee and Jonathan Fadner came up with the idea of changing the gender of the main character after noticing that there were few roles in musical theatre written specifically for Asian-American women.
"I love the world of possibilities of musical theatre. Through this story-telling medium, we explore many genres - rock, jazz, classical, hip hop, folk, and any setting - a barren stage, an opera house, a puppet show, a street corner," said writer, composer, and music director Jonathan Fadner. "That being said, there are gaping cultural holes in the musical canon. We wrote this empowering show to fill those holes with principal roles for Asian women in musical theatre."
Don't miss the adventure as the first-ever female Monkey King battles against Heaven and Earth's most treacherous foes to save her tribe and achieve immortality. With a cast of memorable characters, a mix of classical and rock music, and kung-fu style choreography - this is an action adventure come to life, a heartfelt and inspiring story perfect for the entire family!
"Writing "The Monkey King A Kung-Fu Musical with Jonathan is my single most meaningful project that highlights my own culture, empowers my world as an Asian woman, and creates much needed opportunities for the Asian theatre community here in New York City and beyond," said co-writer Kimbirdlee Fadner, who plays The Monkey King.
The Monkey King: A Kung-Fu Musical will star Sarah Lam Chiu as Guan Yin, Kimbirdlee Fadner as The Monkey King, Ellis Gage as Jade Emperor, Brian Jose as Demon of Havoc, Charles Pang as Immortal Teacher, Gage Thomas as Dragon King, Bella Villanueva as Jogo and Annie Yamamoto as Ganjuwai.
Direction by Steven Eng, Written by Jonathan Fadner and Kimbirdlee Fadner, Composed by Jonathan Fadner, Musical Direction by Jonathan Fadner, Choreography by Max Erhlich, I Chen Wang (Projection Designer), Erin Black (Costume Design), Madeline Goddard (Set Design), Kelly Ruth Cole (Stage Manager), Charlotte Fung Miller (Artist), Jerry Fadner (Graphic Designer).
Tickets for The Monkey King: A Kung-Fu Musical start at $18 each. Purchase 4 tickets for $60 with code 4FOR60. For more information and to purchase tickets, visit: https://cloud.broadwayworld.com/rec/ticketclick.cfm?fromlink=2222488®id=84&articlelink=https%3A%2F%2Fqueenstheatre.org%2Fevent%2Fthe-monkey-king?utm_source=BWW2022&utm_medium=referral&utm_campaign=article&utm_content=bottombuybutton1/. For more details, visit www.queenstheatre.org or call the Box Office at (718) 760-0064.