BWW Interview: A Conversation with the Creators of AND THEN WHAT? THE CHILDREN OF VELVEL AND SHEINA-GITEL AVERBUKH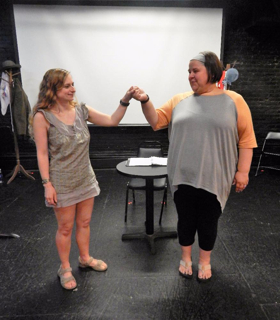 BroadwayWorld Rhode Island recently interviewed the creative team behind And Then What? The Children of Velvel and Sheina-Gitel Averbukh, a new play by First Hand Theatrical based on Bena Shklyanoy's historical family memoir. Ms. Shklyanoy, Kevin Olson (Artistic Director, First Hand Theatrical), and Katya Ginzburg-Bram (Actor, First Hand Theatrical) shared their insights into the "page-to-stage" process of this fascinating work.
---
Kevin Olson - First Hand Theatrical, Artistic Director
BWW: When did you first discover Bena's story? What about the work inspired you to translate her family history for the stage?
Kevin: Bena had been working with my wife's cousin Deanna on putting together her website. About a year ago, Deanna asked for some input on a draft of the website, which is when I first learned of Bena's project. It caught my eye as I have always been interested in Soviet Jewry. Many years ago I worked at the St. Paul Minnesota Jewish Community Center, and one day we were holding a festival for Soviet Jews who had immigrated to our city. When some of the elderly emigres walked in proudly wearing their Red Army medals from their service in World War II, I was stopped in my tracks - Jews who fought for Stalin? The thought of that intrigued me greatly. Of course, they said, they were fighting against Hitler.
The arc of Bena's family history appealed to me. I perused the site and learned how close she was to her grandmother Polina and to Polina's brother Leib. And then in reading the stories of Polina, of Leib, and of their siblings, I found seven stories of seven different personalities each affected by the events of their time in diverse ways. "Aha!" - I thought. These stories might make an interesting play.
BWW: How did you approach Bena with the idea of presenting her family's story at First Hand Theatrical? What was her initial response?
Kevin: We first met in a Skype call set up by my wife's cousin Deanna, who was helping Bena put the web site together. Bena listened in her careful manner and I babbled on, not really knowing yet what this might be. Mostly, I wanted Bena's permission to begin exploring the possibility of creating a play from some of her work. She said OK and was clearly intrigued, if a bit skeptical of what might happen. But she was most supportive from the very beginning. We met in person when we were both visiting our children in Brooklyn in November of last year and spent a couple of hours in the back of coffee shop in Park Slope enjoying each other's company while learning about each other and brainstorming ideas. We got along very well right out of the gate. And the coffee was delicious.
BWW: What did you find most surprising or unexpected as you began the collaborative process with Bena?
Kevin: Bena is a terrific editor. She's brilliant really. I appreciate her honesty and her support of ideas I had along the way. Nothing was particularly surprising or unexpected per se, but I found that the strength of our collaboration was that we had different skill sets that meshed well. And Bena was quick to point out historical and cultural elements in the text of the script that I may have initially overlooked. Other than the poetry, a large percentage of the script is pulled directly from her web site. I tried to change the language of written family history into some more vernacular language for live performance. We both worked on adding in text that could serve as transitions between the characters' stories and would serve the production concept I had created for the play. Along the way, she was wonderfully supportive and necessarily protective of the integrity of these stories and of the culture and history around them.
BWW: What are some of the challenges you encountered when condensing and presenting such extensive research for a live theatrical production?
Kevin: It was important to find a thread in the larger body of work that was self-contained. My first idea was to focus on the stories of Bena, her mother Rakhil, and her grandmother Polina. But as I looked more closely at Polina, I learned that by focusing on Polina's six siblings, we had stories that reached back into the nineteenth century, before the Bolshevik Revolution set in the world of Fiddler on the Roof and extending into the mid-1970s and the Save Soviet Jewry movement. Each of the siblings' life experiences were so different one from the other, but also the external realities of life in Tsarist Russia and the Soviet Union affected each of them in so many different ways. I felt this focus was the place to start.
BWW: The staged reading of And Then What? The Children of Velvel and Sheina-Gitel Averbukh opens at AS220 [this] week. What are your hopes for the workshop, both in terms of an audience "take away" and as you look toward a fully mounted production in the future?
Kevin: In directing the piece, I am exploring different ways of presenting the material and am willing to sacrifice a bit of artistic consistency in the staged reading for the benefit of discovering what approaches serve the material most effectively. This exploration will hopefully allow us to put together a full production based on what has worked best in this staged reading. As with many staged readings, we will have rehearsed for only a short time and our production elements will be sparse. But even under those circumstances we will discover how the environmental elements of theater - sets, lights, costume, projections, and sound - might be developed to enhance the stories we are presenting.
I look forward to the feedback our audiences offer. Nothing beats studying an audience as they watch something you have put together - first-hand data. Of course, at the same time, I hope we are creating a staged reading experience that moves and teaches people as they encounter how each of these ordinary people dealt with extraordinary times.
Tentatively, our plan is to mount a full production in Bena's hometown of Chicago sometime next year and to present that back here in Rhode Island as well. Of course, securing funding will be our next challenge.
Bena Shklyanoy - Blogger and Author
BWW: I admit, I am astonished by the wealth of research and materials on your website. It's an absolute treasure for serious historians and casual readers alike! This work began as a way to document family history and memories for your daughters. When did you realize the project had grown beyond that scope to become something so much larger?
Bena: At the start, I simply wanted my daughters to preserve the names of kin dear to me, the few photographs that remained of them, and some meaningful keepsakes. It was supposed to take a day or two - the family was so small, so unremarkable. But, what are names and photos without the stories behind them? That question appeared out of nowhere and first I fought it. Well, it muscled its way into my little project. Before I knew it, the personal stories poured out of my memory and became intertwined with history. So much so that I had to create a syllabus and collect photos to explain and illustrate them. Almost at the end of the project the realization came that being part of the last generation to have lived in the Soviet Union as an adult made my experience unique. If I don't share it, with my children and the world, who will? If for no other reason than to warn of those pesky repeats for which history has been known.
BWW: You write that you "acquired a slew of cousins" during your research and travels. How involved did your family members become in the work?
Bena: All my family members, including newly acquired, have been wonderfully supportive and excited. Most of my cousins asked me to talk about their lives too, not only about my immediate family. I would love to add their stories if they would write them - I'm worried of misstating or misunderstanding some facts or stepping into some unproven territory. They promised, I'm waiting.
BWW: I've heard that starting genealogical research is an addicting venture. Do you feel the project will ever be "complete," or are you still uncovering unexpected information and additional branches in your family tree?
Bena: Addictive is an understatement. I don't believe there is a way to stop: even if you don't search, you think about it. Genealogical research is never completely complete, by definition. Yes, I'm still uncovering or recalling new tidbits and constantly promising myself to dig for more. And I keep my ears open for news of additions to the family tree.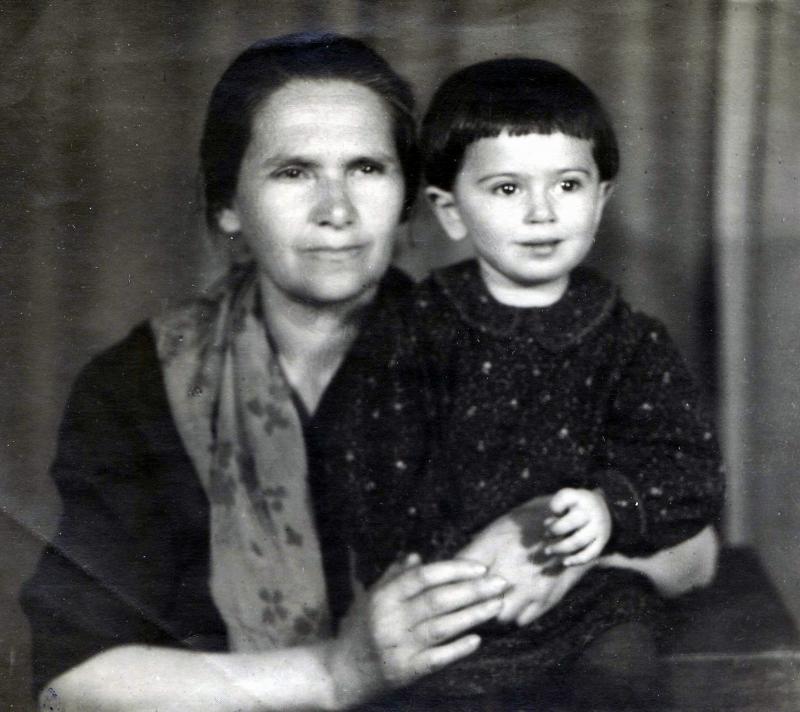 BWW: I have no doubt your work has inspired others to investigate their own family histories. What advice do you have for budding genealogists?
Bena: Many researchers met along the way inspired me with their persistence and patience and confidence. I want to believe that my tireless nudging of my friends, particularly my former compatriots, to research their roots and to write their stories has had some effect. On the surface it seems like a tedious undertaking but in reality nothing is more enlightening and gratifying. I've also found that it makes you feel young. So, go for it! Your children and grandchildren will thank you one day. And they will not lament, like you do, that they had not asked their elders enough questions.
BWW: When did the work transition from online family history to theatrical presentation? How did the stage presentation develop, and what was it like to collaborate with Kevin and First-Hand Theatrical?
Bena: It all started shortly before my site went live. My publicist Deanna sought feedback from several people, Kevin, her cousin-in-law, one of them. In addition to his feedback, he asked whether I would be interested in staging my story. I confess that the idea went over my head. To my surprise, he repeated the question several months later when the site was finalized. It was slow going until Kevin sent the first draft of the script - I'm a word person. For me, the transition to a theater production was, or rather is, a learning process (beginning at kindergarten level), and I love learning. It must have been difficult for Kevin but he guided me patiently. Most importantly, there is great chemistry between us and, skill-wise, we complement each other. Without it, nothing would be possible. Now, I feel confident enough to contemplate staging a full play hopefully next year.
Katya Ginzburg-Bram - Actor, First Hand Theatrical
BWW: How did you learn about the And Then What? project? What initially drew you to the material and to Bena's story?
Katya: Interesting story... Amy [Olson, who plays "Dinah"], who attends the same synagogue as I do, actually approached me at the shivah for a dear friend of ours and asked me if I would be interested in reading for this play. I didn't know what she saw in me (though I suspected that my intractably thick Russian accent played a part), but I jumped at the chance. I also talked my wonderful husband Mark ("Avrum") into auditioning because he has theatre experience and a real ability to create characters. Of course, I relate to Bena's story on a personal level - since I am also a generation-zero Jewish immigrant born behind the Iron Curtain, that's inevitable. I particularly like her relationship with her grandmother, since I spent a great deal of time with both my wonderful grandmothers as a child; my paternal grandmother (now 85 and fabulous) who, like Polina, insisted on soup at every dinner and struggled heroically to fix my handwriting, and my mom's fantastic, war-hero mom, who passed away exactly one year before our first performance and is very much on my mind. I really hope they'll both enjoy the show!
BWW: Kevin mentioned that you are an émigré from the Soviet Union. Have your own experiences informed your reading and performance of this work? Did you discover similarities or personal connections with Bena's family history?
Katya: Even though Bena and I are from different parts of the USSR and different generations, some of the parallels border on the uncanny. I crack up every time "Leib" (Gershon Levine) loses his mind over the asinine lyrics of a patriotic song because my parents used to flip out about it also - my mom and I even came up with our own parody of the words. My family, like the Averbukhs, worked really hard to equip me to resist Soviet brainwashing. Likewise, when Bena speaks of being ignorant of Jewish traditions, I can relate: I didn't actually learn that I was Jewish (whatever that meant) till I was about 9, and did not choose to become observant until well into adulthood. On a serious note, to people from the former USSR, family history tends to be a blank slate - or, as my father recently put it, a veritable Grimpen moor haunted not by the hound of the Baskervilles, but by a monster named Stalin. I really, really give Bena credit for snatching some of her ancestors from that monster's jaws. If I have played a tiny part in that endeavor, I'll be very proud.
BWW: Have you spoken with Bena during the rehearsal process? What has it been like to bring her words to life through this workshop?
Katya: I have not personally spoken to Bena, though Kevin has shared some of her valuable insights. Family history is a strange beast indeed: at once precise and nebulous, personal and universal. The challenge really adds interest and excitement to the project.
BWW: From an actor's perspective, what are the challenges and rewards of interpreting a true story on stage? How do you balance the realities of the people, places, and life events with the inherent artistry of live performance?
Katya: Honestly, I believe that a true story is a story nonetheless, especially when it comes to family tales and legends: a photo of Leib conjures Kutsya, Levenstein refuses to acquire a first name, questions about Dinah's hopes and dreams go unanswered...what great material for a play! Obviously, we have a responsibility to get our facts right and respect the material. Still, I'm not trying to approximate the "real" Bena onstage - even if I were Meryl Streep (which I'm clearly not), she'd still be exponentially better at being herself than I ever could be. I am trying to create an original character - a three-dimensional woman who works within the world of the play and, perhaps, will draw the audience into that world.
BWW: What are you anticipating most during the staged readings of And Then What? The Children of Velvel and Sheina-Gitel Averbukh? How does your experience with/relation to the work change when an audience enters the workshop space?
Katya: I really look forward to the intimate, "black-box," almost immersive part of this performance. No play is truly complete until it's seen by an audience. I'd really love to draw the viewers into the zany, tragic, quotidian, and uplifting experience lived by so many of my twentieth-century compatriots. It's like one of my parents' parties: it's crowded, people talk a bit too much of themselves, and the past is always present. I really hope everyone pulls up a chair and feels welcome.
---
First Hand Theatrical hosts a staged reading of And Then What? The Children of Velvel and Sheina-Gitel Averbukh? at AS220's Black Box, 95 Empire Street, Providence, Rhode Island. Performances run Thursday, July 13-Sunday, July 16, 2017. Suggested donation at the door: $10. For additional information on this project, visit www.fracturedatlas.org/site/fiscal/profile?id=10757. Bena Shklyanoy's research and family history are available online at www.appledoesnotfall.com.
Photos courtesy Kevin Olson.
Pictured-
In rehearsal: Katya Ginzburg-Bram as Bena and Erin Archer as Polina.

Family archives: Bena Shklyanoy and her grandmother Polina Gnoyensky (Averbukh).