Review: Portland Playhouse Combines Award-Winning Director, Stellar Cast for Outstanding FENCES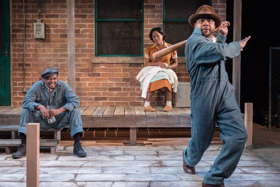 "Some people build fences to keep people out and other people build fences to keep people in." "You got to take the crookeds with the straights." These two lines frame the central themes of Portland Playhouse's magnificent production of August Wilson's FENCES, a play about the things we try to hold close, the things we try to keep away, and the inevitable truth that those things are inextricably entwined.
FENCES, which won both a Pulitzer Prize and a Tony Award, is one of Wilson's best-known plays. And Lou Bellamy is arguably the person who currently knows it best. Bellamy is the founder of Minnesota's Penumbra Theatre, the largest African American theatre in the United States and the theatre that has produced the most Wilson plays. When Wilson was alive, Bellamy collaborated closely with him, acting in, directing, and producing much of the playwright's work.
This rich history is evident in Portland Playhouse's FENCES, which is not only directed by Bellamy but also stars two Penumbra actors, Lester Purry and Erika Lavonn -- both veterans of many August Wilson plays -- in the roles of Troy and Rose Maxson. The result is extraordinary.
Thanks to Dan Meeker's exquisite set (a complete two-story brick house), you're less like an audience member watching a play and more like a neighbor peeking into the Maxsons' yard. What you see is people who feel trapped -- some trapped in, some trapped out -- by fences physical, metaphorical, and imaginary. While the play is an iconic exploration of the struggles of African Americans in the 1950s, many of the themes -- coming of age and generational struggles, wrestling with your own mortality, wanting something more -- are universal and timeless, as are the pain, anger, and frustration that result from disillusionment, especially disillusionment with yourself and the people you love.
As Troy, Purry is equal parts charming, heartbreaking, and terrifying, while LaVonn is the perfect blend of strength and weariness, the hallmarks of a woman who has spent a lifetime making the most of difficult situations, particularly difficult men. The rest of the cast -- including Bobby Bermea, Seth Rue, and La'Tevin Alexander -- is just as fine. This is especially true of Bryant Bentley, who stepped in at the last minute, delivering a warm, touching performance as Bono, Troy's longtime friend, coworker, and Friday night drinking partner.
FENCES runs through June 10. Whether you're an August Wilson devotee or new to his plays, this production is a must-see. More details and tickets here.
Photo credit: Brud Giles