Review: Great Cast Makes NUNSENSE Funsense, at Broadway Rose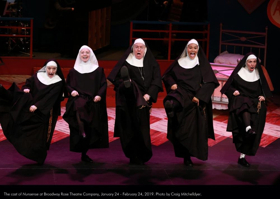 Sorry about that title -- I couldn't resist.
NUNSENSE is a musical based on a cabaret show based on a greeting card line. It features acts ranging from ballet to ventriloquism (sort of) and plenty of groan-worthy one-liners, like what you'd find on a greeting card. The whole thing is pretty silly, so its success depends on an amazing cast, who can land the jokes and the songs. Fortunately, that's exactly what Broadway Rose has.
Here's the story. The 71 Little Sisters of Hoboken once ran a leper colony on an island south of France. The came back when some of the sisters contracted leprosy. One night, as 19 of the sisters were out playing bingo, the cook, Sister Julia (Child of God), accidentally killed the other 52 with vichyssoise contaminated with botulism. They started a greeting card company to pay for the burials and made enough to bury 48 of the 52 dead nuns. But then, Mother Superior bought a big flat-screen TV, and they couldn't afford to bury the remaining four. So, they put in them freezer. Now they're putting on a variety show to raise the money for the last four burials, a goal that has become increasingly important due to the pending arrival of the health inspectors. So, the musical is essentially a variety show where the sisters seek to raise money by proving that nuns can be fun.
In an early song, the nuns apologize for not being very good -- they're missionaries, not performers, after all. But the cast here has nothing to apologize for. They're incredible.
Laura McCulloch, who Broadway Rose patrons will recognize from several shows (including last year's Mamma Mia!) plays Sister Mary Amnesia, a nun who doesn't remember who she is because a crucifix fell on her head. She's wide-eyed and perfectly ditzy, but blows the roof off when she starts to sing. Malia Tippets, another BR regular, is great as young Sister Mary Leo, who aspires to make it big as the first nun ballerina. Danielle Valentine is awesome as Sister Robert Anne, a "streetwise" nun from Brooklyn who just wants to be a star (and takes every advantage of the spotlight once she gets it!). Antonía Darlene, as the unfortunately named Sister Mary Hubert, has to wait until the end for her big number, but when she finally gets it, it's glorious! Finally, Dan Murphy plays Mother Superior -- he can't match the vocal power of the other actors, but he uses his comedic talents to the utmost.
Overall, NUNSENSE is just goofy fun. It was published in 1985 and contains many cultural references that the older members of the audience are most likely to get, but it's been updated to appeal to a younger audience as well. There are a few bits that haven't aged particularly well (I'm pretty sure we're not still using the word Hottentot). But, for the most part, it's sure to provide plenty of laughs for the typical Broadway Rose audience, especially those who grew up Catholic.
NUNSENSE runs through February 24. More details and tickets here.
Photo credit: Craig Mitchelldyer