Theaterworks To Present NEWSIES As Opener To 2023-24 Season, July 14-30
The announcement of the forthcoming production was made to opening weekend audiences of The Hunchback of Notre Dame, which opened on February 17.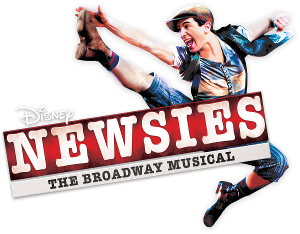 For the first MainStage production in the 2023-24 Season, TheaterWorks will present Newsies from July 14-30 in the Gyder Theater at the Peoria Center for the Performing Arts, 10580 N. 83rd Drive. The announcement of the forthcoming production was made to opening weekend audiences of The Hunchback of Notre Dame, which opened on February 17.
"'Headlines don't sell papes, Newsies sell papes.' I think Newsies sell tickets too and what better way to kick off our 2023-2024 season! We will be offering a complete 6-show season from our reduced 22-23 season. Newsies is full of incredible dancing and singing to tell the story of the newsie strike of 1899. Disney has done it again with the creation of this foot stomping, toe tapping high energy musical," says Executive Director, Chris Hamby.
TheaterWorks is thrilled to bring the Tony Award-winning musical NEWSIES to Peoria, AZ. Disney's Newsies, based on the 1992 motion picture, features music by eight-time Academy Award winner Alan Menken (Beauty and the Beast, Aladdin, Sister Act), lyrics by Jack Feldman and a book by four-time Tony Award winner Harvey Fierstein (La Cage aux Folles, Torch Song Trilogy).
Newsies is inspired by the real-life "Newsboy Strike of 1899," when newsboy, Kid Blink led a band of orphan and runaway newsboys on a two-week-long action against Pulitzer, Hearst, and other powerful newspaper publishers. Timely and fresh, the fictionalized adaptation of Newsies addresses age-old themes of social injustice, exploitative labor practices, and David-versus-Goliath struggles as the young learn to harness their power against a corrupt establishment.
While on Broadway, Newsies received 23 major theatrical nominations - including eight Tony Award nods - and won Tony, Drama Desk and Outer Critics Circle Awards for score and choreography.
They delivered the papers, until they made the headlines... Newsies has audiences and critics alike calling it "a musical worth singing about!" (The New York Times). Filled with one heart-pounding number after another, it's a high-energy explosion of song and dance you won't want to miss. Based on true events, Newsies tells the captivating story of a band of underdogs who become unlikely heroes when they stand up to the most powerful men in New York. It's a rousing tale about fighting for what's right... and staying true to who you are.
This production is Directed by Chris Hamby with Music Direction by Lincoln Wright and Choreography by Paul Pedersen and Cydney Trent.
Tickets are $40-48 and are available at the Peoria Center for the Performing Arts Box Office or online at boxoffice@theaterworks.org. Those interested in season packages can convert single tickets to season subscriptions. The full TheaterWorks season will be announced at the annual gala on March 18, 2023. Gala tickets are available on the Theater Works website or by calling the Box Office.
For more information about TheaterWorks, visit theaterworks.org. For ticket information, call the Box Office at 623-815-7930. For ADA seating, call the box office.