THE ANDREWS BROTHERS is Now Playing at Hale Theatre
The Andrews Brothers runs from January 17th - March 7th 2022 on Mondays and Tuesdays.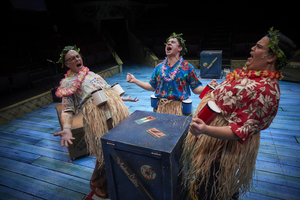 Just about everyone of a certain age knows about the Andrews Sisters, an internationally famous trio of "girl singers" who rocketed to fame in the 1940s. LaVerne, Patty, and Maxene sang their way into the hearts of Americans with such tunes as Don't Sit Under the Apple Tree, Boogie Woogie Bugle Boy, Straighten Up and Fly Right, Slow Boat to China, and I'll Be with You in Apple Blossom Time. Over their careers, they charted more than 100 Billboard hits, 46 of them in the Top Ten - more than Elvis and The Beatles - and sold 100-million records.
But did you ever hear of the Andrews Brothers? You will soon, as they slip into the Andrews Sisters' skirts and tap shoes to perform a USO show for World War II troops after the Sisters' appearance became unavoidably canceled. The guys have plenty of experience, sort of, as USO stagehands. They step up to save the day (or night), as they sing and dance to the amusement of the soldiers - and for one of them, into the heart of a pretty admirer, backup singer Peggy Jones. Mistaken identities and madcap adventures abound in this wonderful valentine to the heroes of the Greatest Generation.
The show features two star studded casts! The GOLD cast will star Joey Morrison as Max, Trevon Powell as Lawrence, Reece Harris as Patrick and Michala Montano as Peggy. The GREEN cast will star Raymond Barcelo as Max, Adam Guinn as Lawrence, Kyle Webb as Patrick and Holly Payne as Peggy. Both casts consist of your favorite Hale actors and they will surely blow your socks off!
One hilarious skit follows another in the show studded with more than two dozen Andrews Sisters hits. Directed by Cambrian James (a multi award winning director and choreographer) and Music Directed by Lincoln Wright, it is a fun-filled evening for the entire family! The Andrews Brothers runs from January 17th - March 7th 2022 on Mondays and Tuesdays. Tickets are $45 for adults and $30 for youth ages 5-17. Obtain tickets by calling Hale's box office at 480-497-1181 or online at www.HaleTheatreArizona.com.