BWW Review: Arizona Theatre Company Presents August Wilson's TWO TRAINS RUNNING ~ High-Voltage Third-Rail Theatre!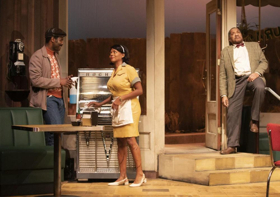 Virtuoso performances are the order of the day in Arizona Theatre Company's revival of August Wilson's TWO TRAINS RUNNING.
David Ivers, ATC's Artistic Director struck solid gold when he secured Lou Bellamy, one of the premier interpreters of Black theater and, in particular, Wilson's works, to direct this production.
The result is an absorbing and riveting representation of seven individuals, each of whom shares in the struggle to secure a piece of the elusive American Dream. Fulfilling this motif of a particular slice of America at a particular point in time and probing the souls of a people with words and characters that bristle with fire and passion, is Wilson's forte.
Bellamy's forte and that of this extraordinary cast is to stoke Wilson's fire into moments that penetrate the wall of the ghetto, expose the audience to the indignities of racism, and evoke empathy for the figures who vie relentlessly against the man for what is their due.
In this, the seventh of Wilson's ten-installment chronicle (The Pittsburgh Cycle) of African-American life in the inner city, the time is 1969 when the country is reverberating with the chants of the civil rights movement ~ Black Power, Black Is Beautiful, United We Stand/Divided We Fall. While King's Dream reverberates throughout America, the wheels of progress bring disruption to places like Pittsburgh's Hill District. Urban renewal/gentrification is imminent ~ translation: demolition threatens an established and valuable but vulnerable way of life.
There is not so much a plot in this work as there is a frame within which multiple narratives intersect, each conveying the weighty baggage of its owners and signifying the irony of the plaint echoed in Muddy Waters' Still A Fool ~ "Well, now, there's two, there's two trains running. Well, they ain't never, no, going my way."
The setting is a finely maintained restaurant that hosts the ghetto's denizens. As characters come and go, they talk not of Michelangelo but of their grievances and aspirations, the history that defines their situations, and the saints and sinners that influence their fate.
Each of the roles in ATC's production is superbly defined: James Craven portrays Memphis, the restaurant's proprietor, with magnificent vehemence. While maintaining order at any price in the only domain over which he has any control, Memphis hastens to avert eminent domain by City Hall. Already aggrieved over the theft years earlier of his Tennessee farm, Memphis argues relentlessly for a fair bargain for his place. In a violent contradiction of his desire for justice, he displays a ruthless act of intolerance.
Alan Bomar Jones is outstanding as a seemingly easy-going and self-secure Holloway, a regular who has supplanted hatred of his "Uncle Tom" grandfather with a spiritual demeanor induced by a 350-year-old seer named Aunt Ester.
In a flow of impassioned soliloquies, delivered with heart-gripping intensity, Craven and Holloway hammer at the travails of the journey that has transported their people from slavery to the threshold of freedom.
Rounding out the cast are Dennis Spears as West, the wealthy and unscrupulous black-gloved mortician who has no qualms about short-changing Memphis; Cedric Mays as Sterling, an ex-con on the make for money, love, and redemption; Lester Purry as West, the imperturbable hustler and numbers runner; Ahanti Young, amazing as Hambone, the bereft vagrant who, for a decade, has pled for the grocer across the street to deliver on his promise of a ham in exchange for labor; and Erika LaVonn as Risa, the waitress to whom Sterling takes a fancy.
LaVonn is an exotic, if not mysterious, on-stage presence as she orbits the diner with a sultry shuffle, serving spots of coffee and hanging Holloway's hat and, for a time, evading Sterling's advances. Beneath the veneer of a seemingly dispassionate attendant to her customers is a saintly and attentive carer for Hambone. She is a force to be watched.
In every respect ~ Vicki Smith's replication of an urban setting; Mathew LeFebvre's costumes; Don Darnutzer's lighting; and Brian Jerome Peterson's sound ~ the technical quality of ATC's production is aces high.
As is the case with all Wilson's works, no one can leave the theatre without indelible impressions of the essence and ironies of life in black America ~ and, in the case of ATC's production, the knowledge that one has watched an ensemble of artists at the top of their game.
TWO TRAINS RUNNING runs with high velocity through March 3rd at the Herberger Theater Center in Phoenix.
Photo credit to Tim Fuller
Arizona Theatre Company ~ www.arizonatheatre.org
Venue ~ Herberger Theater Center ~ 222 E Monroe Street, Phoenix
Tickets online at www.arizonatheatre.org or at Herberger Theater Center box office ~ https://www.herbergertheater.org ~ 602-256-6995
Herb Paine is President of Paine Consulting Services, now in its thirtieth year of operation, specializing in organizational development, strategic planning, turnaround management, mergers, and (read more...)