Click Here for More Articles on OPERA - ARIZONA
BWW Review: Arizona Opera Presents MARIA DE BUENOS AIRES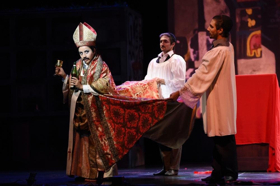 Birth. Death. Resurrection. If the Gospel of Mary were composed in a different dimension, set in a landscape of mean streets rather than desert, to a cadence and verbiage that was earthy and hard-edged and reminiscent of the rhythms of Beat poets like Ginsburg but set to the mesmerizing rhythms of the tango, it would compute perhaps to Astor Piazzolla's tango opera, MARIA DE BUENOS AIRES.
As Arizona Opera continues its groundbreaking initiative to introduce audiences to new or under-presented but nevertheless worthy works, it has selected as its Season opener this sensual, mysterious, and provocative work.
As much as it is the odyssey of a child born in dysfunction and transported to the life of a streetwalker, her soul ever in the balance, MARIA DE BUENOS AIRES is a feast of the senses, a full-on near-hallucinatory experience of sight and sound, enveloped in Chad Jung's rich blanket of mood lighting and amplified by the intoxicating tempo of conductor Scott Terrell's orchestra. And then, there is the bandoneon, the square box that evokes the haunting and soulful notes of Maria's story, expertly played by Hector del Cuerto.
In a work that is as much movement (John de Los Santos, director and choreographer) as it is voice, the voices of Catalina Cuervo as Maria and Luis Alejandro Orozco as the payador (Maria's gaucho minstrel,lover, and protector) surge with passion.
The charismatic Celeste Lanuza is extraordinary as El Duende, an exotic and mischievous presence whose incantations define Maria's journey. In what is essentially a non-singing role, Lanuza's performance has a musicality and intensity that is spell-binding.
Finally, a word about the esoteric poetry of Horacio Ferrer's libretto. Is it fully comprehensible? Perhaps not, but, remember, that this is the world of the surreal, and in the world of MARIA DE BUENOS AIRES, it's the experience that counts. On that count, it is a full and magical experience.
Following its run at Herberger Theater Center during the weekend of September 28th, MARIA DE BUENOS AIRES will be performed in Tucson at the Temple of Music and Art on October 6th and 7th.
Photo credit to Arizona Opera
Related Articles