BWW Review: BLACKBIRD Disturbs, Asks The Most Urgent Questions
Manila, Philippines--Most of us probably harbor an old skeleton or two, though we see no urgent reason to empty that closet before we can go about our business. Secrets are part of the dubious norm we share.
But some of us have a past too sordid for any chance at normalcy. It's a ghost that haunts the house and insists on settling a score best forgotten. Nowadays, any sign of guilt means quick fodder for trolls feasting on social media, not to mention a potential loss of career, relations, and what's left of someone's dignity.
"Blackbird" is a compelling play by David Harrower that subjects both cast and audience to ninety minutes of emotional wear and tear, sans intermission. Winner of the 2007 Olivier Award for Best Play (now showing with devastating candor and grit at Carlos P. Romulo Auditorium courtesy of The Necessary Theatre), it's a story of two people engaged in the cathartic reckoning of a past that ruined both lives.
Harrower's play is a sinister tale of forbidden love that reveals the wreckage of one man's moral delinquency. Ray and Una begin by picking up the pieces of their past, exposing the darkest crevice of the psyche where horrific truths beg for release.
Ray (Bart Guingona) is 55 years old and works as an office manager. Una (Mikkie Bradshaw-Volante) is 27 and has a serious axe to grind. Fifteen years ago, these two had an inappropriate sexual relationship and professed a love that defied every rule and convention.
It's not hard to do the math; by all accounts the affair was wrong and Ray spent 3 1/2 years in jail for statutory rape. Today, he lives a changed life with a different name and has a new career in a new town. In the ephemeral light of day, it's good enough to keep his ghost quiet.
But Una saw Ray's picture in a trade magazine and decided to pay him a visit. It's her turn to tell her side of the story. Clad in a short dress and leather boots, she brings the sass of a femme fatale looking to cause trouble, projecting a mannered self-assurance that belies a childlike tenderness.
We expect her to berate him and hold him to account for having violated her, which to an extent she does, but merely as a point of breaking the ice. She didn't come to avenge her wasted childhood, after all, but rather to confront him for abandoning her in a hotel room where, as a smitten and impressionable youth, she trusted him with her body and soul. She resented being left alone to face the scrutiny and condemnation of a society too stuck up to give a damn about her preferred reality: that despite the dangerous moral implications, she felt much older than her age and therefore conscious of having a consensual, albeit illegal, relationship.
Nice try, but no parent of a 12-year old would hear that. And no civilized society would ever condone Ray's behavior. He knew better--and as a one-time offender who claims to have learned his lesson--he resents the permanent association with those "other" deviants. Whatever her rationale--or whether justification exists in some alternate universe for this otherwise made-for-TV reality show--the law is clear: Ray is a sexual predator and Una his innocent victim.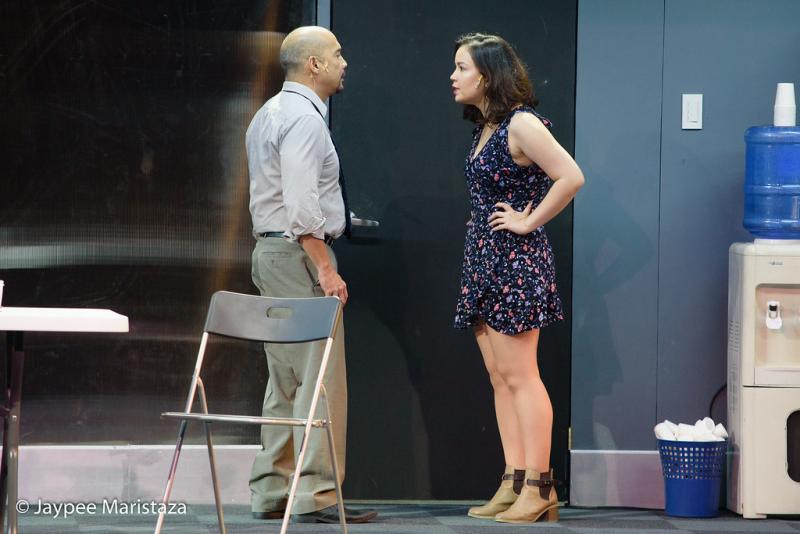 Guingona inhabits the harrowed disposition of Ray with a relatable sense of desperation. Embodying the character's inner tumult is an actor whose physicality appears grounded in a state of relaxed tension and certitude, an attribute we presume to be a by-product of Guingona's freedom from the dual task of directing his own productions. That's not a dig; there's a lot to be said about handing your keys over to a designated driver so you can turn yourself completely over to the inebriating demands of your character's anguish. And anguished he is, because years of distance have obviously done little to calm his fear of the past, nor quell his uncertain feelings for the woman whose childhood he had stolen. Kudos to Mr. Guingona's manifestly refined preparation.
Mikkie Bradshaw-Volante is the significant other dynamo in this brilliant two-hander. Casting Una is a daunting task, for she's not only asked to match Ray's fevered anxiety, but she's required to disarm him with a subdued yet confusing seductiveness that is alternately manipulative and sincere. Note the ironic shift of power: Una, who is perennially on the receiving end of abuse and neglect from all fronts, is completely in charge of an epic battle staged on Ray's turf. Indeed, Ms. Volante exhibits the visceral chops and packs a sure punch that meets Una's immense complexity.
Having acknowledged all that, we hardly ever think of preview performances as a yardstick to measure eventual eminence. Noting that potential, a certain element is currently amiss. As a unit, the couple is a notch short of total immersion in chemistry (we've already established the remarkable individual performance by each actor). With alchemy comes a deeper attunement to rhythm, a keener sense of fervent listening, and ultimately a greater chance of selling the notion that love is the chief qualifier of their identity, no matter our judgment of the facts and details of that entanglement.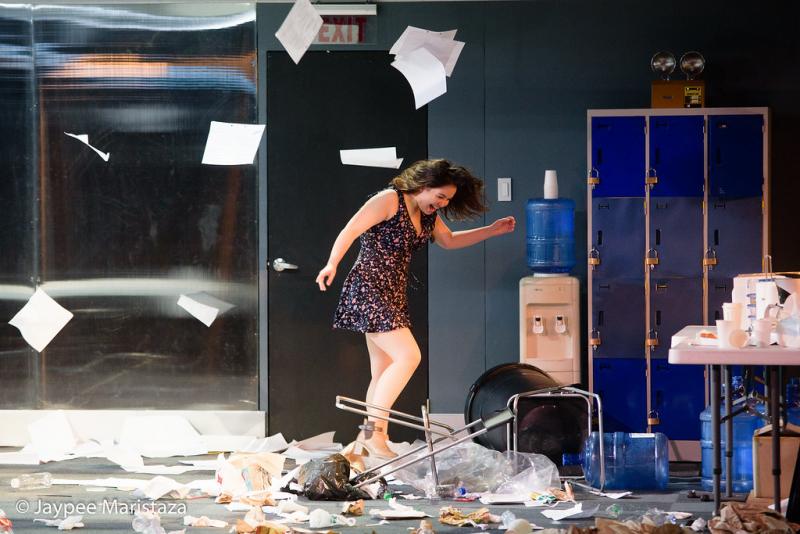 Of course, a play that features an epic tug of war has to allow for multiple survival strategies, not the least of which is the cerebral effort to avoid emotional transparency. In the 12-Step parlance, we're still waiting for the couple to really hit rock bottom (Ms. Volante is almost there and needs Mr. Guingona's audacity to completely let go). Only by their complete surrender shall we truly empathize with their shared horror and root for them to find peace. The hunch here is that these two brilliant actors are intuitively shaping that arc as we speak.
Director Topper Fabregas has a gem of a production at work here. Blocking is paced with simple economy but deliberate with intention, employing the appropriate distance between actors based on his take on Harrower's text (and subtext). We sense that he's an actor's director who facilitates, rather than micromanages, actor development. This sort of rapport comes in handy when you dare summon Mamet's obsessive naturalism and Pinter's watchful ghost in yielding those drawn-out pauses.
A quick addendum on said pauses: Rapid-fire dialogue that culminates in a tense emotional peak necessitates the attendant silence. These pregnant moments work for us because of the intimate space that allows the desired subtleties (the set is rendered downstage; anemic, frosted windows keeping Ray's co-workers purposefully at bay), We are then privy to every furtive look, every helpless sigh, and every motivated beat change. This type of intimacy is a luxury that couldn't possibly manifest in a larger venue.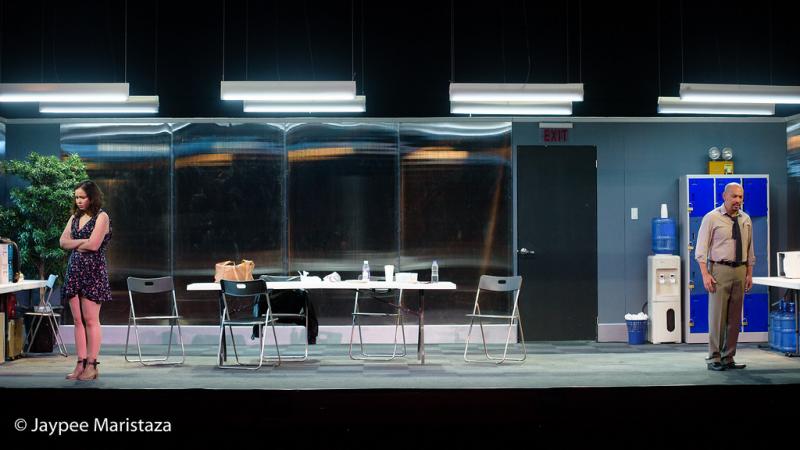 Mr. Fabregas is rather fortunate to elicit the support of a dream production team. Joey Mendoza's appropriate set design recalls the callous ambiance of an efficient but drab corporate lunch room. John Batalla's lighting is basic but effectively dramatic where it counts (he's used to far more complex demands). Jethro Joaquin's sound design deploys an electronic eeriness of a dissonant variety, sufficiently placed to heighten dramatic tension. All in all, it's a team astute enough to complement a play for and about actors.
The power of "Blackbird" lies in the currency of the characters' current despair, as opposed to a dramatic narrative distanced by a mere retelling of a painful event. True enough, the events driving Ray and Una's gritty confrontation happened years ago, but Harrower's gift is forging the action in the now. Risking an awkward pun, we do find this particular production to be necessary theatre.
If there are audiences still on the fence about endorsing the quality of programming by the folks at The Necessary Theatre, engagement is long overdue. "Blackbird" is no standard mom-and-pop fare, proving yet again the moxie this company assumes in providing meaningful theater that disturbs and asks the most urgent questions.
By turns shocking and tender, "Blackbird" humanizes another statistic based on a real-life abduction of a 12-year-old girl by ex-Marine Toby Studebaker (it also recounts their reunion fifteen years after the affair). In doing so, the play has provided a unique perspective of a complex tragedy in a culture that leaves no room for dialogue where such crimes exist. Rather than undermining the crime, the play deepens our understanding of the insidious logic that leads to a pattern of abuse.
For what it's worth, it begs the question: Can love exist simultaneously with terror?
And if we believe Ray and others like him to be constitutionally unfit for redemption, then who among us is truly worthy of love and empathy?
The Necessary Theatre's production of David Harrower's "Blackbird" runs at Carlos P. Romulo Auditorium (RCBC Plaza in Makati City) until Sunday, September 10.
For tickets (P500-P1,200), visit TicketWorld.com.ph.
Photos: Jaypee Maristaza