Theatre Company In Greater Philadelphia Focuses On Obscure Musicals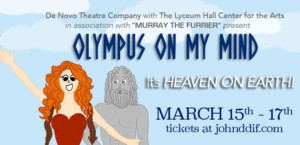 The De Novo Theatre Company will be presenting its inaugural production, Olympus on My Mind, at the Lyceum Hall Center for the Arts in Burlington, NJ, on March 15, 16 and 17. The show, directed by John D. DiFerdinando, an actor/director from Cheltenham, PA, will feature talent local to greater Philadelphia.
Like the Latin term "de novo," the newly-formed De Novo Theatre Company aims to bring new life to forgotten or little-known musicals. DiFerdinando, the company's founder, realized that the general theatre-going public in the Philadelphia area was only acquainted with a limited number of musicals. DiFerdinando formed De Novo to provide local audiences with the chance to see Broadway/Off-Broadway buried treasures in concert with limited staging. De Novo aims to entertain its patrons while inviting them to appreciate the many charms of these hidden gems.
Olympus on My Mind is a musical-comedy spoof by Barry Harman and Grant Sturiale about the conception of Hercules. The show appeared Off-Broadway in 1986 and follows the transformation of Jupiter, from a "wild and crazy god" into a deity of compassion and kindness. We learn that identity theft is nothing new as Jupiter comes to Earth in human form to woo the beautiful Alcmene, in the body of her absent husband. Things go swimmingly until her husband shows up. Supporting characters include other gods, servants, and a small chorus led by the delightfully-ditsy Delores.
Friday, March 15, 2019 - 8 pm
Saturday, March 16, 2019 - 3 pm and 8 pm
Sunday, March 17, 2019 - 3 pm
Lyceum Hall Center for the Arts
432 High Street
Burlington, New Jersey 08016
For more information,
WEBSITE - www.johnddif.com/de-novo-theatre
EMAIL - Denovotheatre@gmail.com
FACEBOOK - www.facebook.com/denovotheatre
INSTAGRAM - @denovotheatreco