The Irish Heritage Theatre to Present Brian Friel's THE BEAR AND AFTERPLAY in March
The show will run 3/2-3/19 at Plays and Players Theatre.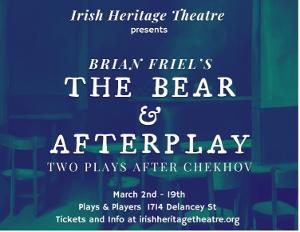 Irish Heritage Theatre has announced its next production of The Bear and Afterplay by Brian Friel (two plays after Checkhov). The show will run 3/2-3/19 at Plays and Players Theatre, 1714 Delancey St. Philadelphia 19103.
What would happen if Sonya Serebriakova, the long-suffering niece of Uncle Vanya still pining away for Mikhail Lvovich Astrov, and Andrey Prozorov, the jilted husband, isolated and devoted brother in Three Sisters met at a Café, twenty years after their respective plays ended? A connection evolves as the two get to know each other's deepest secrets, but is that connection strong enough for them to break free from their pasts? This is Afterplay, Friel's reimagining of two legendary characters' later lives from Chekhov's greatest masterpieces. Then there is The Bear, based on Chekhov's short play of the same name. Grigory Stepanovitch Smirnov storms into the home of Elena Ivanovna Popova demanding his due from her late husband. It turns out that Elena is grieving a man who did nothing but cheat on and lie to her, and Grigory is, quite simply put, a philandering, misogynist. Then there is Elena's put-upon elderly manservant, Luka, who does his level best to referee. Will the play end in a duel, a massive heart attack, or a wedding? The Bear and Afterplay pair two literary giants, Friel and Chekhov, in these gorgeous and hilarious meditations on the absurdities of life and the human condition.
Directed by Peggy Mecham, the cast features John Cannon, Brian McManus, Rob Hargraves, Barbaluz Orlanda, and Kirsten Quinn. The production team includes Alvin Reese (technical supervisor and recipient of the IHT internship award), Megan Coyle, stage manager, Quinn Eli, dramaturg, Newton Buchanan, lighting designer, and Jack Zaferes, sound designer and composer of the original score.
The Irish Heritage Theatre has been called a "bold little theatre company" that takes risks and has featured "dazzling performances". Given its size, the company is always challenging itself to produce the best possible theatre on a small budget. IHT's mission is to provide a window into the works of Irish and Irish American Playwrights, celebrating the rich history of the theatre of Ireland.
In addition to The Bear and Afterplay, IHT is offering staged readings on Wednesday nights, whiskey tastings, quizzo, and live music throughout the run of the show.
Tickets can be purchased on The Irish Heritage Theatre website: www.irishheritagetheatre.org.
---
Join Team BroadwayWorld
Are you an avid theatergoer in Philadelphia? We're looking for people like you to share your thoughts and insights with our readers. Team BroadwayWorld members get access to shows to review, conduct interviews with artists, and the opportunity to meet and network with fellow theatre lovers and arts workers.
Interested? Learn more here.
---