Click Here to Visit the College Center

Blogs are the opinions of the authors and do not necessarily reflect the opinions of BroadwayWorld. BroadwayWorld believes in providing a platform for open and constructive conversation.

Student Blog: Penn Playwright: An Interview with Bilal Morsi
Learn about the intersections of theatre and public health through the eyes of a college playwright.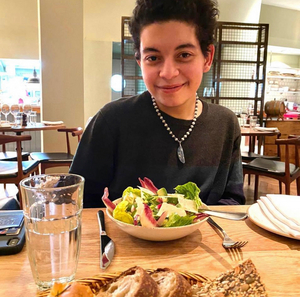 It is common to hear the actor and director's college experience, but what about the playwright's college experience? Recently, I had the opportunity to sit down with Bilal Morsi who is involved in theatre both academically and extracurricularly at Penn. Although he performs in multiple groups, he has focused much of his theatre studies on playwriting. Read on to learn more about how playwriting and public health do not need to be mutually exclusive fields of academia!
What are you studying at Penn, and what influenced you to pursue these fields?
Currently, I am a sophomore studying Health and Societies with a minor in Theatre Arts. When I came to college, I knew that I wanted to study interdisciplinary subjects related to public health and the many identities people assume in the healthcare world. However, I was not necessarily sure if there was a place for me to pursue my love of theatre academically.
What are some of your favorite theatre classes you have taken, and how has the transition from in-person to online classes been?
This semester I am in a class called "Experimental Playwriting" and it has been one of the most fulfilling academic experiences I have had at Penn. In this class, the professor, Brooke O'Harra, masterfully finds innovative ways to allow students to break free of the conventions that so often define the bounds of theatre. Though it is online with no physical interaction, Brooke finds magical ways to mimic those physical spaces with intimate discussions and encourages students to take class with their mics on. With our mics on, we begin to feel the intimacy of others worlds in ways that feel like a true live theatre. If someone coughs or a phone dings, those things occupy the entire world of the zoom room. Even though this experience doesn't exactly fit into the puzzle piece of an in-person experience, it is still valuable nevertheless.
How has minoring in Theatre Arts influenced your studies of public health and society as a whole?
Minoring in theatre has reminded me of the many different ways one can approach an intimate vulnerable setting. When one is sick or neglected by the healthcare provided to them, they are forced into a life or death situation and the only way to truly mirror this experience ethically is with the comfort of an artificial stage that theatre provides. In addition, as a playwright, I am constantly confronted with the multitude of ways a dialogue can play out and ultimately helps preserve and refine the shining lantern of empathy bursting at my core.
Have you ever thought about writing a full length play centered around the disparities in the public health field?
It is interesting that you bring that up because one of the first plays I ever wrote was centered around the inflating prices of insulin and the rise of deaths caused by diabetes around the world. However, while writing the play, I found it extra difficult to truly get into the mindset of what it means to be confronted with your own mentality. Writing about vulnerable 'sick' people has been a difficult task because sometimes it feels like a perspective that is so diverse and out of reach. I aspire to one day gain the courage and skills to commit to this project and I can confidently say that theatre classes at Penn have aided in my growth as a creative.
How have your involvements with theatre outside of academics influenced your creative growth?
I am involved with Penn Singers which is a light opera company at Penn that also does musicals every fall. My first musical at Penn, Into the Woods, involved an innovative, experimental retelling of the classic Into the Woods story that involved a post-apocalyptic dumpster world where the inhabitants of the stage have reached the limits of over-consumption. Being able to perform within this vision as an ensemble member pushed the limits of what I thought was usually allowed in theatre. Theatre suddenly became a malleable force capable of showcasing the entire, broad spectrum of different creativities.
How do you hope to make a lasting contribution to the theatre community both at Penn and the broader creative world?
I definitely want to attempt to write a full length piece under the guidance of playwriting professors I've met at Penn. In regard to Broadway, the only musical I can think of that truly encapsulates the experiences of health disparity within specific demographics is the musical RENT. At the time, RENT pushed the boundaries of what constitutes a story that deserves to be told in the form of a musical. This musical, while powerful, focuses on a very specific intersection of society and health (the AIDS epidemic) that artists haven't had to confront in the same caliber until the current COVID-19 pandemic. How will the coronavirus story be told? I hope to be a part of that movement.
What is one piece of advice you have for aspiring playwrights, and what is the best advice you have received?
I'll start with the best advice I've received. It was actually feedback I received from an anonymous playwriting discussion forum. A complete stranger on the internet told me to stop writing as though my characters are extensions of myself and to start truly engaging with the empathetic, selfless process of creating self-realized characters who aren't born of my own life stories. This has stuck with me and I hope to relay this same advice to aspiring playwrights to convey the importance of detaching from the idea of the self when writing. Instead, we should engage in the notion that the nurturing environment of the stage has the potential to incubate new voices screaming to be heard and screaming to incite change in the ways we function as a society.