Click Here to Visit the College Center

Blogs are the opinions of the authors and do not necessarily reflect the opinions of BroadwayWorld. BroadwayWorld believes in providing a platform for open and constructive conversation.

Student Blog: Jagged Little Grammy
How much power could Jagged Little Pill's Grammy win have in influencing Tony Award outcomes?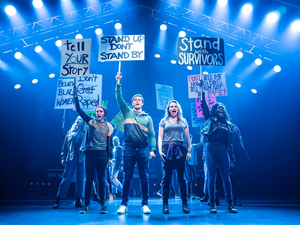 Broadway's biggest night is not the only time that annual achievements in theatre are celebrated on live television. Music's biggest night has a special award reserved for new works in musical theatre. Last night, Jagged Little Pill took home the 2021 Grammy Award for Best Musical Theater Album. Specifically, the Grammy went to the album's principal soloists (Kathryn Gallagher as Bella, Celia Rose Gooding as Frankie Healy, Lauren Patten as Jo, and Elizabeth Stanley as Mary Jane Healy) and producers (Neal Avron, Pete Ganbarg, Tom Kitt, Michael Parker, Craig Rosen, and Vivek J. Tiwary).
Composers Glen Ballard and Alanis Morissette, who is also the lyricist, are credited for their contributions to the album, but are not included in the win since 51% of the score must be new music according to the Recording Academy. Even though Morissette wrote two new songs for the musical, "Smiling" and "Predator", there was not enough new material to exceed the 51% benchmark. Nevertheless, the original Jagged Little Pill album won Morissette and Ballard the 1995 Grammy Award for Album of the Year - the top accolade in the music industry - among many other awards, so there is no reason to worry over Morissette and Ballard not receiving their deserved respect.
Although this is certainly a time of celebration for the Broadway community as well as the cast and crew of Jagged Little Pill, it is not a time to jump to conclusions regarding outcomes of the upcoming 74th Tony Awards. Many people will probably think that since Jagged Little Pill won the one award representing musical theatre at the Grammys, they will also sweep the Tony Awards and win the Best Musical award. This inference is based on the hypothesis that if a production wins the top accolade in one industry, it should also win it in a similar industry.
However, this inference is illogical as shown when one examines the nominees. None of the other nominees for the Tony Award for Best Musical were also nominated for this Grammy Award. Moulin Rouge! The Musical was nominated for the award last year, but lost to Hadestown, and Tina: The Tina Turner Musical has never been nominated for a Grammy. In fact, Jagged Little Pill was the only Broadway musical nominated for the Grammy Award this year. The other nominees included two musicals from the West End, two Off-Broadway musicals, and a Broadway concert.
Last night's win provides no substantial evidence to predict the winner of the Tony Award for Best Musical unless Tony voters act according to unconscious biases or irrational thoughts. For instance, Jagged Little Pill may seem more deserving of the Best Musical award than Moulin Rouge! The Musical because it actually won the Grammy Award for Best Musical Theater Album. Since the musicals were nominated for the Grammy in different years, voters' mental rankings of the musicals may be built upon false premises if this is the first thought that comes to mind when making final voting decisions. Additionally, Jagged Little Pill may seem more honorable than the other two nominees since it just won a highly regarded award. Voters would fall subject to the social proof bias here as the voting behavior for one elite award is influenced by the voting behavior for another elite award. Tony Award voters would be trusting the behavior of others and jumping on the Jagged Little Pill bandwagon.
Voters can easily combat these psychological barriers to decision making by basing their decisions solely on the performances they experienced and avoiding the influence of other awards. It is truly impossible to stop oneself from thinking about a specific topic as it simply leads to a paradox of thinking about the topic, but the American Theatre Wing can take steps to prevent unconscious psychological influences on voting behavior. First off, Tony Award voters could be required to submit votes before any other award ceremony with identical nominees gives out awards. Another solution would be to provide clear details of the other nominees that productions went up against for awards of equivalent eliteness to ensure voters make decisions with complete information.
Although it seems silly that voters would let a Grammy win influence their decisions for the Tonys, it is scientifically possible since humans are lazy. We would rather let our automatic processing system, which falls subject to biases and uses heuristics, take over since we are inherently lazy. If we do not have to use higher level processing, then we will avoid it at all costs as it saves us energy we can put towards other tasks. Voters must understand the basic cognitive science behind decision making to ensure their decisions are based on rational reasoning. In no way does this information mean that Jagged Little Pill should not sweep the Tony Awards; it deserves to take home plenty of Tony Awards including Best Musical. However, it should win for the theatrical experience it creates, not for people jumping on a bandwagon driven by another award ceremony's voting behavior.