Student Blog: Back to School with Lina Batista
What does a fall semester look like at The University Of The Arts? Read along as Lina Batista unravels what it's like!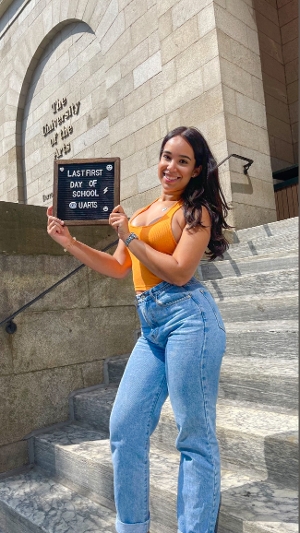 After a long restful and restorative summer, being back in the city of Philadelphia feels amazing and nostalgic! For those of you who don't know me, my name is Lina Batista. I am a Jersey Born Philadelphia- based actor, singer, creative, and student. I attend The University of The Arts and I'm experiencing my fourth and final year as a Musical Theatre major! I simply can't believe I am finally able to officially say that! By May of the upcoming year, I will have the degree of my dreams and be ready to take on the industry by storm! However, I am not there just yet. I always try to ground and center myself by living in the present and truly giving my full attention to what I am doing. Since this is my final fall semester, that means I have a lot of room in my schedule to take classes I had always wanted to take.
My schedule is pretty full however one of the many classes that I am taking and by far my favorite is a class called "Music Theatre Performance" taught by the great Kyle Metzger. This class is required for all four years within the university but his spin on this class is life-changing. Previously the format of this class would be that we would bring in a song weekly matching the appropriate criteria that have been assigned. We predominantly work on our acting through song. However, in Kyle's class, his format resembles an audition room. I have never had an "in-person audition" besides college auditions, therefore the way this class destigmatizes the agony and negativity that one may experience is very fulfilling. So far in this class, I have learned that auditioning is a mindset and I, the actor, have all the control in the room. I have learned that the people behind the panel want to see you succeed and want you to be the answer to their casting problems. Most importantly I have learned when to utilize my confidence as a performer. I found ways to tame my negative thoughts and ground myself in those moments with something so simple as mantras. I look forward to what this semester has to offer within this class and its tools will be embedded in my training forever. I can't thank Kyle enough and am forever grateful for his time and knowledge!
Another exciting event that happened was that I was a part of a Senior Project within my university! My colleague Santiago Castro wrote this project. He is a Directing, Playwriting, and Production major with a Playwright focus at UArts and has written life-changing works. His play "Visionces Del Cuerpo" brings the audience into the body of a Latinx person, moving through the mind, heart, and muscle. It explores what it feels like to experience culture in one's abdomen. Trauma in blood vessels? Joy in the lungs? How does space affect the way memories are revisited? How does mental illness affect taste buds? This piece is an anarchist's meditation on all that has ever been stored in the body. A reminder of where we come from and the regeneration of cells and memories. I played the role of "Hands" in this play. It was such a moving experience to create this devised piece of work in only ten rehearsals! It was a gift to be in a room with all Latinx actors and creators, something that needs to happen more within the world of theatre! It was a piece that has taught me a lot about myself and my artistic process and I am honored to have been a part of such meaningful work.
To conclude, the first few weeks of the semester have consisted of rehearsals, exciting artistic discoveries, and memories that will stay with me for a lifetime! I can't wait to take you with me on what's more to come this year! Stay tuned you're in for a senior year that is filled with love, laughs, work, and most importantly, FUN!
---
Join Team BroadwayWorld
Are you an avid theatergoer in Philadelphia? We're looking for people like you to share your thoughts and insights with our readers. Team BroadwayWorld members get access to shows to review, conduct interviews with artists, and the opportunity to meet and network with fellow theatre lovers and arts workers.
Interested? Learn more here.
---
Related Stories