FringeArts Kicks Off New High Pressure Fire Service Festival With Two Philly-Crafted Performances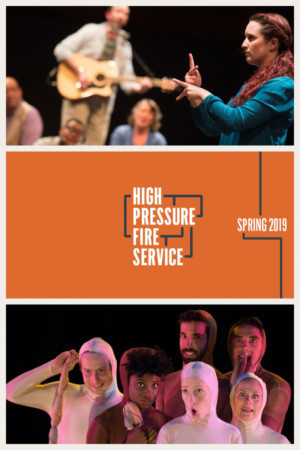 FringeArts kicks off their new High Pressure Fire Service Festival that celebrates Philadelphia artists and creators starting March 1. High Pressure Fire Service features some of Philadelphia's preeminent performers as they addresses issues of representation, gender, accessibility, reproductive justice, and more through devised theater, comedy, and participatory play.
High Pressure Fire Service (HPFS) takes its name from FringeArts' historic building, the first high pressure pump house in the country. Opened in 1903, the station pumped water from the Delaware River to fire hydrants across Philadelphia, connecting the city and helping it grow and thrive. This history of creativity and connectivity is at the very heart of the High Pressure Fire Service festival.
The Festival begins with A FIERCE KIND OF LOVE, running March 1-3, 2019. FIERCE...features acast of artists with and without disabilities who chronicle the largely untold story of Pennsylvania's Intellectual Disability Rights Movement. Drawing from years of research and the performers' lived experiences, it combines text, movement, and song to chart the Movement's remarkable history and celebrate the struggle, activism, and fierce love that fuels the desire for dignity. The show, set, and theatrical environment for FIERCE... are completely accessible; ASL interpretation and open captioning are directly integrated into the piece; all performances will be sensory-friendly, audio described, and programs will be available in alternate formats. The production is written by Suli Holum, directed by David Bradley, and produced by the Institute on Disabilities, Temple University.
Ancillary programming around the show is also available. A full timeline of the Disability Rights Movement will be on display in the City Hall courtyard from February 25-March 31, and at the Parkway Central Library gallery hallway from February 12-March 15. There will be an intergenerational story-sharing event between seasoned self-advocates and new activists in the disability community at City Hall on Friday, March 8th from 11:30am-1pm.
High Pressure Fire Service continues with a new work by Lightning Rod Special, THE APPOINTMENT, running March 20-31, 2019. Created by lead artist Alice Yorke, THE APPOINTMENT address the misogyny, hypocrisy, and absurdity surrounding the abortion debate in America in this musical satire. Following women at a clinic seeking to terminate their pregnancies, this timely new work uses a pop-musical format to ask tough, important questions about bodily autonomy, race, and who gets to have access. Lightning Rod Special will partner with Women's Medical Fund to feature presentations about reproductive justice, direct action opportunities for audiences to get involved, seminars on adult sex education, and listening sessions with people who are on the ground fighting for reproductive rights.
High Pressure Fire Service continues through June with The Berserker Residents' BROCCOLI, ROOSEVELT, AND MR. HOUSE!, Pig Iron Theatre Company's A HARD TIME, Team Sunshine Performance Corporation's THE SINCERITY PROJECT #3, and Moor Mother's CIRCUIT CITY. Performances take place in the FringeArts theater at 140 N. Columbus Blvd, Philadelphia, PA. Single tickets are now on sale, or a special "HPFS Subscription" package is available. For more information, visit https://fringearts.com/programs/high-pressure-fire-service/.
More Hot Stories For You