An All Black Cast Will Star in InterAct Theatre's PAY NO WORSHIP
Performances run March 31 – April 23, 2023.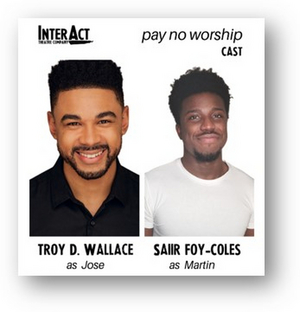 InterAct Theatre Company, now celebrating its 35th season, has announced the cast of pay no worship. pay no worship is a "world premiere" by francisca da silveira and will be directed by the director of last seasons THIS BITTER EARTH, Tyrone L. Robinson.
Performances run March 31 - April 23, 2023.
On Fogo, a tiny African island in Cape Verde, both dreams and volcanoes are at risk of erupting as cousins Martin and Jose fight for opportunity, understanding, and their lives when a tropical storm threatens to destroy everything they know.
"One of the most rewarding aspects of producing new plays is the opportunity to explore so many new and unfamiliar worlds, and pay no worship is a perfect example. From the moment I read the setting of this charming and moving play -- a family vineyard on the volcanic landscape of Cape Verde -- I was eager to spend time with Martin and Jose, as they butt heads about how to live their lives in a place that could disappear at any moment."
~ Seth Rozin, founder and producing artistic director of InterAct Theatre Company
pay no worship will be directed by Tyrone L. Robinson who directed last seasons critically acclaimed THIS BITTER EARTH, and stars Troy D. Wallace as Jose, Saiir Foy-Coles as Martin. Colin McIlvaine will design the set, along with lighting designer Lily Fossner, sound designer Ryk Lewis, props by Kelly Palmer, and costume designed Ariel Wang. Fight director will be Eli Lyn.
francisca da silveira (Playwright) is a Cape Verdean-American playwright and Boston native who holds a BFA in Dramatic Writing from New York University's Tisch School of the Arts and an MSc in Playwriting from the University of Edinburgh. She has been featured in ArtsBoston, The LA Times, The Boston Globe and American Theatre Magazine. Her plays have been developed with Theatre503 (London), The Traverse Theatre (Edinburgh), Company One Theatre (Boston); La Jolla Playhouse (San Diego) and The Playwrights' Center (Minneapolis). New York development: The Fire This Time Festival, The Playwrights Realm, The Public Theater, The New Group, and Colt Coeur.
Fran's play's include: NOT-FOR-PROFIT (OR THE EQUITY, DIVERSITY AND INCLUSION PLAY), featured in The Playwrights' Realm's INK'D Festival in April 2021 and in La Jolla Playhouse's DNA New Works Series in July 2021; CAN I TOUCH IT?, featured in the National New Play Network's 2020 National Showcase of New Plays and currently receiving a 2022-2023 Rolling World Premiere at Company One Theatre (Boston), Rogue Machine Theatre (Los Angeles) and Cleveland Public Theatre (Cleveland); PAY NO WORSHIP, a finalist for the 2023 Susan Smith Blackburn Prize and receiving a World Premiere production at InterAct Theatre Company (Philadelphia) in Spring 2023; MINOR·ITY, commissioned and developed by Colt Coeur; and THE MERRY WIVES OF GRENOBLE, featuring in The Public Theater's upcoming 2023 Spotlight Series.
Fran was a 2020-2021 Playwrights Realm Writing Fellow and is currently a member of The Public Theater's 2020-2023 Emerging Writers Group and a 2022-2023 Jerome Fellow with the Playwrights' Center.
Tyrone L. Robinson (Director) is a director, writer and actor with an M.F.A. NYU Tisch School of the Arts. Seen on Broadway in Disney's Frozen, The Book of Mormon and Disney's The Lion King. His television credits include episodes of Dear Edward (Apple), New Amsterdam (NBC), Lovecraft Country (HBO), Law & Order: SVU (NBC), and The Blacklist (NBC). Tyrone has directed Harrison David Rivers' This Bitter Earth (InterAct Theatre Company - Philadelphia), Letters From May, a new musical by BMI writers Kara Cutruzzula and Kristoffer Bjarke, which premiered at the 2022 SoundBites Festival of new musicals in New York City, both the New York City and touring productions of Owen and Mzee(Michelle Elliot/Daniel Larsen) for Vital Theatre Company, and a reading of the new comedy White Ally by Philadelphia playwright Douglas Williams at Bristol Riverside Theatre (PA). Recently he was an associate director of Sunset Boulevard at The Kennedy Center in DC. And directed the workshop of pay no worship at The Playwrights' Center.
---
Join Team BroadwayWorld
Are you an avid theatergoer in Philadelphia? We're looking for people like you to share your thoughts and insights with our readers. Team BroadwayWorld members get access to shows to review, conduct interviews with artists, and the opportunity to meet and network with fellow theatre lovers and arts workers.
Interested? Learn more here.
---